Ohio State's Braxton Miller fueled by 2013's shortfall, Heisman race
The Big Ten's most accomplished player felt like he lost everything last year, from the Heisman race to a national title to injuries. He's back to reclaim glory.
• 3 min read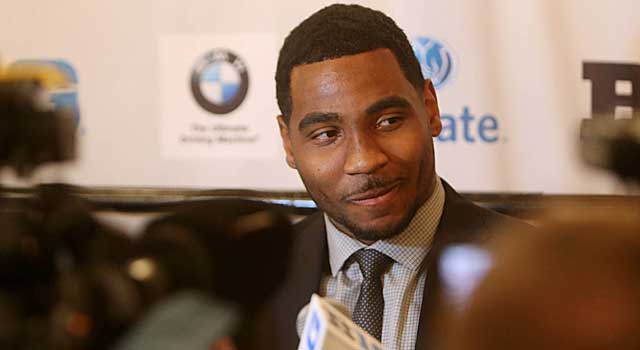 More college football: Dennis Dodd | Jon Solomon | Latest news
CHICAGO -- Forget loss of yardage. Last season, Braxton Miller lost a national title, feeling in his shoulder, the ability to sleep comfortably, about three to six pounds and a Heisman Trophy invite.
No, no reasons at all for this guy to be motivated in 2014.
"I just want to go out with a nice run this year and be known as a champion," Ohio State's quarterback said at Tuesday's Big Ten Media Days session.
Make no mistake, Miller says: If he were healthy all of last season, the Heisman Trophy race would have been "a different situation."
Nudging Jameis Winston off the podium seemed futile for anyone, but perhaps Miller could have worked his way into the conversation.
He pretty much did what was asked of him when on the field. He won every regular season game he played in and improved his passing by five percentage points, from 58.3 to 63.5, while breaking several big runs.
But missing nearly three full games because of an MCL injury, followed by a shoulder injury in the Orange Bowl against Clemson that later required surgery, tainted what was supposed to be Miller's resounding body of work.
Miller's weight dipped to 212 during the season, at least 3 pounds less than when he began the year, but he's up to 221 now. He gained weight during an offseason that required him to sleep with a shoulder sling and take painkillers to deal with swelling.
Ohio State is increasing its investment in Miller, who's now 100 percent healthy. Miller filmed spring practices from the sidelines and the staff quizzed him about what he saw. Miller underwent a mock Gruden QB camp, which coach Urban Meyer and offensive coordinator Tom Herman administered. This encouraged him to make quicker decisions in the passing game, he said.
With a young offensive line and durability concerns at quarterback, Ohio State's success hinges on Miller's ability to deliver in the pocket. To accentuate that point, Ohio State showed Miller re-runs of past NFL quarterbacks that went through the Gruden QB gauntlet -- Andrew Luck, Cam Newton, E.J. Manuel, Johnny Manziel and more. He also watched and broke down passing videos of those players.
Miller's always been the best athlete on the field since prep ball, but he needs more than that now.
"The tempo can be rapid fire," said Miller of the study sessions. "They want you to answer questions and just how tuned in you have to be."
Miller plans to use that game preparation to make up for lost -- or underappreciated -- time.
"We made a lot of explosive plays and we weren't really recognized for a lot of what we were doing," Miller said. "I fell off the Heisman radar. That's what happens."
Heisman or not, clearly Miller wants to be his own man. Miller says he feels others compare him to Oregon's Marcus Mariota, another run-pass threat, but when asked what he likes about Mariota's game, Miller smiled and said, "I don't know if I'm going to answer that one."
Asked later for clarification, Miller said he was looking to avoid comparisons because he and Mariota are "different quarterbacks, different schemes."
But each could go to New York as a first-time Heisman finalist.
Miller plans to get there with his arm more than ever. Oh, the Buckeyes will utilize Miller's athleticism once again. But Miller took a pounding in 2013, attempting at least 17 runs in six games in 2013. The last time Meyer ran a quarterback this much, that quarterback was 245 pounds. Tim Tebow could take the beating.
Without the shoulder injury, perhaps all those hits would have driven Miller into the 2014 NFL Draft.
What happens when the Buckeyes are tempted to run Miller another 20 to 25 times in a tight conference game? "That ain't gonna happen," Miller said with a smile.
Trust the Process as Tom Fornelli leads you toward his best bets for Week 13 of the season

This edition of the sport's greatest rivalry will go down in history as one of the most im...

Dennis Dodd makes his prognostications for the last and most important week of the regular...
Kelly is presently deciding whether to start anew with the Gators or Bruins

There are a handful of conference championship games still to be determined

SportsLine's top college football expert, on a 30-18 run, locks in his top picks for a loaded...