Ohio State's Braxton Miller hoping for late Heisman push
Ohio State's Braxton Miller, once a preseason Heisman favorite, is out of the race but wants to get back in with a late-November performance.
• 4 min read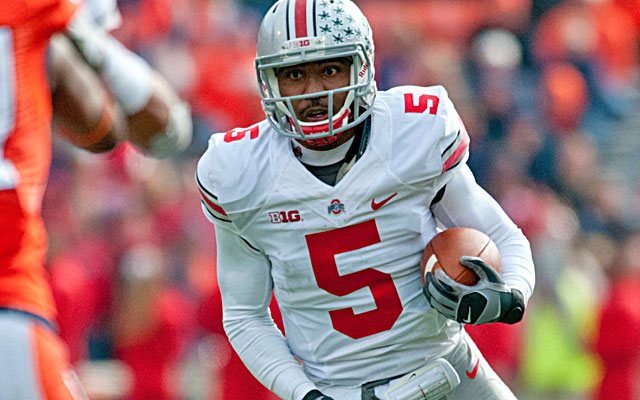 Nearly every preseason Heisman watch list had him in the top two. Many had him pegged as a Heisman winner.
No doubt, Ohio State's Braxton Miller was headed to New York.
"As long as the Buckeyes remain in the national title hunt -- and if Miller improves his passing efficiency -- he'll remain at the forefront of the discussion," Sporting News' Ken Bradley wrote in August about his Heisman favorite, while cautioning how much can change in the coming months.
Well, Miller has kept Ohio State in the title hunt, he's improved his passing -- and he can't sniff the Heisman discussion. He can't even get inside the coffee shop where there might be a table dedicated to Heisman talk.
Just like his team's BCS hopes, Miller is muscled out, two of college football's uncelebrated champions.
As indicated by the Heisman Pundit, eight quarterbacks are currently ahead of Miller in the race. This is understandable after Miller missed nearly three full games in September with an MCL injury. If the injury never had occurred, perhaps momentum could have carried Miller to New York even without gaudy numbers.
But the talented junior is holding out hope that somehow he can change the perception in the stretch run.
On his way to the team bus after rushing for 184 yards against Illinois last week, Miller told CBSSports.com he understands the unpredictable nature of the Heisman race -- a bad week or two and you're gone.
"I want to get back in that talk," Miller said.
Save output fit for a Manziel-Winston hybrid clone, Miller is probably not getting back. He'll have three games left to make a splash -- Indiana, at Michigan and the Big Ten championship game, likely against Michigan State. Miller just doesn't have the numbers to rival what the top quarterbacks are doing. Heck, he was almost benched after a sluggish start in the Northwestern game.
But it's worth asking whether Miller, if healthy for a full year, would have cracked the top four or five after basically doing what was asked of him.
Sporting News wanted wins and more accuracy. Miller is 10-0 and improved his passing from 58.3 to 68 percent. His passer rating is up from 140.5 to 165.3.
"A repeat performance (from 2012) moves him to the top of the list," wrote Newsday in a Heisman preview, referencing Miller's 3,310 passing-rushing yards and 28 total touchdowns (13 rushing).
Based on per-game production, Miller has improved from last year.
For comparison's sake, let's take the seven full games Miller has played this year and compare them to 2012. Miller got hurt in the first quarter against San Diego State, so we're extracting his 2-for-2 passing performance for 30 yards and 5 yards rushing from this equation. Miller missed the subsequent California and Florida A&M games while nursing the injury. More importantly, he missed precious Heisman reps.
This is a breakdown of per-game production average, with rushing/passing attempts rounded up for the sake of continuity.
*PER GAME, 2012: 10-of-21 for 170 passing yards; 19 rushes for 106 yards; 2.33 total touchdowns (1.25 passing, 1.08 rushing), 0.5 interceptions
*PER GAME, 2013: 17-of-25 for 205 passing yards; 15 rushes for 85 yards, 2.85 total touchdowns (2.42 passing, 0.43 rushing), 0.42 interceptions
Miller averages 13 more total yards, 0.52 more touchdowns and 0.08 less interceptions despite four more passing attempts per game. Miller loses ground on rushing yards but the per-rush average is pretty much a wash (about 5.6 ypc each way).
After the video-game-numbers realm of Manziel-Winston-Petty-Lynch, Miller draws a slight comparison to another quarterback known more for winning than stats: Alabama's A.J. McCarron.
McCarron isn't a Heisman favorite but could get a trip to New York. He'd definitely get one before Miller.
Here are McCarron's per-game numbers this year. Again, passing numbers are rounded up or down.
*McCarron: 18 of 26 passing, 223 yards, 2.71 total touchdowns.
McCarron is slightly more accurate but has less total yards and touchdowns than Miller. To be sure, Miller has not played LSU, Texas A&M and Ole Miss. McCarron faces better defenses. He's put together some clutch fourth-quarter drives.
This is not to debate whether McCarron or Miller deserves a Heisman invite, but to show that Miller, once with massive Heisman buzz, has disappeared from the race despite a decent season save injury.
If Miller caught fire in late November and went suit-shopping as a result, maybe that wouldn't exactly shock based on his body of work.
If Miller played a 13-game season, he'd be on pace for 3,770 yards, 37 touchdowns – and 13 wins.
"Why not?" asked Miller about trying to become a finalist. 
Permanent coach Matt Luke got big news late Thursday night

Freeman will not play in the New Mexico Bowl on Saturday

SportsLine simulated every bowl game 10,000 times for pick'em leagues and confidence pools
Grier will return to West Virginia for the 2018 season instead of entering the NFL Draft

The Chick-fil-A Peach Bowl just got spicy

Anderson had been under investigation for an incident at a bar in Cleveland County, Oklaho...