Ohio State's fine with frosh J.T. Barrett at QB; Urban Meyer makes it so
Ohio State loses Braxton Miller and the sky is falling? Nope. When Urban Meyer has a hand-picked QB in tow, he wins big. And J.T. Barrett fits that bill.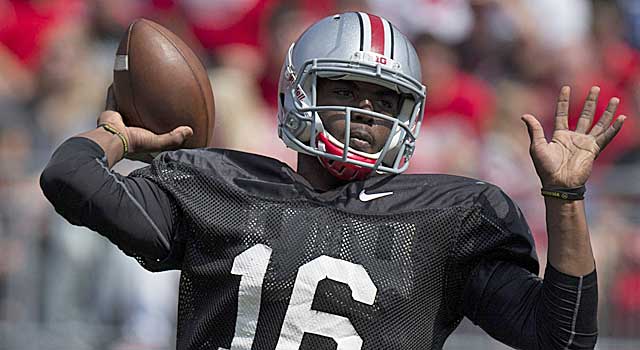 Ohio State doesn't need Braxton Miller to earn a spot in college football's four-team playoff. Would he help? Well, duh. With Braxton Miller, the Buckeyes were a final-four favorite. Without him? They can get there anyway, and this is why:
Braxton Miller, contrary to what you've been reading and hearing since he suffered a season-ending torn labrum last week, isn't the most crucial person at Ohio State.
Urban Meyer is.
And he's still available.
Meyer isn't just a guy with two national championships at Florida and 12-0 seasons at Utah and Ohio State and a history of overachieving -- yes, overachieving -- at every place he's ever been head coach. More than that, and as it applies specifically to the 2014 Ohio State football team, he's a monster recruiter and an offensive savant. And even more than that, and again as it applies to these Buckeyes, he's a quarterback whisperer. He takes good quarterbacks recruited by someone else, and he makes them great. And the quarterbacks recruited by Urban Meyer himself?
He wins a ton of games with those guys. And he does it right away.
J.T. Barrett is one of those guys. Barrett is the redshirt freshman who will replace Miller as the Buckeyes' quarterback this season, which begins Saturday at Navy, and he's a Meyer guy. That means something, and what it means is this: Ohio State's going to win at least 11 games in the regular season.
And Ohio State plays only 12 regular-season games.
Other factors go into that bold prediction, which doesn't seem all that bold given what I know about the 2014 Ohio State season. And what I know is this: The schedule is easy. The playmakers are plentiful. The defensive line is awesome. And the coach is Urban Meyer.
The quarterback is J.T. Barrett, and while he's not as athletic or dynamic as Braxton Miller, who is? Alex Smith wasn't. Josh Harris wasn't. Neither was Chris Leak nor Kenny Guiton. And Meyer did just fine with those guys, using Harris to win 17 games in two seasons at Bowling Green, Smith to go 12-0 at Utah, Leak to win a national title at Florida and Guiton to replace the injured Miller a year ago and lead the Buckeyes to three straight victories.
Meyer inherited that quartet (Smith, Harris, Leak, Guiton) from the previous staff at each school, just as he inherited Braxton Miller from Jim Tressel. In most cases, most obviously with Smith, Harris and Guiton -- but also with Miller -- Meyer milked more than expected from each quarterback, and he did it right away. Why? Because he's good, man. He's good. Urban Meyer, I mean.
And when a quarterback actually is recruited by Meyer to play in that system? That quarterback is great. At Bowling Green, Meyer handpicked Omar Jacobs to play quarterback in his system -- and after Meyer left for Utah, Jacobs set all kinds of school records playing for Meyer's former assistant, Gregg Brandon, in Meyer's offense.
At Utah, Meyer hand-picked Brian Johnson to play quarterback in his system -- and after Meyer left for Florida, Johnson put up huge numbers playing for Meyer's former assistant, Kyle Whittingham, in a system similar if not identical to the one Meyer had run at Utah.
At Florida, Meyer hand-picked Tim Tebow. You know how that worked out. (He also hand-picked Cam Newton and John Brantley, and you know how those worked out. Newton had issues at Florida but won the Heisman at Auburn, while Brantley -- the national high school player of the year and the son/nephew of two former Gators -- was the outlier who failed to pan out. Meyer isn't perfect. But when he hand-picks a quarterback, he's usually on point.)
At Ohio State, Meyer hand-picked J.T. Barrett. He was one of the top three dual-threat quarterbacks in the high school class of 2013, graduated early, has had two springs (and two falls) to pick up the Meyer system, and since January has been given more work than most backup quarterbacks because Ohio State was being conservative with Miller following his injury against Clemson in the Orange Bowl. Barrett doesn't have the absurd athletic ability of Miller, but OSU coaches say his maturity and leadership are off the charts.
And playmakers are everywhere. Leading 2013 rusher Carlos Hyde and receiver Corey Brown are gone, and still I'm telling you playmakers are everywhere. This team has been recruited by Urban Meyer, got it? Sophomore running back Ezekiel Elliott averaged 8.7 yards per carry last season. Four of the top five receivers are back. Sophomore H-back Dontre Wilson is a bad, bad man. And freshman Curtis Samuel runs the 40 in 4.36 seconds and compares to Percy Harvin.
The defensive line is nothing but future early-round NFL draft picks, and while the Buckeyes have to replace 2014 first-round picks Ryan Shazier (linebacker) and Bradley Roby (cornerback), the defense will be the team's strength. Because of that defensive line.
And the schedule, while not perfect at first, is ultimately freshman-friendly.
First game at Navy. Second game at home against Virginia Tech, which has been down in recent years but returns some serious defensive firepower. Survive those two games -- and Ohio State should -- and the schedule goes soft. The Buckeyes probably won't be tested again before traveling to Penn State on Oct. 25.
By the time Ohio State plays the only game in which it could reasonably be an underdog, two weeks later at Michigan State, Barrett will have played eight college games, three on the road. He'll be ready. Doesn't mean Ohio State is going to East Lansing and beating the Spartans, but Barrett will be ready. His track record suggests it, and the quarterback whisperer's track record screams it.
Miller's injury caused Vegas to drop the Buckeyes' national title odds from 12/1 to 50/1, but that's based on the whopper that Braxton Miller is the most important person in the program. And he's not.
Good as he is, Miller was just the guy who plays quarterback -- not the guy who makes them.
>> Want more CFB? Dodd: 25 things to know about playoff era
A concert is a nice way to break up preseason camp

Mills was arguably Georgia Tech's most important player coming into the season

Hugh Freeze's phone records reportedly show another troubling pattern for Ole Miss
They aren't necessarily great teams, but they're teams I'm really interested in following this...

The Irish will wear them on Nov. 18 against Navy

The fourth-year coach of the Nittany Lions led the program to the 2016 Big Ten Championshi...