Ohio State's on upset alert, but Bucks too strong for Northwestern
Can Northwestern hang with Ohio State? Has Aaron Murray entered the Heisman picture? Tony Barnhart answers the 10 burning questions this week.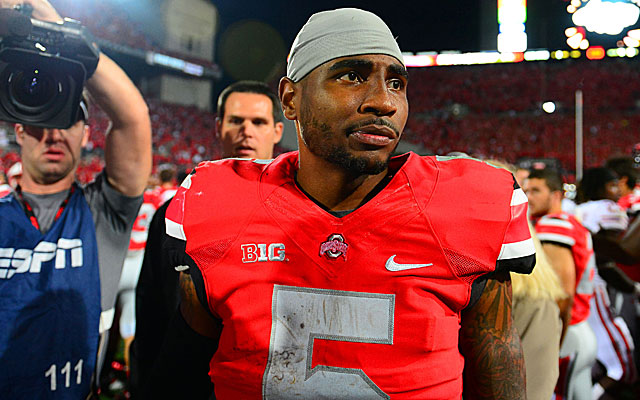 My buddy Wes Durham says that October is to college football what Saturday is to events on the PGA Tour: It's moving day.
October is when teams finally get into the serious work of weekly conference play. And for teams that have serious designs on some kind of championship, they position themselves for a run in November. In short, conference championships can't be won in October, but they can sure be lost.
With that in mind, let's tackle our 10 Burning Questions for the first Saturday in October:
1. Should Ohio State Buckeyes be on upset alert against Northwestern Wildcats ? This summer I started touting the Oct. 5 game between Ohio State and Northwestern in Evanston as the one place I thought the Buckeyes could stumble in what is an otherwise pretty easy schedule. But I can't pull the trigger and call the upset and here is why: Ohio State is a different, and much better, team with Braxton Miller at quarterback and Carlos Hyde at running back. Kenny Guiton did a great job of replacing Miller, with 12 touchdown passes in three games. Ditto Jordan Hall , who held the rope at running back when Hyde sat out three games on suspension. Both were back for last week's game against Wisconsin in Columbus. You saw the difference. That's why I have to go with the Bucks.
2. Is Aaron Murray playing his way into being a serious Heisman Trophy contender? Murray, the fifth-year senior from Tampa, was brilliant in Georgia Bulldogs 's 44-41 win over LSU Tigers last Saturday in Athens. Murray drove his team 75 yards in the final minutes and delivered a 25-yard touchdown pass with 1:47 left. A lot of people watched that game.
Saturday will be a historic day for Murray as the Bulldogs go to Tennessee. With just 100 passing yards he will become the SEC's all-time leading passer, breaking the record of 11,528 currently held by Georgia's David Green e (2001-2004). With nine more touchdown passes Murray will break the career record of 114 held by Florida's Danny Wuerffel, the 1996 Heisman Trophy winner.
Greene, now 31, told the Atlanta Journal-Constitution that not only is he pulling for Murray to break his record "I hope he shatters it."
One other note on Murray: Only two players in NCAA history have thrown for more than 3,000 in four consecutive seasons: Hawaii's Timmy Chang and Boise State's Kellen Moore. Murray, who has 1,338 yards through four games, could become the third.
3. Washington Huskies (4-0) is really playing well. Really well. But do they have enough weapons to win at Stanford (4-0)? I like what Steve Sarkisian is doing at Washington. The Huskies pounded Boise State (38-6) in the opener. The road win at Illinois (34-24) now looks a little better. They made it look easy against Arizona as Bishop Sankey carried it 40 times, a school record, in a 31-13 win. Sankey carried it 35 times against Illinois. Keith Price , who struggled last season, is completing 72.3 percent of his passes.
And if this game was being played in Seattle I would be sorely tempted to pick the Huskies. But the more you see Stanford and quarterback Kevin Hogan play the more you realize the Cardinal is a special team.
4. The Florida Gators are what they are. Is that going to be good enough to win the rest of them, starting Saturday with Arkansas? Coach Will Muschamp knows what he has and what he doesn't have at Florida this season. Last year the Gators won 11 games with a great defense and a low-risk offense. Now, with quarterback Jeff Driskel out for the season, the Gators will have to use the same philosophy and perhaps be even MORE conservative on offense.
And why not? Consider that Florida's defense is:
• No. 2 nationally in total defense (202.5 ypg)
• Eighth in scoring (12.8 ppg)
• Leading the SEC in eight defensive categories.
And the Florida offense is No. 1 in time of possession at almost 39 minutes per game.
Florida will be outgunned when it goes to LSU on Oct. 12 and plays Georgia in Jacksonville on Nov. 2. But the defense should be good enough to win the rest of them.
5. Any chance LSU lets down at Mississippi State Bulldogs ? Going to Starkville is never easy, and it is especially difficult when a team loses a heartbreaker like LSU lost to Georgia last Saturday. Mississippi State (2-2) has the nation's No. 20 defense and its losses have been to Oklahoma State (21-3) and to Auburn Tigers (24-20) on the road. But here are two very good reasons why LSU wins on Saturday:
•In his first eight seasons at LSU, Les Miles has lost only 21 games. In the 21 games following those losses, Miles is 20-1. Put another way, Miles has only had back-to-back losses once, those coming in 2008 when he lost consecutive games to Ole Miss Rebels and Arkansas.
• Zach Mettenberger is all grown up. Few people have ever raised their draft stock more in a loss than Mettenberger, who threw for 372 yards against Georgia.
6. Florida State Seminoles fans have to worry about something. So they are worried about the run defense as they host Maryland?
For a while last Saturday in Chestnut Hill, Florida State fans were having some NC State flashbacks. Boston College basically smacked the Seminoles in the mouth and took a 17-3 lead. When it was over Florida State had won 48-34 but the Eagles had 397 yards. Florida State is ninth in the ACC and No. 56 nationally in rushing defense, giving up 151.5 yards per game and 3.7 yards per rush.
Head coach Jimbo Fisher said he felt better about things after watching the game video, but he still understands his defense is going to face a much stiffer test against Maryland (4-0) and quarterback C.J. Brown , who thumped West Virginia 37-0 in their last outing.
7. How different would history have been if Bryce Petty had actually gone to Tennessee? Here is yet another reason that Tennessee fans were dancing in the streets Sunday morning upon learning that Lane Kiffin been fired at USC: In 2008 quarterback Petty of Midlothian, Texas, had surveyed the college landscape and verbally committed to head coach Phillip Fulmer of Tennessee. But after the 2008 season Fulmer was fired and Kiffin was hired. Kiffin then informed Petty that he was not a fit for the pro-style offense Kiffin wanted to run and took back the scholarship offer. Petty went to Baylor.
Going into Saturday's game with West Virginia, Petty is:
• No. 1 nationally in passing efficiency (8 TD, 0 int)
• No. 2 in completion percentage (74.6 per game)
• No. 6 in total offense (346.0 ypg).
• Runs an offense that leads the nation in scoring (69.7 ppg).
Oh, by the way, Tennessee had another verbally committed quarterback that Kiffin said he didn't want: His name was Tajh Boyd . He went to Clemson. He's doing OK, too.
8. Arizona State Sun Devils vs. Notre Dame Fighting Irish . Does this thing have a chance to get ugly? You betcha. I think Notre Dame got exposed last week at home against Oklahoma, which was just too fast and physical for the Irish. After watching Arizona State hang 62 on USC, this doesn't look like a good matchup for the Fighting Irish either.
Arizona State, whose only loss was at Stanford (42-28), is starting to flex its muscles. QB Taylor Kelly completed 23 of 34 passes for 351 yards against USC. RB Marion Grice leads the nation with 12 total touchdowns (8 rushing, 4 receiving).
Notre Dame quarterback Tommy Rees certainly did his part to help Oklahoma last week with three interceptions.
But there is one nagging problem for Arizona State, which Notre Dame might exploit: The Sun Devils have given up 718 yards rushing in their last three games. That's No. 92 nationally against the run.
9. Is this a great country or what? Just look at Ole Miss at Auburn. In 2004, just nine years ago, Hugh Freeze was the head football coach and girls basketball coach at Briarcrest Christian High School in Memphis, Tenn. (He was the head coach for Michael Oher of The Blind Side book and movie.)
In 2005, just eight years ago, Gus Malzahn was a highly successful coach at Springdale (Ark.) High School.
Today Freeze is the head coach at Ole Miss with a contract that pays him a base of $1.5 million with incentives up to $2.5 million per year. Malzahn is the head coach at Auburn with a five-year deal laden with incentives that pays him a base of $2.3 million.
They are friends, but on Saturday will be rivals for an SEC West showdown at Auburn. The traded texts early in the week and mutually agreed that they'd have no further contact until Saturday.
"This is a big game for both of us and we both understand that," Malzahn told reporters this week. "After the game we'll get back to normal."
10. Can Miami start 5-0 for the first time since 2004? History says yes. Georgia Tech goes to Miami for its third straight game in the ACC's Coastal Division. Miami has won four straight against Georgia Tech by an average of 16 points but the last meeting was close -- very close.
Miami quarterback Stephen Morris played one of his best games of 2012 against Georgia Tech, throwing for 434 yards and two touchdowns in a 42-36 overtime win in Atlanta. Morris played through an ankle injury last week completing 11 of 16 passes for 22 yards in a blowout win at South Florida. Running back Duke Johnson has 388 yards and has scored a touchdown in eight straight games going back to last season.
While Miami continues to wait on the NCAA to rule in its case, the Hurricanes want to keep winning and play their way into the national championship discussion before they go to Florida State on Nov. 2.
The Wildcats and Utes open conference play on Friday night

Eichorst's firing on Thursday sets Riley's seat ablaze, even if a decision won't be made i...

Eichorst had been at Nebraska since 2012
Three straight titles makes it seem like 'Alabama and everybody else' in the SEC

Some early-season Big Ten games could shake up the national standings

Trust the Process as Tom Fornelli leads you toward his best bets in Week 4 of the season