Oklahoma-bound Justin Brown brings Penn State exodus to nine, and counting
Nittany Lion's leading returning receiver and punt returner is on his way to Norman.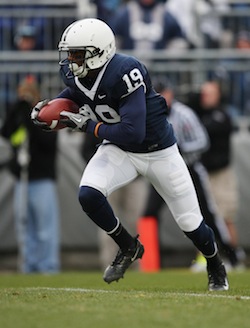 The inevitable exodus from Penn State continued Saturday with the departure of the Nittany Lions' leading returning receiver and punt returner, Justin Brown, who will reportedly spend his final year of eligibility at Oklahoma. Brown will be immediately eligible to play in Norman under relaxed transfer rules for PSU players, assuring his new team one of the deepest receiving corps in the nation as his now former team clings to the few viable playmakers it has left.
An unofficial scholarship count puts Penn State at 75 scholarship players on the current roster, a number that continues to plummet in the wake of unprecedented NCAA sanctions levied against the Lions last month. Brown is the ninth confirmed transfer out of State College, following (most notably) kicker Anthony Fera (bound for Texas), backup quarterback Rob Bolden (LSU) and two other projected starters on offense, tight end Kevin Haplea (Florida State) and running back Silas Redd (USC). Between Brown and Redd alone, the Nittany Lions have unexpectedly lost 3,265 career yards and 40 percent of last year's total offense in a matter of days.
[See the complete list of Penn State transfers here]
Prior to the sanctions, the receiving corps had already lost last year's top target, Derek Moye, to graduation, and top backups Devon Smith and Curtis Drake to assorted personal issues over the course of the offseason. The four remaining receivers who have seen the field, Shawney Kersey, Brandon Moseby-Felder, Allen Robinson and Christian Kuntz, combined last yearfor 13 receptions, 201 yards and zero touchdowns. The top remaining tailback, junior Curtis Dukes, carried 41 times for 237 yards and one touchdown.
On the other hand, Oklahoma's enigmatic receivers – the source of much speculation and worried hand-wringing over the past few months – are looking positively fearsome. Besides the undisputed headliner, junior Kenny Stills, the Sooners recently reinstated two productive veterans, Jaz Reynolds and Trey Franks, whose futures had been in significant doubt since they were suspended indefinitelyin May; when preseason practices kicked off Saturday morning, the most anticipated presence on the field was five-star signee Trey Metoyer. Coming off a dismal finish to 2011, quarterback Landry Jones spent most of the offseason facing a crippling shortage of reliable targets this fall; instead, he'll start the season surrounded by four or five of them.
The attrition is only expected to continue at Penn State, which faces a $60 million fine, four-year bowl ban and massive scholarship restrictions over the next years, among other penalties on the heels of a university-commissioned report that accused late head coach Joe Paterno and other administrators of either ignoring or covering up multiple accusations of sexual abuse against longtime defensive coordinator Jerry Sandusky. (Sandusky was convicted on 45 counts of abusing a dozen children over more than a decade, most of which occurred in Penn State facilities.) University president Rodney Erickson accepted the sanctions under threat of a multi-year "death penalty," and the NCAA said Friday it would not hear a proposed appeal to the sanctions requested by Paterno's family.
The Alabama QB has a new look after the Tide claimed another national title

Young was injured during Miami's Orange Bowl loss to Wisconsin

The movie will zero in on former Penn State coach Joe Paterno during the Jerry Sandusky sc...
Bidding for Salaam's trophy, which the auction house says was obtained legally, ends Satur...

Locksley has been the offensive coordinator at Illinois and Maryland during his coaching c...

Many NFL-eligible juniors ignore advice provided by the league and risk going undrafted each...