Oklahoma burns Texas in Red River Rout
Oklahoma did just whatever it wanted in winning its third straight Red River Rivalry against Texas, jumping out to a huge halftime lead in a game that never looked competitive. In the process, the Sooners made it clear they would still be a factor in the Big 12 title race.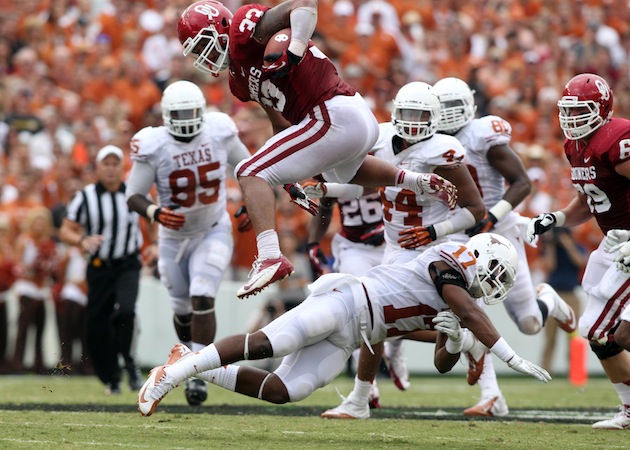 The Oklahoma Sooners did just about everything they wanted to in their second consecutive rout of Texas. (US Presswire)
DALLAS -- Just steps from the stands selling fried butter, fried jambalaya and good old-fashioned corn dogs, came perhaps the most interesting new treat at the Texas State Fair: fried Longhorn.

For the Oklahoma fans in attendance at the Cotton Bowl on Saturday afternoon, the 63-21 victory tasted delicious. For those wearing burnt orange, it made them sick. In a game that essentially doubled as a Big 12 title elimination game, the 107th Red River Rivalry was turned into a Red River Rout.

The Sooners did just about whatever they wanted in winning their third in a row in the series, jumping out to a 36-2 halftime lead in a game that never looked competitive. Supposed to be one of the top defenses in a league without any, Texas was gashed on the ground by Oklahoma, which had more rushing yards (159) in its first four drives than it did in 10 of its past 17 games.
"I really was quite pleased to play so well in every facet of the game," coach Bob Stoops said matter-of-factly.

The game was decided midway through the first quarter when tailback Damien Williams cut inside, missed a tackle and then bounced to the sideline for a 95-yard touchdown that was the third-longest run in Oklahoma history. Wide receiver Kenny Stills delivered a huge block to spring him to the end zone. Fullback Trey Millard added his own highlight play on the longest pass play in series history when he rumbled 73 yards off of a short route out of the flat where he broke a tackle midair as he hurdled a Texas defender. It was that kind of day.

Perhaps the only positive play in the first half for the Longhorns came after Blake Bell scored the first of his four touchdowns when sophomore Quandre Diggs ran back a blocked extra point for a safety. After that it was all crimson and cream as Texas ran just two plays in Oklahoma territory before heading into the locker room. The result of both, by the way? Two David Ash interceptions.

This was the Oklahoma many expected when it was near the top of the preseason polls and a trendy pick to make it to Miami, making that rare home loss to Kansas State look more and more like a fluke than a representation of how good the team is. Stoops won his ninth game against Mack Brown in the annual meeting of conference heavyweights and in doing so made it clear that while the road to a Big 12 may be winding through a different city every week, the team in Norman will still be a factor in the race.
"Everybody wants to summarize what you are after two games, and that doesn't make any sense. We have a long season to play," said Stoops. "At this point we're a little bit tougher. How tough? I don't know.
"This game, in my 14 years, has never been the end-all. It's a part of it, but we've got a long road still in front of us."
Quarterback Landry Jones finished with 321 yards and two touchdowns and looked poised -- with the exception of one throw early in the third quarter that was picked off and run back for a touchdown by Carrington Byndom -- as Jones moved into first place on the school's career wins list. Offensive coordinator Josh Heupel kept the offense balanced thanks to a patchwork line that still managed to get good push and power a strong running game.
"If you can't stop the run, it opens up plays," Texas safety Kenny Vacarro said. "They ran it right down our throat. They didn't run many formations, even the receivers on the field were like, 'We're running it.' "
Oklahoma moved to 73-1 under Stoops when scoring 40 or more points and won its 21st consecutive game when holding an opponent to under 20 points. Perhaps the most impressive takeaway from the game was the defense, which did not allow Texas past its 36-yard line until late in the fourth quarter. On the field afterward, country musician and noted Sooners fan Toby Keith gave a big hug to coordinator Mike Stoops for his unit's effort.
Things weren't so cheerful on the opposite sideline. In the midst of his 15th season at the helm of college football's Cadillac, Brown fell to 6-10 to Texas' most important rival and has been outscored 126-58 the past two years -- unacceptable for many in the fickle fan base. The first half may have been one of the worst since he took over in Austin, and once again calls will surface for him to retool or start looking to transition out of the job.
While the defense has certainly struggled in recent weeks, the once-efficient offense took steps backward and failed to score any points until 5:48 remained in the fourth quarter. In the biggest game of their young season following a home loss, the Longhorns laid down. Bevo, the school's gigantic mascot, looked nonplussed sitting behind the end zone the offense failed to reach most of the day.
"We didn't play well as a team. I thought they outcoached us," Brown said. "We were inept offensively.
"It's just unacceptable for Texas to lose like that to Oklahoma, much less anybody, and especially two years in a row. I'm disappointed for our fans, our coaches and our players because that's not who we are."
Yet that's exactly who Texas is nowadays, losing its ninth straight game against a ranked team. Any talk that the burnt orange would be returning to the college football elite was once again premature, and with no easy games in the best top-to-bottom conference in the country, it could be another long year for the faithful.
"It's sure not pretty today," added Brown. "It's not a proud moment for us."
It was for the Oklahoma fans who filed out into Fair Park following the game. The food was good, the beer cold, the Longhorn crispy -- and their faith in the Sooners on the rebound.
Lane Kiffin turned around FAU remarkably fast and has the Owls in the C-USA title game

NCAA football scoreboard, highlights and updates from the biggest Week 12 games

The junior injured his finger diving for the pylon late in the first quarter of the loss to...
Projecting the changes in the new AP Top 25 poll college football rankings after Week 12

There's only one true Turnover Chain in college football, and it belongs to The U

The 72-yard punt return was perfectly executed by the Trojans