Oklahoma dismisses Kameel Jackson through its revolving door at wide receiver
Days after announcing the return of two other suspended receivers, the Sooners send a third packing for good.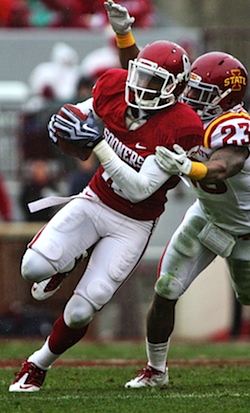 Last time on "Oklahoma Wide Receiver Roulette," the Sooners welcomed back two veteran receivers, Jaz Reynolds and Trey Franks, from a summer-long suspension. Today, the wheel spun the other way when coach Bob Stoops announced the permanent dismissal of another familiar target, sophomore Kameel Jackson. That marks the second confirmed departure from the OU roster in as many days, following academic casualty Will Latu, a touted juco transfer who signed Friday with Arkansas State instead.
Even on the heels of Reynolds' and Franks' reinstatement earlier this week, Jackson's exit is not a bolt from the blue: After all three were suspended in May for the proverbial violation of team rules, Jackson initially responded by tweeting his intention to transfer to Texas A&M. Instead, he changed his mind, and was the only one of suspended receivers to remain on scholarship over the summer. (Reynolds and Franks' were pulled as repeat offenders: Both served brief suspensions last season.) Upon further review at the start of preseason camp, coach Bob Stoops decided for whatever reason that Jackson would be the one who had to go.
Jackson finished his freshman season with 12 catches for 165 yards, almost all of it coming in the last four games after senior Ryan Broyles went down with a knee injury, but his departure is much less significant to the depth chart than it would have been a few days ago. Reynolds and Franks are still expected to miss multiple games to suspension, but before their return to the team, the only remotely experienced receiver on the roster was junior Kenny Stills. The rest of the corps consists entirely of new arrivals from the 2012 recruiting class – freshmen Trey Metoyer, Durron Neal, Sterling Shepard and Derrick Woods and juco transfer Lacoltan Bester – and a handful of new walk-ons. (There is also Jalen Saunders, an All-WAC target last year at Fresno State, who will be on the team this fall but won't be eligible to play until 2013 under standard NCAA transfer rules.) Another juco transfer, four-star signee Courtney Gardner, will also miss the season due to academics.
Of the newcomers, the most likely to succeed is Metoyer, originally a five-star signee in the class of 2011, who appears to be fully in the fold after being forced to take an academic detour through prep school. But at the very least, there's now one less bit of insurance if he or his embattled position-mates fail to live up to the hype.
Georgia jumped four spots to No. 8, while Florida State dropped 14 spots to No. 25

Louisville and TCU get big-time bumps after conference rivals fell on Saturday

The Bulldogs jumped up to No. 7 after an emphatic win over Mississippi State
The Penn State running back made a case that he's a legit Heisman Trophy contender

The Nittany Lions came up huge when they needed to against Iowa

It just might have been the best game of the season so far