Oklahoma State's Spencer and ESPN's Edwards: A love story
Oklahoma State coordinator Glenn Spencer and ESPN sideline reporter Jeannine Edwards met in unique circumstances. Now they are engaged.
• 4 min read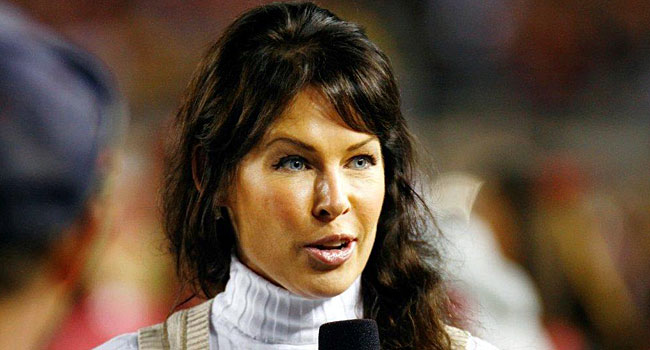 STILLWATER, Okla. -- Glenn Spencer kept to himself during his wife Angela's years-long battle with heart disease that ended Sept. 18, 2011 and during the difficult aftermath.
He's a private man, he says. He never wanted to broadcast his family struggles.
So, in the months after Angela's death, Spencer worked long hours as Oklahoma State's defensive coordinator, raised two teenagers who needed comfort, then often prayed before bed. Even in an interview for this story, Spencer preferred to keep much of his past out of the story out of respect for everyone involved.
But, eventually, he discovered he could talk to Jeannine Edwards. During hours-long phone sessions over the summer and fall, Spencer found a voice that he didn't know he had. He shared personal stories that he hadn't shared with anyone, he said.
"I just felt so comfortable with her," Spencer said. "She had such a big heart. She just drew that out of me."
Spencer drew something out of Edwards, too. Edwards, an ESPN sideline reporter, learned about a thoughtful man with a deep emotional subtext about his past and future and a passion for raising teenage boys Abe, 15, and Luke, 18.
"That's sort of what really drew me to him," Edwards said.
What started as a simple thank-you text to Edwards for her coverage of Oklahoma State and his family led to a friendship, and eventually more.
Spencer and Edwards -- who lives near Baltimore -- are engaged to be married in July, building on a relationship that has them flying all over the country to be together.
This week, the neutral spot is the Preakness.
"It's been unconventional, to say the least," said Spencer, who has a framed picture of Edwards on his desk.
Edwards and Spencer were kind enough to recall to CBSSports.com how they met -- and to share their plans. Both are 49.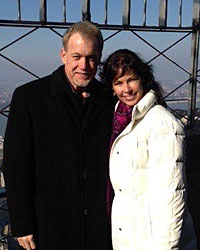 Edwards covered Oklahoma State's game at Texas A&M the week Spencer's wife died. She reported from the sideline that Cowboys players honored Spencer's family by placing a sticker with the initials "AS" on their helmets.
Spencer thought she did a nice job reporting about his family and, the following April, sent her a thank-you text.
She said no problem and asked how the boys were, Spencer said.
"Then we just started communicating," Spencer said. "We started a friendship."
Edwards said she didn't think about what the occasional texting back and forth would become. It took months for them to actually talk on the phone. They didn't have a long history, first meeting during the 2011 season for about 30 seconds.
In the summer, Spencer took his sons to Washington, D.C., for a July 4th family weekend. Remembering Edwards lived in the area, Spencer made a bold phone call.
Would you like to have dinner with us?
Edwards agreed. They ate dinner and went their separate ways.
"It wasn't until the season we realized we kind of liked each other," Edwards said.
Both call the relationship "one of those things that just happened." Neither was looking for it, they said.
They went to dinner in Oklahoma City in late November while Edwards was en route to a football game. Spencer pulled the car around on the way out because of the heavy rain.
Once emerging from the early-December haze of the college football season, they decided to give the relationship a real try. About two months later, they were engaged. Spencer popped the question on the beach in South Florida, where Edwards was covering ACC basketball.
"The answered prayer that I needed," Spencer said.
The relationship had challenges early on. Both were "probably a little afraid to mention [the relationship]" at first, Edwards said, because the Spencer family dealt with tragedy not too long ago and Edwards occasionally covered Big 12 football for ESPN.
When Edwards told ESPN about the relationship, she offered to jump off the college football beat, but ESPN wanted her to stay, Edwards said.  
Edwards said she prides herself on credible reporting and would never jeopardize that. She has dealt with on-air challenges in the past. Whether covering a Big 12 game or the Kentucky Derby, she isn't changing her approach, she said. The couple never talk football.
Edwards just has more plans to make away from the field now.
"I feel very fortunate for this person coming into my life," Edwards said.
Edwards is invested in Spencer's life, and that includes his kids. She watched their baseball games in the spring in Stillwater. Abe and Luke quickly eased any apprehension their dad might have had about starting a new relationship.
They told Dad they wanted to see him smile. The last few years were messy -- for everyone.
"They recognized how hard it was on me for a long time and were happy to see their dad happy," Spencer said.
The plan is for Edwards to live in Stillwater during the football season or "we would never see each other," she said. She'll still keep her house in Maryland and live there when necessary for work. Her parents are in New Jersey, where the wedding will be.
As if Spencer didn't spend enough time at the Will Rogers Airport in Oklahoma City for recruiting, he's there even more now to visit Edwards.
He doesn't mind at all.
"We're leaning on each other," Spencer said.
Many NFL-eligible juniors ignore advice provided by the league and risk going undrafted each...

Snyder died in Manhattan, Kansas, on Wednesday

Locksley joined Alabama's staff in 2016
Saban reportedly wants to hire Freeze, but there may be things keeping that from happening

Florida State-Miami will be on Oct. 6, and the Seminoles will play Clemson on Oct. 27

Weis Jr. was an offensive assistant for the Atlanta Falcons in 2017