Oklahoma's Bob Stoops getting new contract; new $5M man?
Oklahoma regents are set to approve a reworked contract for Bob Stoops, who could be one of four coaches to make at least $5 million as soon as next year.
• 1 min read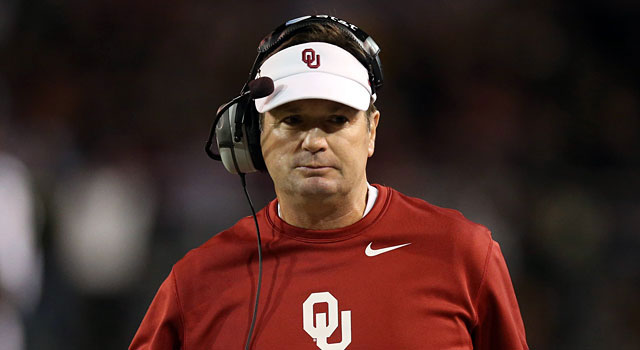 An enhanced contract for Oklahoma's Bob Stoops will go before the school's board of regents Wednesday, pushing the Sooners coach closer to the top of highest-paid coaches, CBSSports.com has learned.
Stoops – coming off a fourth straight double-digit-win season and a resounding Sugar Bowl victory over Alabama – is expected to hit the $5 million annual threshold sooner than in his current deal, which reportedly called for $5-plus million from 2016-18 after escalators.
$5 Million Club
Oklahoma's Bob Stoops is set to make $5 million or more annually as early as 2014 after the school's board of regents approves a new deal, CBSSports.com reports. A look at this exclusive club.
Coach
School
Annual Pay
Nick Saban
Alabama
$6.9M
Kevin Sumlin
Texas A&M
$5.0M
Charlie Strong
Texas
$5.0M
Bob Stoops
Oklahoma
TBA
In other words, he won't make Nick Saban money ($6.9 million), but he'll be more in line with Texas' Charlie Strong ($5 million) and Texas A&M's Kevin Sumlin ($5 million), possibly higher.
Stoops made $4.7 million last season according to USA Today's salary database, good enough for No. 5 nationally. The school announced a seven-year, $34.5-million deal for Stoops in 2011, followed by an extension to 2020 last summer. The years on the new deal will not change.
Exact financial details of the contract are not yet known. Regents must vote to approve the deal.
Litigation over amateurism have shifted the focus on coaching salaries, but Stoops' money, in today's market, can be justified based on this: A 160-39 career record (80.4 winning percentage), 8-7 in bowl games, a national title and eight Big 12 titles.
Reports surfaced in January that the Cleveland Browns had interest in Stoops, who didn't exactly quell the speculation when asked by local reporters, but clearly Oklahoma is a stable home for him.
Stoops and Iowa's Kirk Ferentz, both hired in 1998, trail Virginia Tech's Frank Beamer as the longest-tenured head coaches among the five major conferences.
Sooners AD Joe Castiglione hired Stoops and has remained proactive in keeping Stoops intact. Few coaches have matched his stability, setting high expectations at a program that demands it.
An early-season Big 12 game already has major conference and national implications

Top-ranked Alabama hits the road to take on upstart Vanderbilt in Nashville on Saturday

The battle of the Bulldogs will take place Saturday night between the hedges
Penn State hits the road to take on Iowa under the lights in both teams' Big Ten opener.

Penalties include a two-year probation and a show-cause for former coach Kyle Flood

Dig below the surface and you'll find a lot of intriguing matchups on the slate this Satur...