Oklahoma's Joe Mixon shows no shred of remorse for punching a woman
Sooners running back Joe Mixon was suspended for a season but reinstated to the football program after punching a woman. He spoke publicly for the first time Tuesday but shows little understanding of the impact of his actions.
MIAMI GARDENS, Florida -- Before Tuesday's media session began with Oklahoma running back Joe Mixon, an Orange Bowl official announced that Mixon would only take "football-related" questions. The official, speaking out of turn, then said reporters would be asked to leave if they continued asking other questions, though no one was escorted out.
This embarrassing day for Oklahoma was inevitable ever since Mixon returned from a one-year suspension for hitting a woman. Once Oklahoma reinstated Mixon after he punched a female student in the face and broke four of her facial bones, this day was bound to happen whenever Mixon finally spoke. That it occurred on the national stage at a College Football Playoff semifinal media day made it more awkward and tense, even though Mixon smiled and cordially deflected questions while showing his personality.
Mixon entered an Alford plea to a misdemeanor assault charge in Oct. 2014. He received a one-year deferred sentence and was required to perform 100 hours of community service and undergo counseling.
If you want football-related topics in this column, this isn't the space. There are plenty of other chances to talk football, and we have and will. This is more important. This is punching a woman so violently that Oklahoma reporters who have seen the video say the university and Mixon are lucky it has yet to be released publicly -- the subject of an ongoing court battle.
On Tuesday, reporters went round and round with Mixon, who was obligated by the Orange Bowl to attend the media session.
Are you sorry about what happened?
Mixon: "I won't answer that."
Do you have any regrets at all about anything?
Mixon: "No."
What did you learn about yourself during your one-year suspension?
Mixon: "What do you mean what did I learn?" (This was followed by Oklahoma spokesman Mike Houck, seated next to Mixon and chiming in periodically, reiterating that Mixon only wants to answer football-related questions.)
Joe Mixon on what he learned during his season-long suspension... Only answered football questions. #Sooners pic.twitter.com/F1hwXfKZX2

— Brady Vardeman (@BradyVardeman) December 29, 2015
Did the one-year suspension change you?
Mixon: "I don't think it changed who I am, but it definitely made me a stronger person."
What did you mean by your tweet in September, quickly deleted, that said this season is dedicated to your haters?
Mixon: "I know what I meant by it. Y'all just blew it out of proportion."
How would you describe yourself as a person?
Mixon: "A great person. If you get to know me as a person, you'll know how I am."
Do you want to address what happened at some point in the future?
Mixon: "My lawyer will address it."
When?
Mixon: "You've got to ask him."
Clearly, Mixon and his lawyer are concerned about a possible future civil lawsuit. Still, it makes you wonder why the lawyer and Oklahoma simply didn't have Mixon talk to local reporters far sooner than Tuesday given the possibility this day could come.
According to media reports, the video from July 2014 -- viewed by Oklahoma president David Boren, athletic director Joe Castiglione and coach Bob Stoops, which then decided on a one-year suspension -- showed Mixon and Oklahoma student Amelia Molitor arguing. The situation escalated when Molitor shoved Mixon and then "slaps at the side of his head," according to the Daily Oklahoman.
The account continues: "Mixon lands a devastating right hook that knocks Molitor off her feet. First she hits the table on her left ear, then falls to the ground, where he stays still. Mixon walks out of the frame toward the front of the restaurant and is not seen again. After about 35 seconds, Molitor manages to stand up and tries to steady her feet but staggers, eventually sitting down in the chair she stood next to a minute before."
Let's be clear: Mixon isn't the only college athlete who has punched a woman and stayed on a team. You're kidding yourself if you think this is just an Oklahoma issue. The lengths to which "second chances" are granted by factoring in a player's talent are immense in sports. Also, a good argument could be made that more stringent penalties within our judicial system are needed for violence against women.
In this case, it's news again because Mixon had yet to talk and he's now a valuable player who helped Oklahoma reach the CFP semifinals. It's also news because Oklahoma spoke of zero tolerance when expelling students last spring for their words (a racist fraternity chant that the football team, to its credit, protested against) yet the tolerance level differs for a violent action by a student (punching a woman).
Oklahoma center Ty Darlington heard that complaint a lot when the Sooners sent a tweet last spring with their stance against racism on their campus. Many people asked players on Twitter, "Where was the statement by players against hitting women?"
"We got blasted, and I understand because of the Joe situation," Darlington said. "I understand the frustration. I feel like the situations are very different. I could write a book for you on why they are. I'm not going to get into it now. It would take away from the game we're about to play."
Should Mixon have been allowed back on the team? Darlington and linebacker Eric Striker, who became the leader of the racial protests, said they will let the "powers that be" answer that question.
"I know that (Mixon) made a mistake and he made a mistake in a moment of frustration and emotions," Darlington said. "It doesn't make it right, by any means. And it's terrible that that happened for her (Molitor), obviously. We're all going to make different degrees of mistakes and he made a big one. All you can do is try to come back and redeem yourself, and after that happened, I have no complaints about Joe.
"Sometimes he can bring off the wrong vibe. He's a really talkative guy and he's a loud mouth, and you get the wrong vibe that he's arrogant and flashy or showboating. And he's not. Honestly, I'm somewhat pleasantly surprised as I got to know him over the past year. He's a great teammate."
Castiglione said there is nothing he can say that would excuse what Mixon did, but Oklahoma determined "the value of a second chance." At the time, the Sooners didn't know if Mixon would decide to return. Castiglione said Mixon's football talent was not why Oklahoma kept him.
"When people keep asking those kind of questions, we want to ask one back: What is it that defines why one person gets an opportunity at redemption and why someone else doesn't?" Castiglione said. "Every case is different. … He could have just as easily left, walked away to a place with a fresh start, and he took the more difficult path, for sure, to stay there, work through it and try to grow and move on. I don't know that you say he ever moves away from it, but he's trying to move on with his life."
In addition to Mixon sitting out a year, Castiglione said Oklahoma imposed other conditions that he can't discuss due to student-privacy law. "There was counseling and other kinds of conditions that he had to meet, and in many cases, these are conditions that will be required through his time as a student-athlete," Castiglione said.
In a way, Oklahoma continues to live next to a ticking time bomb with the Mixon story. The video of his punch may at some point become public, either through a court decision or if it's leaked out. Some people don't really believe how horrific violence against women is unless they actually see it. Look at the Ray Rice episode.
When asked if he's worried about reliving Mixon's punch if the video ever goes public, Castiglione said, "The story continues. We have to deal with it over and over again."
As Castiglione spoke Tuesday with a small group of reporters asking pointed questions about Mixon, SiriusXM radio announcer Jack Arute bizarrely butted in while live on the air. "Are you kidding me?" one reporter said as Arute stuck a microphone in Castiglione's face to ask him about Oklahoma being the Big 12's first representative in the playoff.
Arute got the one question in. Then a live audience heard Castiglione address whether Mixon should have spoken to the media about his past actions. Arute left.
Football-only related questions? No, not today.
Not when Mixon, even if restricted on what he could say due to concerns about a lawsuit, could have shown some empathy for the woman he punched.
Not when he could have explained what, if anything, he learned about asserting power and control, even if he was provoked.
Not when we heard that Mixon is changing but saw no evidence that he grasps what it really means to be a man.
Follow and read more from Jon Solomon on Facebook and Twitter.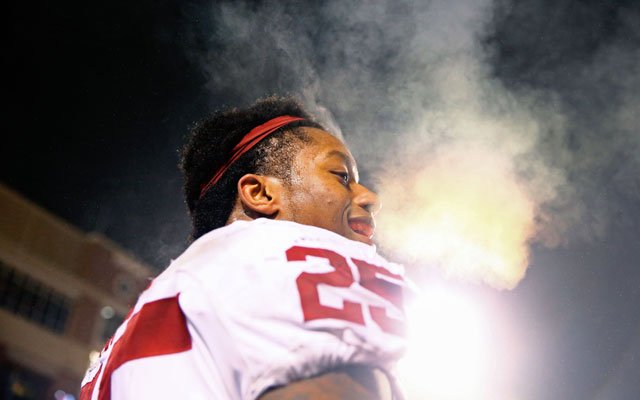 CBS Sports HQ Daily Newsletter
Get the best highlights and stories - yeah, just the good stuff handpicked by our team to start your day.
Please check the opt-in box to acknowledge that you would like to subscribe.
Thanks for signing up!
Keep an eye on your inbox for the latest sports news.
Sorry!
There was an error processing your subscription.
Boermeester was expelled in 2017 following an alleged altercation with his girlfriend

Kiffin has accepted his fair share of transfers in two seasons leading the Owls

The Canes are becoming Transfer U, but while their latest addition will be impactful, he's...
Sarkisian is in his second stint as Alabama's defensive coordinator

Vote in the first round of the Snacket and help decide the ultimate snack food

DaMarcus Fields, Joseph Wallace and Da'Leon Ward were suspended for unspecified reasons