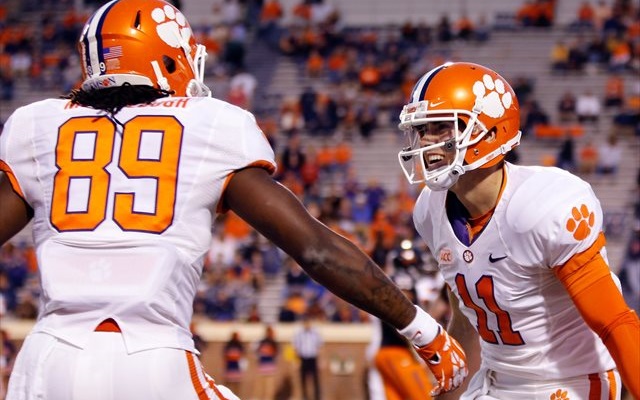 Chad Kelly, former Clemson quarterback and recent Ole Miss commit, was arrested in his hometown of Buffalo this weekend after getting into a fight with bouncers at a bar, according to a report from the Buffalo News.
Kelly, the nephew of Buffalo Bills legend Jim Kelly, committed to Ole Miss earlier this month after spending the 2014 season at East Mississippi Community College. There he threw for 3,905 yards with 47 touchdowns and eight interceptions and looked ready to follow in Bo Wallace's footstep as the next EMCC quarterback for Hugh Freeze's Rebels.
Now Kelly faces third-degree assault, second-degree harassment, second-degree menacing, resisting arrest, fourth-degree criminal mischief and second-degree obstructing governmental administration charges after an eventful night in Buffalo. 
Kelly reportedly punched a bouncer at Encore after refusing to leave the bar at 3:15 a.m. -- but the fight was just the beginning. 
Kelly continued to fight with two bouncers and stated "I'm going to go to my car and get my AK-47 and spray this place," according to a report.

Buffalo police officers responding to that alleged threat stopped a 2005 Ford F-150 pickup truck in which Kelly was a passenger at 458 Pearl.

Kelly was forcibly removed from the vehicle, officers said. Police said Kelly kicked and tried to swing at officers as they removed him from the vehicle. They said he resisted getting into a patrol vehicle and struggled with staff at central booking.
Ole Miss released a statement Monday indicating the team was "gathering information" about the incident.
Kelly's lawyer, Thomas Eoannou, told the Associated Press that video will prove Kelly did not start the fight or make the threat mentioned in the report.
"There's no evidence of a threat of an AK in that video," Eoannou told the AP. 
Kelly was dismissed in April by Tigers coach Dabo Swinney for "a pattern of behavior that is not consistent with the values of our program."