Ole Miss, ESPN working on 'TV accommodations' for LHN game
Ole Miss will play Texas Sept. 14 on the Longhorn Network, leading the Rebels to announce there will be 'accommodations' for viewers.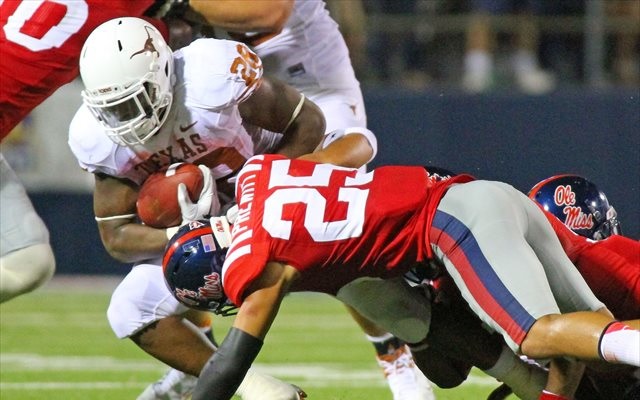 The struggles of the Longhorn Network to earn distribution and viewers suddenly doesn't seem like just a Longhorn Network problem.
The network, its corporate parents at ESPN, and Texas and Ole Miss announced Tuesday that the Rebels' Sept. 14 visit to Austin will be televised on the LHN at 8 p.m. ET. The problem from the Rebels' perspective is that precious few Ole Miss fans (to say nothing of the general nationwide college fooball-viewing audience) will have access to that broadcast.
So maybe it's no surprise that the Rebels also announced that their supporters may be able to find a way around ponying up for a limited-use LHN subscription:
Ole Miss & ESPN are working on TV accommodations for Rebel fans for the Texas game.

— Ole Miss Football (@OleMissFB) June 4, 2013
Make no mistake: It's good news that there should be some workaround for this dilemma for Rebel fans other than trying to make it out to the local sports bar, which might not have LHN either. But, of course, it remains to be seen exactly what these "accommodations" might be; an expensive pay-per-view option might not be a dramatic improvement. And there are still thousands upon thousands of Texas fans who don't have the LHN yet either.
It's those fans that made ESPN's and Texas' decision to air the game on the LHN all but inevitable. At this stage, the network has precious little leverage in its carriage distribution battle, and handing it the Longhorns' biggest nonconference matchup of the season against Hugh Freeze's suddenly buzzworthy team appears to be the strongest card left in the LHN's increasingly limited deck.
Is it unfortunate -- maybe even unfair -- for both Longhorn and Rebel fans? Without question. Is a dispute like this enough to cause potential Texas nonconference opponents to think twice before agreeing to visit Darrell K. Royal Stadium? Possibly. Are Texas A&M fans already gleefully pointing out that the same day the LHN's invisibility reaches critical mass the Aggies will be busy hosting Alabama on CBS in what many have pegged as the SEC game of the year? Of course they are.
But all of that is also simply the harsh reality of the corner into which the LHN -- and the Longhorns -- have currently backed. And if it helps the beleaguered network take even a small step out of that corner, it's safe to say any complaints from Oxford will fall on the deafest of ears.  
The 21-year-old quarterback was expected to start for the Cougars in 2018

The Fighting Irish will be without some playmakers in 2018

It may have been impossible for Sumlin to meet the expectations set for him in College Sta...
Some players are more easily replaced than others

The 2017 season is in the books, and several big-name stars are jumping early to the NFL

Love was second in the nation in rushing with 2,118 yards in 2017