Ole Miss racks up 'unprecedented' ticket sales for BBVA Compass Bowl
Rebel fans went through the university's initial allotment of 10,000 tickets so quickly, the school had to go back to the bowl for more, and even took nearly half of Pittsburgh's allotment off the Panthers' hands.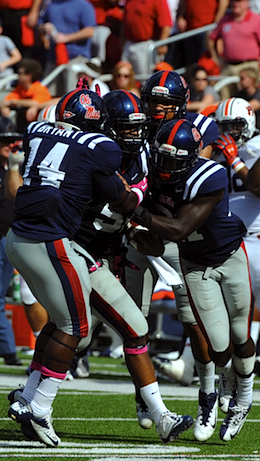 Ole Miss is more excited than anyone has ever been by prospect of visiting Birmingham in January. (US Presswire)
This time of year, most stories involving bowl games and ticket sales are of the mildly depressing sort, wherein a third- or fourth-tier game many fans have never heard of is confronted with the apathy of fan bases that have no intention of paying full price for a glorified exhibition. For the BBVA Compass Bowl, in Birmingham, Ala., that's the case again for one-half of this year's matchup. Pittsburgh, which has predictably struggled to stir interest, is a disappointing 6-6 outfit stuck in the Compass Bowl for the third January in a row.
Senior tailback Ray Graham summed up the team's sentiment earlier this month when he said the Panthers were looking forward to "any bowl, except Birmingham."
Now, for the twist: The Panthers' opponent in the game, Ole Miss, is thrilled to be there. So thrilled, in fact, its enthusiasm is boosting Pitt's ticket sales. According to the Jackson, Miss., Clarion-Ledger, Rebels fans went through the university's initial allotment of 10,000 tickets so quickly, the school had to go back to the bowl for more, and even took nearly half of Pittsburgh's allotment (4,000 tickets of 10,000). Altogether, Ole Miss has reported 21,470 tickets sold through the university for the Jan. 5 game, believed to be the most for any bowl-bound SEC school this year.
"It's the first time that has ever happened with these type of ticket sales," the Compass Bowl's executive director, Mark Meadows, told the Clarion-Ledger. "We've had some good ticket sales here, when South Carolina was here [in 2010]. But this, it's kinda unprecedented."
The numbers are more impressive considering schools -- which are contractually obligated to buy a minimum number of tickets through the bowl at face value -- are generally at a disadvantage when it comes to competing against online outlets like StubHub, where the same seats can usually be had for a fraction of the cost. As of Wednesday morning, though, the brisk market for Compass Bowl tickets had driven online prices above face value on most sites.
Under most circumstances, a middling bowl game at the end of a 6-6 campaign that yielded a losing (3-5) record in conference games and a single victory over a bowl-eligible opponent would qualify as a disappointment, not a catalyst for unbridled enthusiasm. After two years in the cellar, though, 2012 was a beam of light. Coming into the season, The Rebels were still bearing the scars of a 14-game losing streak in SEC play, a three-game skid against rival Mississippi State and preseason forecasts that unanimously pegged them for last place in the SEC West for the third year in a row. Of their 10 losses in 2011, eight were by a margin of at least two touchdowns, and most of them could have been much worse than the score indicated. At one point, the chancellor reported he'd received thinly veiled threats warning him to dump both head coach Houston Nutt and athletic director Pete Boone, or else. Both were given the boot before the end of the season.
Relatively speaking, Hugh Freeze's first season as head coach was a giant step in the right direction, if only in the sense that his team held its own against the conference's heavy hitters. Five of Ole Miss' six losses came at the hands of teams that finished in the Top 25, and three came in games they led in the fourth quarter, including down-to-the-wire finishes against Texas A&M and LSU. With a season-ending, 41-24 romp over Mississippi State, the Rebels broke out of the malaise and into the postseason with a sense of forward momentum that had been sorely missing over the last four years. At least they can't say it went unappreciated.
CBS Sports HQ Daily Newsletter
Get the best highlights and stories - yeah, just the good stuff handpicked by our team to start your day.
Please check the opt-in box to acknowledge that you would like to subscribe.
Thanks for signing up!
Keep an eye on your inbox for the latest sports news.
Sorry!
There was an error processing your subscription.
The lawsuit claimed Colorado officials failed to properly address domestic violence claims...

The cupboard isn't bare in Tuscaloosa

Media members are now on the record for their picks for the 2018 season
Bubba Cunningham believes his coach's remarks were 'poorly communicated'

Ball is still life for Malzahn, but he now has some space to be himself as he leads the Ti...

Swinney is happy to have his current quarterback situation