Ole Miss TE Evan Engram out for season after ankle injury
Ole Miss's upset victory over LSU came at a price as freshman tight end Evan Engram will require surgery for a sprained ankle suffered in the second half.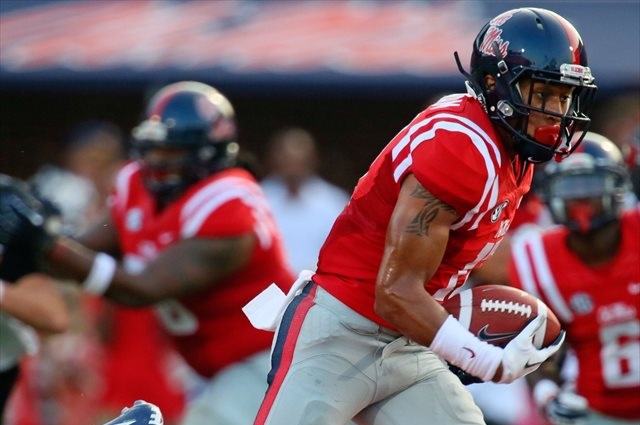 Ole Miss's injury situation has gone bad to worse to positively Georgia-esque.
The latest casualty is true freshman tight end Evan Engram, who through the season's first seven games surprisingly emerged from the Rebels' famously deep 2013 recruiting class as one of their brightest incoming contributors, catching 20 passes for 265 yards and three touchdowns.
Those totals were enough to make Engram the Rebels' third-leading receiver as of their 27-24 upset of LSU Saturday. But the Powder Springs, Ga. native won't have a chance to add to them, with Ole Miss confirming Sunday that an ankle injury will force Engram to undergo season-ending surgery.
Per the Associated Press, the Rebels termed Engram's injury a "high-ankle sprain" in his left ankle. The injury occurred in the second half of the LSU win, though the Rebels were unsure on which play it took place.
The good news for the Rebels is that even with Engram out and a flurry of injuries plaguing the defense, their schedule will finally relax after four straight games against opponents currently ranked in the BCS top 16. Ole Miss hosts Idaho this week, followed by games against struggling Arkansas and Troy.
But whatever the schedule looks like, it looks more daunting for the loss of Engram and the rest of the Rebels' injured crew.
Florida State and Alabama will face off in a highly touted game in Atlanta in Week 1

Five NC State freshman were punished team rules and code of conduct violations

Browne was benched in favor of Darnold early into last season
There are new names to learn every season, and here are 14 to keep an eye on from the SEC

Taking a close, detailed and opinionated look at the SEC a week before the start of the 2017...

Rosier will start for the Hurricanes in their opener against Bethune-Cookman