Ole Miss's Hugh Freeze says he has coached gay players
While his athletic director says he's 'confident' Ole Miss could handle an openly gay player, Hugh Freeze says he's already coached players he and his staff knew were gay.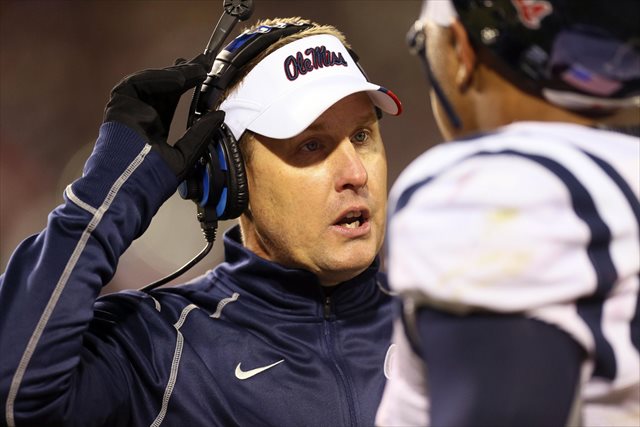 Since SEC Defensive Player of the Year Michael Sam's announcement that he's gay -- and that he'd come out to his Missouri team before its 12-2 bounce-back season -- it's been noted in many corners that if Sam's Tigers might have been the first major college football team with an out teammate, they were far, far from the first to have a gay player somewhere on the roster.
That fact was confirmed by none other than Ole Miss head coach Hugh Freeze, who told the Clarion-Ledger in a must-read Tuesday story that he's coached players -- apparently two -- he and his staff knew to be gay.
"Certainly don't want to call any names, because everybody is entitled to their privacy unless they want it to be public," Freeze said. "I guarantee in both cases they knew the coaching staff loved them and respected them."
Freeze's in-state counterpart Dan Mullen said that he hasn't yet been in Freeze's or Gary Pinkel's position at Mississippi State , but that he didn't expect it to be a problem if he had.
"Chances are, there's a guy that is gay on every team," Mullen said. "It's not that big of a deal. Statistically speaking probably more than one." 
Ole Miss athletic director Ross Bjork added that he was "confident" his football team and athletic department would be able to handle an openly gay player. His and Freeze's comments are particularly noteworthy given the national headlines made in October, when Rebel players were part of an audience actors in a campus production of The Laramie Project said heckled the performance and yelled homophobic slurs at the stage.
A university investigation was unable to verify what language had been used or who had used it, and -- in the Clarion-Ledger's words -- "made a point of clearing the athletes (including freshmen football players) in attendance."
The incident nonetheless means the relationship between the Ole Miss football team and the campus LGBT community will be watched closely for the forseeable future -- and means Freeze's encouraging, supportive comments are all the more welcome for it.
Mills was arguably Georgia Tech's most important player coming into the season

Hugh Freeze's phone records reportedly show another troubling pattern for Ole Miss

They aren't necessarily great teams, but they're teams I'm really interested in following this...
The Irish will wear them on Nov. 18 against Navy

The fourth-year coach of the Nittany Lions led the program to the 2016 Big Ten Championshi...

Yes, you read that right: The Bad Boy Mowers Gasparilla Bowl will be held in St. Petersbur...