On the brink of irrelevance, Notre Dame hooks up with ACC
Postseason football access one key to Notre Dame's move the ACC.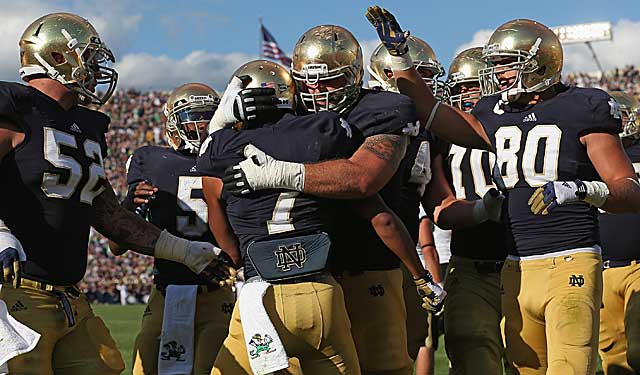 Notre Dame already has four current or future ACC schools on this season's schedule. (Getty Images)
Notre Dame saw its football future and it wasn't promising.
It had no bowl partner for the next two years and perhaps no access to any bowl. In the new playoff era -- beginning in 2014 -- its access to those six rotating bowls was lacking. Without an automatic tie-in, it was competing on equal footing for those six bowls with the likes of Conference USA, Sun Belt, MAC, Mountain West and Big East.
Forget what you've seen on the field lately, Notre Dame football was about to become an outlier. Independence had its disadvantages. Because of its lack of football success and the changing postseason landscape, the Irish were on the brink of being squeezed out of college football relevance.
Notre Dame joins ACC
Related content
On Wednesday, though, it defied the laws of nature and college sports. Notre Dame became kind-of pregnant. Notre Dame retained its independence by joining the ACC in everything but football beginning in 2014. But that football scheduling agreement was the key to everything. By playing five games a year against ACC teams, it got that much-needed access to that postseason.
Everybody is happy -- the Subway Domers who cling to that independence like a security blanket. So are the progressives who saw a conference tie as the football program's best access to the lucrative postseason.
It's only a scheduling agreement, but it's also the biggest off-field announcement in football for Notre Dame since it signed that first NBC contract 20 years ago. Then, the game's biggest brand broke away from the College Football Association to partner with its own TV network. Now, even that network affiliation couldn't save it in the future college football landscape.
Without the assurance that football excellence would assure it a promising postseason future, it went for the next best thing -- a conference partner that would let it come in halfway and call the shots. ACC commissioner John Swofford said Notre Dame would have access to the ACC bowls going forward. If Notre Dame and an ACC team are within one game of each other for a bowl, ND gets the call.
"In all probability", Swofford added, Notre Dame will be among the opponents eligible to face the ACC champion in the Orange Bowl.
Notre Dame would not have to share bowl revenue in that scenario. In the new playoff era beginning in '14, ND is now a player with access to one of those six rotating bowls. And it's there because football didn't perform on the field. The Irish's last BCS bowl was in 2006. Its last three bowl trips have been to Orlando, El Paso and Hawaii.
"There's no other way to create the bowl position," a source said. "Whatever games they [ACC] have access to, those are now our options."
If you look at Notre Dame's schedule, it's almost as if it has been planning for this moment for years. Since 2006, it has played at least two ACC teams in six of seven years. Last season it played four ACC teams (including the bowl game against Florida State). If you count Pittsburgh (joining in 2013), it is playing four ACC schools this season (Boston College, Miami, Wake Forest).
For those worried about Notre Dame's traditional rivals, there is still room for USC, Michigan, Michigan State and Navy. That isn't going to be an issue. However, AD Jack Swarbrick may have to buy out some contracts so his program isn't playing Florida State, Clemson, Michigan, USC, etc. in the same year.  
"This," that Notre Dame source said, "addresses things across the board."
This has to be a disappointment on some level for the Big Ten. The best academic/geographic fit was there. The conference office is in the same city that is almost a Notre Dame country unto itself, Chicago. Those traditional games against Purdue, Michigan and Michigan State are, well, traditional. The two parties have flirted for decades but were never ready, for various reasons, to consumate the relationship. 
It's unlikely, in this case, the Big Ten would have gone along with a scheduling agreement. 
Yes, the Big 12 could have had the Irish too. In fact, Texas AD DeLoss Dodds was openly recruiting N.D. But the league wasn't geographically or academically desirable. Joining the ACC in everything but football allows the school to expand its brand in the Northeast and Eastern seaboard.
"They need the Northeast," one college football source said last month. "Their normal students come from there and, secondly, it's their recruits who come from those areas.
"Now [if] they're playing [in the ACC] in Florida, Miami, Tallahassee, South Carolina, North Carolina, D.C., New York and Pennsylvania. Is that better than playing at Iowa State, Manhattan, Kan., Lawrence, Kan., Austin, Texas? They don't have any students from those areas."
The blow to the Big East is significant. The league loses a major partner at a time when it is negotiating a new contract. To argue otherwise means that Notre Dame was a detriment to the Big East. No, it was a brand that was going to mean a lot in those TV negotiations.
Meanwhile, the ACC will be able to reopen its contract and renegotiate what was termed a "sizable bump" in its deal. Notre Dame has been the biggest prize in conference realignment. Now that the Irish have a home -- or at least a place to rest -- look for the realignment merry-go-round to slow down significantly.  
There is literally no place for BCS teams to move at the moment. The ACC soon will have in place a $50 million exit fee. (The figure has been arrived at by tripling the annual TV revenue take, $17 million per school.) Figuring in the bump in rights fees from Notre Dame, that exit fee could quickly grow to $60 million.
Notre Dame supported the monster rights fee as a way to assure ACC stability. There were dissenters in the rights fee discussion (most notably Florida State) but it was adopted by at least the required three-quarter margin, 11 of 14 schools.
Elsewhere, the Big 12 has a 13-year grant-of-rights. The SEC is so solid it doesn't need a grant of rights. The Big Ten's only sensible move was to get Notre Dame. The Pac-12 took two runs at the Big 12 and failed.
It's a Gordian Knot. The only teams worth getting are tied to their conference either by tradition, revenue or a significant exit penalty. For example: The 10-team Big 12 is now reduced to raiding the non-BCS Group of Five (Big East, Sun Belt, MAC, Mountain West, Conference USA.) 
After signing a lucrative new TV deal with ESPN and Fox, Big 12 schools are guaranteed $20.3 million per year. Who from the Big East, for example, brings the same value?
Any realignment will now occur below the Mendoza Line. Perhaps with Notre Dame making its move, Mountain West commissioner Craig Thompson places another call to Boise State and San Diego State and tries to coax them out of the Big East.  
Those schools may be calling Thompson soon if the Big East deal doesn't reach expectations in its TV negotiations. If they stayed "home", San Diego State and Boise State would at least be saving gas money. 
For now, ACC commissioner John Swofford is college sports' man of the year. Somehow he has been able to expand and enhance his conference under the radar. Remember last September when former Big East commissioner John Marinatto had to be told by a reporter he was losing Pittsburgh and Syracuse?
It's a cutthroat world out there but the ACC emerged with the biggest, best, shiniest gem. And if someday, decades from now, Notre Dame feels like it has to join a conference full time, well, there is only one place it can go. That $50 million exit fee applies to the Irish too.
Whether the two parties agree to be married at some future date is to be determined. But that was a heck of an engagement announcement on Wednesday on Tobacco Road. Once again the college sports world titled on its axis when Notre Dame shrugged.
The Irish proved it possible to be kind-of pregnant.  
The movie will zero in on former Penn State coach Joe Paterno during the Jerry Sandusky sc...

Bidding for Salaam's trophy, which the auction house says was obtained legally, ends Satur...

Locksley has been the offensive coordinator at Illinois and Maryland during his coaching c...
Many NFL-eligible juniors ignore advice provided by the league and risk going undrafted each...

Snyder died in Manhattan, Kansas, on Wednesday

Locksley joined Alabama's staff in 2016