On the market: Top college punter looking for new school in 2013
Meet Paul Layton, an all-conference punter at the FCS level who is hoping to make the jump up to an FBS program for the 2013 season. What's even more fascinating about the Albany punter's story is that he has already asked for -- and been granted -- his release by the Great Dane staff.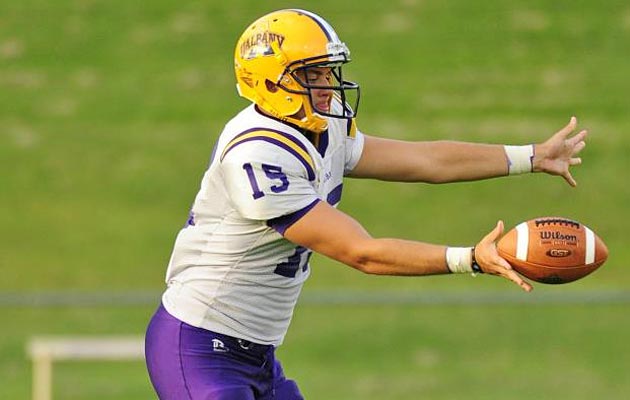 Paul Layton's skills would likely translate well in the tougher competition at the FBS level. (Photo: University at Albany)
Last year, Russell Wilson left North Carolina State and promptly led his new team, Wisconsin, to the Rose Bowl. Before Wilson's move, there was Duke point guard Greg Paulus resurfacing in the Big East to provide the Syracuse football team some much-needed leadership, DB Ryan Smith leaving Utah to help spark a BCS title run at Florida and several other de-facto free agents using the graduate transfer rule to give a major-college football program an immediate boost.
A grad student transferring to a big-time program is hardly rare these days, but meet Paul Layton, an all-conference punter at the FCS level who is hoping to make the jump up to an FBS program for the 2013 season. What's even more fascinating about the Albany punter's story is that he has already asked for -- and been granted -- his release by the Great Dane staff. In fact, the Albany staff is making calls to try and help its star punter find his new college home for next season.
Layton told CBSSports.com on Tuesday that he had been contemplating the graduate transfer move for months and that he was apprehensive about having that conversation in early August with long-time Albany head coach Bob Ford, who has been the Great Danes' head coach since 1970.
"I put it off for a few days," said Layton, who averaged almost 43 yards per punt in 2011. "I was scared to talk him about it because I had no idea how he'd react, but he was great about it."
Two weeks ago, Albany granted Layton a permission-to-contact release.
"Obviously, you're disappointed -- I mean the guy is one of the best kickers in the country -- but at the same time, I've been in this long enough to say, 'You need to do what's right for the kids,'" Ford told CBSSports.com on Wednesday morning.
"We constantly talk about family here. We call ourselves 'The Purple Family,' and if you truly believe that stuff, you have to do what's right for them."
Layton is a local product. The 6-foot-1, 210-pounder quarterbacked his upstate New York high school, Burnt Hills, to the state title game. He came close to accepting a walk-on opportunity at Syracuse or Pitt, he says, but that was before Albany offered him essentially a full scholarship.
After redshirting his freshman year, his plan was to pursue his MBA at Albany, but he started considering other options, looking for a program that offered something different.
"I'd like to specialize in finance and supply-chain management," he said, "and I think if I can add another big school to my résumé, it opens up a whole new network of job opportunities."
Layton has spent months researching MBA programs as well as depth charts, looking for FBS teams that have senior punters in 2012. He realizes that many schools will be reluctant to offer a scholarship to a punter for one year, especially knowing that he'd count as one of the school's initial signees in the 2013 signing class. Unlike a Wilson or a Danny O'Brien, Layton also is looking to make a step up in competition, although the position he plays isn't as dependent on the talent he's on the field with.
"When the pro scouts come in here, we have a couple of guys they're looking at," said Ford. "One is [Layton] and another is our linebacker Jon Morgan. The scouts know that [Morgan] plays well on this level, but they have to think, 'How would he play at an LSU or a Michigan?' With a punter, though, it's more, 'Can he get it away quickly? Can he get enough height on his kicks so they can cover it? Can he get enough distance?' It's a measurable skill, and Paul does all of that."
One other plus Layton has in his favor is that by punting for Albany, he has had to kick in some rough conditions in terms of swirling winds, chilly temperatures and even punting in a blizzard at Wagner College.
Layton's average through four games this fall is down from 43 yards to 41 yards per punt. He has had "a ton of pooch punts," he said, adding that he has had almost as many fair catches on the end of his punts already as he did in all of 2011. By lifting up his drop about an inch and exploding off his plant leg more, he says he's getting more hang time on his kicks while speeding up his get-off time.
A punter's get-off time is crucial, said one college special teams coordinator, who told CBSSports.com that finding punters is even harder than finding kickers. The coach described recruiting specialists among the kicking scene as a "freaky subculture," which he said was akin to "kiddie soccer."
"A kid can do drills and his mechanics can look great, but you really can't tell what you have until you see him in a game situation with real pressure," the veteran coach said. "We have a stat where a team that gets a punt blocked loses 70 percent of the time."
Layton has also posted his game film from college on Youtube.
After meeting with Ford, Layton provided the Albany coaching staff with a list of eight schools he's interested in. Among them were programs from the ACC, Big Ten, Big East and Pac-12. Layton also included Notre Dame. The Great Danes coaching staff made the first round of calls Tuesday. Ford said they just left voice mails with those recruiting coordinators, but added that there is interest from one additional Big Ten school that wasn't on Layton's initial list.
Ford predicts once these schools find out more about Layton at least one will offer.
Layton, a 3.7 student in business administration, said he is grateful to Ford for the support. "If I had to wait till after the season to get my release, I'd have had no chance to talk to coaches to get there by January," he said. "This hopefully gives me enough time to get somewhere where I can get a head start on my academics and get acclimated to my new team."
Young was injured during Miami's Orange Bowl loss to Wisconsin

The movie will zero in on former Penn State coach Joe Paterno during the Jerry Sandusky sc...

Bidding for Salaam's trophy, which the auction house says was obtained legally, ends Satur...
Locksley has been the offensive coordinator at Illinois and Maryland during his coaching c...

Many NFL-eligible juniors ignore advice provided by the league and risk going undrafted each...

Snyder died in Manhattan, Kansas, on Wednesday