Once-bitten North Carolina outlines new restrictions on agents' access to players
UNC compliance dramatically limits agents' contact with Tar Heel players during the 2012 season.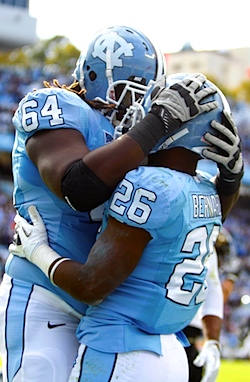 Given what North Carolina's been through over the last two years, cracking down on agents in July 2012 is akin to closing the barn door after the horses have escaped. Already, agent contact with various UNC players – and with with former assistant coach John Blake, in particular – has forced the Tar Heels to suspend more than a dozen players, wipe two entire seasons' worth of wins from the record books, drop 15 scholarships over the next three years, endure a one-year bowl ban this winter and send both their head coach and athletic director packing. Just how much more havoc can one profession wreak?
UNC is not waiting to find out. Last week, the Carolina compliance department sent out letters to selected agents outlining new restrictions on contact with Tar Heel players during the upcoming season, emphasizing three specific provisions:
At this time, and continuing through the end of the regular season

, we request that you adhere to the following policies that we have put in place for our student-athletes:

1) There should be no in-person contact between yourself (or your representatives) and our student-athletes of their families during this time.
2) During the month of August, no phone calls are permitted. Starting September 1st, phone calls are permitted only between the hours of 7:00 pm and 10:00 pm on Sunday night.
3) During August, no electronic communication is permitted. Starting September 1st, electronic communication (including email, social networking, and text messages) is prohibited from Thursday through Saturday (allowing our player to focus on that week's game).
On top of that, all "literature" will be routed through the UNC compliance office. The school will also host brief meetings between players and agents certified by the NFL Player's Association and the state of North Carolina later this month, at the player's request. Better late than never, etc.
North Carolina's policy is a free-for-all compared to the restrictions enacted by Miami in May, which responded to a bombshell exposé ignited by a former booster/wannabe-agent by prohibiting all contact of any kind between players and agents until the player's college eligibility has expired. But both policies must look like handcuffs to coaches charged with recruiting aspiring pros who can engage in an actual free-for-all almost anywhere else.
Somewhat surprisingly, given the unfiltered scorn with which agents are usually greeted by the gatekeepers of college sports – that is, the guys who are already getting paid – there are no formal restrictions on player contact with agents, as long as a) No cash, gifts or favors change hands and b) There is no agreement for cash, gifts or favors to change hands in the future. Per the NCAA: "It is not a violation of NCAA rules if a student-athlete merely talks to an agent (as long as an agreement for agent representation is not established) or socializes with an agent. For example, a student-athlete could go to dinner with an agent and no NCAA violations would result if the student-athlete provided his own transportation and paid for his meal."
In fact, Miami briefly suspended a starting safety, Ray-Ray Armstrong, for one game last year for just that: Dining with an agent. (Armstrong had previously been suspended for the first four games of the 2011 season in the wake of the Nevin Shapiro scandal, the investigation into which is still ongoing, but no NCAA violations have been reported or suggested in the later case, involving the president of a PR firm.) If perceived access to the NFL matters in recruiting (of course it does), and access to pro agents is perceived as a sign of access to the NFL (of course it is), then programs that openly restrict that access are recruiting with one hand tied behind their backs, in an environment in which the "black market" is almost certain to find a way to do whatever it wants to do, anyway.
But such is the price of probation. With their recent rap sheets, if UNC or Miami left the door open a crack and another horse managed to escape, the NCAA may make sure there's not much of a program left to sell at all.
Saban isn't going to win Alabama's special election, but the Crimson Tide coach got some l...

The Tigers are going worldwide for their next punter

Led by Heisman Trophy winner Baker Mayfield, the Big 12 finished with seven first-team sel...
Schiano would have made $4.4 million in Year 1 with annual raises as part of a six-year de...

Dykes spent this season as an offensive analyst at TCU

The 'Wyoming Wild Man' notched six tackles for loss as a junior in 2017