One of the greats, Tom Osborne stepping down at Nebraska, this time for good
Osborne retired as a coach in 1997 with three national championships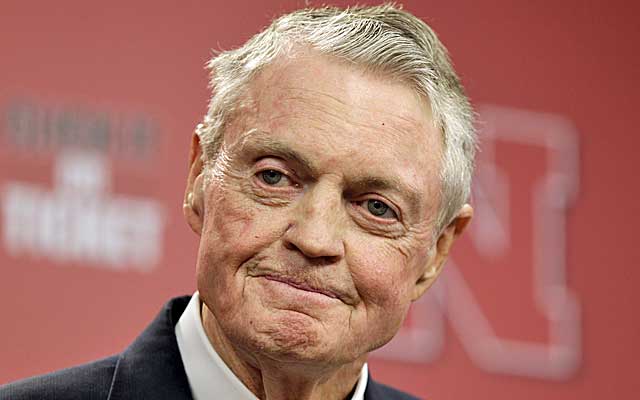 Osborne won three national titles at Nebraska. (AP)
As Tom Osborne retired on Wednesday (effective Jan. 1), he left us with a choice. A choice of his greatest accomplishment as a coach, statesman and AD at Nebraska.
Was it going for two against Miami 28 years ago?
Was it those three national championships that he eventually won -- in a four-year span?
Was it his public service? Osborne was a state representative and ran for Nebraska governor.
Was it the fact that a lot of people believe he "saved"  Nebraska football at a critical time five years ago?
Was it helping get Nebraska into a lifetime relationship with the Big Ten?
Perhaps that's his greatest legacy.  "T.O." is leaving us with that multiple choice question as to how best define his career.
His choice to go for the win in that epic Orange Bowl defined his character as a football coach and person. For those of you too young or not born yet, Osborne elected to go for two against Miami on Jan. 1, 1984 instead of kick an extra point that would have assured him a national championship.
It was arguably the biggest college football moment in the last 25 years of the 20th century. Miami's win launched a dynasty, by the Hurricanes. For Osborne, it defined what he was -- uncompromising. It looked like the Huskers might never win another national championship until they put a stranglehold on No. 1 in 1994, 1995 and 1997.
That 1997 title is remembered by some as a parting gift from the coaches' poll. Osborne's retirement as a coach came in early December of that year, in time for the voting coaches to consider his impact on the game. Meanwhile, Michigan got the AP title.
That would be the last time such a "gift" was possible. The BCS started the next season. It was a system that Osborne had more or less been advocating for years. He always wanted "computers" to be part of the system.
Osborne's uncompromising stance wasn't always popular -- or right. In 1995 he allowed Lawrence Phillips to return to the team after an assault on his girlfriend. Phillips, the star tailback, return in time to win Nebraska another title. He then declared early for the draft. Phillips is currently serving time in prison.
Osborne once admitted to me years later that he made a mistake allowing Phillips back on the team.
Osborne returned to Nebraska in 2007 as an interim AD -- a comeback tour! -- to guide the program through one of its toughest stretches. It was up to Osborne to fire Bill Callahan, talk the fans in off the ledge and get the Huskers back. He eventually hired Bo Pelini who is in his fifth season.
The program still hasn't won a conference title since 1999 but Osborne's greatest accomplishment may have been guiding Nebraska into the Big Ten as full-time AD. While it was a contentious process in 2010, the Big Ten became a comfortable fit. Upset at Big 12 infighting, Nebraska went for the stability of the Big Ten where schools split $100 million a year alone in Big Ten Network revenue.
Nebraska, a rural state of two million souls, is set for life financially in the Big Ten. The championships will return again -- perhaps this year. 
Understated to the end, the 75-year-old Osborne asked how he would be remembered.
"That legacy question is a tricky one," Osborne told reporters. "I'd rather you guys [media] wrote it than me."
As for candidates, chancellor Harvey Perlman has hired a search firm (Jed Hughes) and intends to conduct what sounds like a national search. He has already interviewed some candidates. Expect these names to come up ...
--Greg Byrne, AD at Arizona. As Nebraska AD, his father Bill brought Nebraska athletics into the 20th century in the 1990s. 
--Ross Bjork, AD at Ole Miss. Young aggressive administrator who already has been at UCLA and Western Kentucky. 
--Paul Meyers, Nebraska associate AD. Head of Huskers Athletic Fund.
--Marc Boehm, Nebraska executive associate AD. Facilities, sponsorship and marketing expert once spent five years with the Fiesta Bowl.
Stanford produces apps and Super Bowl participants

The Alabama QB has a new look after the Tide claimed another national title

Young was injured during Miami's Orange Bowl loss to Wisconsin
The movie will zero in on former Penn State coach Joe Paterno during the Jerry Sandusky sc...

Bidding for Salaam's trophy, which the auction house says was obtained legally, ends Satur...

Locksley has been the offensive coordinator at Illinois and Maryland during his coaching c...