'One True Champion' sounds nice, but might not be enough for Big 12
There will be four playoff teams, and there are five power conferences. Without a conference title game (and its strength-of-schedule bump), the Big 12 begins this new era at a disadvantage.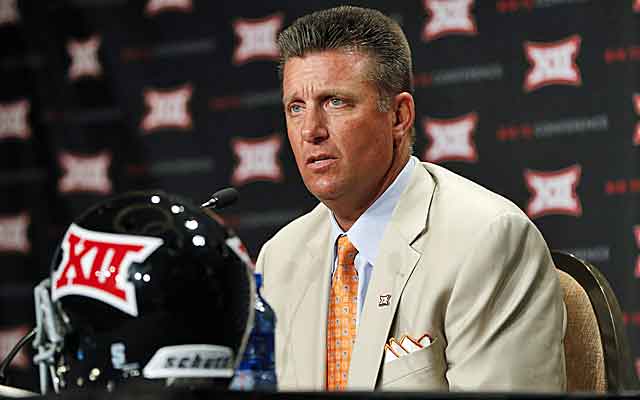 More college football: Dennis Dodd | Jeremy Fowler | Jon Solomon | Latest news
DALLAS -- If slogans were sledgehammers, media brains would be splattered across the Omni Hotel's third floor.
You couldn't swing a dead (Wild)cat Monday without the Big 12 repeating its three-word mantra: One True Champion.
The message -- part of the conference's re-branding, reboot, grand-reopening -- was pounded home the length and breadth of Big 12 media days that commenced Monday.
On gear, on signage, on a giant video board that at one point replayed the same promotional PSA six consecutive times.
One True Champion not-so-subtly emphasizes the by-now obvious in this playoff era: The Big 12 is the only Power 5 conference with a round-robin schedule, but without a conference championship game.
Everybody in the 10-team league plays everybody else.  No byes, no misses, no excuses. In the super-conference era that is a rarity.
In the playoff era, it's a giant question mark. In other words, for the Big 12, is that enough?
Simple math tells you that at least one Power 5 conference is going to be left out of the playoff each year. Four spots for five conferences (Pac-12, Big 12, ACC, SEC, Big Ten) does not compute.
"Anybody who thought this was going to resolve the controversies at the end of the year, I think, is probably barking up the wrong tree," said Big 12 commissioner Bob Bowlsby.
So depending on which side of the rhetoric you dwell, college football demands of you an opinion about the only big-boy league without that conference championship game.
That's either a curse or -- as the Big 12 would have you believe -- a sledgehammer.
"You win the Big 12 you're going to the playoffs," said Baylor quarterback Bryce Petty.
Hold on there, sparky. Your league hasn't played for a championship since 2009, hasn't won one since 2005 (both Texas).  Based on the BCS standings, a Big 12 team has finished in the top four once since 2010 (Oklahoma State, 2011).
In terms of 2014 schedule strength, the Big 12 has only two teams (Iowa State, West Virginia) in the top 10 based on opponents' 2013 winning percentage. The SEC has seven in the top 20. The ACC has eight in the top 30.
Baylor is 67th in schedule strength, the second lowest standing of any defending BCS conference champion. Preseason favorite Oklahoma is 93rd in that category.
In terms of playoff juice, One True Champion might as well be TBD -- To Be Determined.
"It's not like we have the Bear Network," Baylor defensive end Shawn Oakman said. "Our exposure is so very limited to those few months we have to play football. We're a small school."
The Bears are the authority du jour because of their 2013 title that shocked the league and nation. But even shock waves diminish.
For now, the playoff is all about schedule strength. That's one thing we've been told regarding the still-mysterious selection committee process. The 13-member committee is going to value conference champs and tough schedules.
Will the Big 12 even be in the discussion without that extra game for its conference champion? One man's weakness is another man's strength.
"At the same time," Oakman said, "we play each team. The SEC doesn't have to play each team in its conference."
True, but the likes of Baylor is not football royalty. The Bears were in few offseason discussions when it came to speculating how a 2013 playoff would have looked.
Florida State? Absolutely. Alabama and Auburn? Yup. At 11-1 heading into the bowl, Baylor had as many losses at Michigan State and was a conference champion same as Stanford.
How many folks outside of Waco even put the Bears in the bracket? All of this speculative. Oakman admits, rightly, that a lot of it is tradition. An 11-1 Auburn is probably going to get the nod over an 11-1 Baylor.
The only thing we know for sure is that the Big 12 has one less game with which to argue otherwise.
"We're certainly not oblivious to it, [but] I like our path to the championship," commissioner Bob Bowlsby said.
That path includes the conference champ being decided on the last day of the season for the last five years (two of those in conference title games). Since downsizing to 10 teams in 2011, the league has made an effort to place high-profile games on that last Saturday.
The results:
Baylor beat Texas last December to clinch its first Big 12 title.
Kansas State did the same on the last day in 2012, routing Texas.
Robert Griffin III arguably clinched the Heisman Trophy in 2011 on the final day. 
Compelling stuff expect that same day, Oklahoma State finished 11-1 and ultimately .0086 of a point behind Alabama for a BCS title berth. The difference? Most probably a conference championship game played and won by Alabama.
"There were a number of people that really wanted me to politick hard," Cowboys coach Mike Gundy said. "I'm just not comfortable doing that. That's probably not a smart decision on my part."
Politicking might also be the way of the world for the Big 12 in the future. Kansas State, Baylor, Texas Tech and Oklahoma go into the season with schedule strengths that are 65th or worse.
There are mitigating factors. The same reason the conference exists is the same reason it has a chance -- Texas and Oklahoma are in it. OU starts at No. 93 in schedule strength playing the likes of Louisiana Tech, Tulsa and a down Tennessee in the non-conference. But it's Oklahoma.
Alabama is last in the SEC (95th!) in opponents' winning percentage. Seven of the Tide's 12 opponents finished 2013 with losing records including FCS Western Carolina. That, you might argue, means little in 2014.
Alabama, like Oklahoma, is going to get every consideration.
"Tradition," Oakman said.
Meanwhile, Art Briles is apologizing to no one for playing SMU, Northwestern State and Buffalo before the Big 12 schedule.
AD Ian McCaw says those games were scheduled before the playoff emphasized strength of schedule.
"Our goal at that point was just to get into a bowl game," he said.
Mostly, the Big 12 lacks that emphatic last-day statement. It also is not risking its best team by having to prove it again in a conference title game. The league will be playing games on that last Saturday but it will be a matter of fortune whether those games are relevant to the national scene.
Meanwhile, the SEC title game emerged as a de facto national semifinal. (Now quarterfinal?)
In the playoff era, careers will be made and ruined based on the whims of that selection committee. The entire coaching industry has had its contracts rewritten to include bonuses for playoff performance.
Bowlsby was reminded that Steve Spurrier would lose out on a $550,000 bonus if the Gamecocks don't make the playoff this season.
"Heaven forbid," Bowlsby said, snark in full effect. "I'd be crestfallen if that happened."
For now, the Big 12 is happy to be that outlier. Minus a final rebuttal/extra game, it can sharpen its lobbying skills.
"You're going to see more of it in my opinion because there's four," in the playoff, Gundy said. "If we get in that situation I'm sure there will be pressure from my administration to do it."
Schiano would have made $4.4 million in Year 1 with annual raises as part of a six-year de...

Dykes spent this season as an offensive analyst at TCU

The "Wyoming Wild Man" notched six tackles for loss as a junior in 2017
Zaycoven Henderson was charged with aggravated assault with a deadly weapon

Patterson is a former No. 1 recruit in the country

Baker Mayfield and two Sooner teammates made the first team