Oops: Auburn posts Rashaan Evans profile, but five-star picks Tide
Someone working for Auburn's website jumped the gun when it came to local blue-chip prospect Rashaan Evans.
It will sting Auburn plenty that five-star linebacker Rashaan Evans chose to sign with Alabama Wednesday. Evans was the No. 15 player in the country, the biggest target on the Tigers' board, an Auburn native, the son of two Auburn graduates and had been largely expected to sign with Gus Malzahn's team for weeks. (The 247 Sports Crystal Ball had been overwhelmingly in favor of the Tigers.)
Despite all of that, after whispers that Alabama had made a massive push down the stretch, Evans' decision didn't come as a total shock ... unless, maybe, you're Auburn's webmaster. The following profile appeared on Auburn's site -- complete with highlight video -- as the state held its breath for Evans' announcement: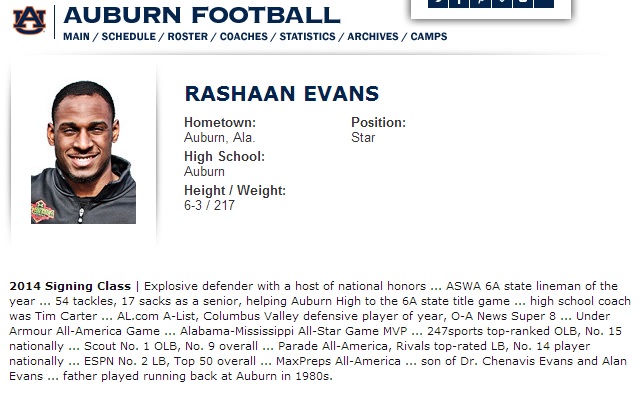 Like whoever was responsible for the above appearing on Auburn's site -- it's since been deleted -- it appeared Evans' mother may not have been entirely thrilled with her son's decision:
Auburn SID Kirk Sampson offered an explanation:
Auburn Athletics did not prematurely post a bio of a recruit. Bios are pre-built and hidden by code in anticipation of signing day.

— Kirk Sampson (@AuburnSID) February 5, 2014
That may be the case ... but it also seems like the code-hiding could still be a bit more airtight.
So it's bad, but not all bad for Auburn; top-100 guard Braden Smith signed with the Tigers over TCU earlier in the morning.
UDPATE: Auburn also had company, as it turned out: via GatorBait.net reporter Thomas Goldkamp, LSU published-then-deleted a bio for five-star cornerback Adoree' Jackson before he chose USC:
Uh, LSU has a bio for Adoree' Jackson up ... http://t.co/8Pgh59kkzO pic.twitter.com/Hv3cfhoTNi

— Thomas Goldkamp (@Goldkamp247) February 5, 2014
There are new names to learn every season, and here are 14 to keep an eye on from the SEC

Taking a close, detailed and opinionated look at the SEC a week before the start of the 2017...

Rosier will start for the Hurricanes in their opener against Bethune-Cookman
Alabama has won three straight conference titles, and the rest of the SEC is full of quest...

Struggles out of the SEC in 2016 were a mere blip on the conference supremacy radar

Georgia Tech has been with Russell Athletic since 1992