Open letter to Ken Starr: Stop stonewalling about Baylor rapes
Baylor needs to stop hiding behind privacy laws and take responsibility for failing its female students, writes CBS Sports' Jon Solomon in an open letter to school president Ken Starr.
Dear Ken Starr,
Your university has a problem. Silence from Baylor won't make it go away.
Where's the remorse and compassion for rape victims? Words are one thing. Actions are quite another. As president and chancellor, you can show the public that Baylor understands what went wrong.
It's not just that ESPN's Outside the Lines reported deeply disturbing allegations from the mouths of rape victims. These women, one mother and a local district attorney talked about how inadequately Baylor investigated multiple allegations of sexual violence committed by two football players, who were both convicted of sexual assault.
Title IX requires universities to investigate these complaints and provide support for the accuser so, like one Baylor victim did, she doesn't drop out of school as her grades suffer. You know all of this. That's why Baylor added a Title IX coordinator in 2014, three years after the U.S. Department of Education described the position as critical for universities to have and two years after one of your football players was convicted of rape.
But as horrific as the stories are from victims, that's not your biggest problem. Your problem is Baylor's response -- or lack of it.
You want your students and alumni and the public to trust that Baylor has overhauled its Title IX system to address sexual assault allegations. You've created an athletic department position that will report to you and contain the authority to oversee all behavior by Baylor athletes.
Yet Baylor couldn't tell ESPN whether it will make public a final report about how the university handled the allegations that football players Sam Ukwuachu and Tevin Elliott raped students. (A university spokesperson didn't respond to a CBS Sports request for comment on potentially releasing the report, which is being compiled by high-priced Philadelphia lawyers for Baylor.)
Baylor police refused to release any records to ESPN related to the past incidents despite a new Texas law that makes private campus police departments subject to state open records laws. Baylor didn't turn over the records even though two women signed release forms allowing it.
Baylor knew the latest ESPN story was coming and, rather than allowing key people at the university to speak, put out its Title IX coordinator to talk in generalities about improvement. That might limit liability for the moment -- Baylor has already settled with Ukwuachu's victim -- but it speaks volumes about your efforts to really move forward.
If you want good advice on what to do, listen to Kathy Redmond Brown. She was raped by a Nebraska football player twice in the 1990s. She knows firsthand how football can run universities and how rape can linger with women for years. When Nebraska failed to discipline the player, she sued the school long before Title IX lawsuits were common and got a settlement. She later formed the National Coalition Against Violent Athletes.
"If you're Baylor right now, you're launching an investigation and asking the Department of Education to help," Brown said. "You're asking the victims to help. You're contacting them and saying, 'What happened and how can we help you?' You're putting together a focus group of those victims and the administrators they went to, and you talk about where our issues are.
"You're going to want to do an investigation of everything, and you're going to want to expose everything and go back and fix it. You're going to want your words and actions to be humble and remorseful. That's not what you're getting from Baylor which, let me remind you, is a Christian institution."
Baylor is hardly the only university that has gone through this before. Rape on college campuses is not simply an athletic issue. Across the country, the Department of Education is investigating 161 colleges for inadequate responses to sexual assault complaints. Baylor isn't on that list, at least not yet.
By now, though, there is a playbook on how to handle the aftermath of shoddy university investigations into rape allegations. In 2014, ESPN exposed that a Missouri football player was accused by four women of assault, including a rape allegation, until finally being dismissed from the team. The player was later convicted of rape.
One day after the report, Missouri football coach Gary Pinkel and athletic director Mike Alden addressed the media. Alden said mistakes were made. Pinkel described a "he said, she said" situation in which he lacked information from the police.
Missouri eventually released a 23-page report that was commissioned by the university. Independent investigators concluded that high-ranking Missouri officials failed on multiple occasions to report to police or campus Title IX compliance their knowledge of rape allegations involving football players.
The president of the University of Missouri's system contacted the parents of the victim, who had previously committed suicide. Missouri utterly failed this woman. But thanks in large part to extensive reporting by ESPN, the university exposed its mistakes to move forward.
Your university, Ken Starr? It has stayed silent. You addressed your students Wednesday night in an email. You said Baylor can't provide more information on specific cases because it is protected by federal student privacy laws and that commenting would hurt the integrity of the ongoing investigation by Pepper Hamilton law firm.
"We acknowledge and appreciate the tremendous courage these women demonstrated by coming forward to share their experiences, and to continue to raise consciousness and awareness about these critical issues," you wrote. "Their voices are important, and their perspectives help to inform positive steps to enhance campus responses."
These are words. Your students and alumni want more. "I keep getting emails saying we care, we care," Baylor graduate Stefanie Mundhenk told The Baylor Lariat, the student newspaper. "Their actions do not follow their words. He is not spending time to actually address the issue. He is not writing an email to me actually trying to address the issue."
This was part of your email last September, Ken: "Some have concluded that we could have done more. Perhaps so. Our independent investigation will soon reveal if opportunities exist for improvements in the way we respond to allegations of sexual violence. But I retain full confidence in our Student Life professionals."
Given the latest ESPN story, it strongly suggests Baylor didn't take seriously the Elliott rape case several years ago. Otherwise, how do you explain why Baylor so poorly handled its Title IX investigation of Ukwuachu that a trial judge wouldn't even allow him to use it as a defense?
How is it possible that Baylor conducted a university investigation, which has a much lower burden of proof than a court of law, and found Ukwuachu did nothing wrong yet a jury found him guilty of rape? "(Baylor) didn't have someone that seemed to know anything about how college rape occurs," McLennan County Assistant District Attorney Hilary LaBorde, who prosecuted the Elliott and Ukwuachu cases, told ESPN.
Why would Baylor defensive coordinator Phil Bennett publicly say last June the team expected Ukwuachu, a transfer from Boise State with a checkered past, to finally be eligible to play in July? That was one month before Ukwuachu was convicted of sexual assault. The public didn't know for a while about Ukwuachu's charges because his indictment was sealed. Baylor officials knew and, although he wasn't playing, kept him on scholarship
How does it reach the point that one woman told ESPN that Baylor chief judicial officer Bethany McCraw said she was the sixth woman to report an incident against Elliott? The woman said she was told coach Art Briles knew of the incidents, "but it turns into a he-said-she said, so there's got to be, actually a court decision in order to act on it in any sort of way." (Elliott was suspended by Briles in April 2012 after his sexual assault arrest. ESPN reported Baylor judicial affair officials were aware that Elliott received a misdemeanor sexually-related assault citation in November 2011.)
Do you see the pattern, Ken? You're the former independent counsel who investigated President Bill Clinton's sex scandal. Sure, there are complexities in rape allegations. But providing transparency doesn't depend upon what the meaning of the word 'is' is.
Are you willing to dig that deep again and risk exposing skeletons at Baylor, where the football program has become one of the nation's best and just signed the highest-rated recruiting class with Briles as coach? Are you willing to gamble that Baylor donors will continue to give money without real answers about the rapes? Baylor is winning so you have that going for you. College sports fans love winners and excel at compartmentalizing their moral dilemmas.
"Many of these schools believe they're too big to fail," Redmond Brown said. "They believe this will blow over and it's just a blip. And they're probably right. Until the consuming parent says I'm not going to pay your ridiculous amount of tuition and board so my child can be raped, this is going to continue."
There's a path toward some measure of redemption, Ken.
Stop hiding behind privacy laws and Baylor's status as a private university. Explain fully what mistakes occurred and why your students and alumni should believe they won't happen again.
Show us, don't tell us.
Sincerely,
Jon Solomon, CBS Sports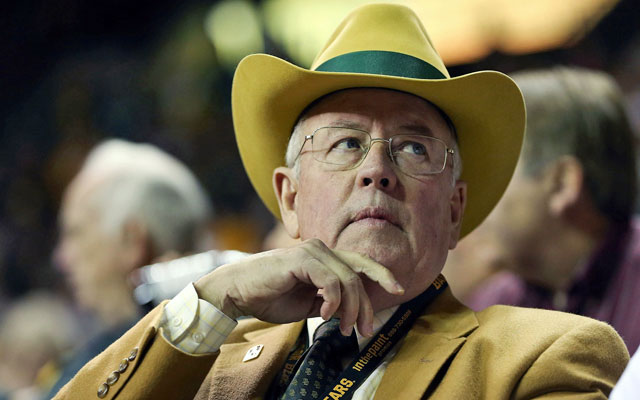 Getting Leavitt back was obviously high on Cristobal's list of priorities

Cristobal's first game at Oregon ended the same way Chip Kelly's did

Conner Manning and the Panthers dominated the Hilltoppers in the Cure Bowl
You can only go to the well so often before it dries up

The Trojans beat LSU earlier in the year and now have their first 11-win season as a FBS t...

Saban has never been a fan of the early signing period and made it clear that hasn't chang...