Opening night live blog: UNC-South Carolina, Ole Miss-Vanderbilt
Join Chip Patterson and the rest of the Eye On College Football crew for live updates and analysis from Thursday night's college football games.
• 13 min read
1:05 a.m. ET: There's plenty of action to continue following -- USC-Hawaii on CBS Sports Network, Fresno State-Rutgers -- but we are going to close up shop here on the live blog. As always, follow @EyeOnCFB for up-to-the-minute news and commentary from around the country. 
1:00 a.m. ET: Jordan Matthews had 10 receptions for 178 yards, but Carta-Samuels' final pass of the fourth quarter went right through his hands and into the possession of Ole Miss defensive back Cody Prewitt. Ole Miss wins by a final of 39-35 in what was easily the best game of college football's opening evening. 
12:55 a.m. ET: The Rebels DON'T EVEN NEED 30 SECONDS! Jeff Scott rips off a 75 yard touchdown thanks to some shifty footwork and uncoachable speed. Rebels up 39-35, 1:07 left on the clock for Vanderbilt. 
12:51 a.m. ET: Jordan Matthews went from puking on the field to pulling in a reception on 4th and 18 with less than two minutes remaining. Then Carta-Samuels found Steven Scheu wide open on a blown assignment. Scheu raced into the end zone to give the Commodores a 35-32 lead. Ole Miss takes over, 1:30 to play with just one timeout.  
12:23 a.m. ET -- Bo Wallace pulled the ball from Jeff Scott's belly on the zone read, running into the goal line untouched to give Ole Miss a 32-28 lead with 9:05 remaining in the fourth quarter. Vanderbilt's defense was on their heels as the Rebels ran off 11 plays in under three minutes. 
12:14 a.m. ET -- The Hawaii disrespect is visible in every aspect of the game. The Warriors lead USC 5-3 with 6:46 remaining until halftime, and just regained possession thanks to a Cody Kessler interception. When the Trojans were on defense, sophomore cornerback Kevon Seymour had a face-to-face meeting with Hawaii quarterback Taylor Graham. 
Filthy. Check it out for yourself on CBS Sports Network. 
12:06 a.m. ET -- Ole Miss and Vanderbilt are trading blow like heavyweights now. Bo Wallace and Laquon Treadwell lead the Rebels into the end zone and convert a two-point try to cut Vanderbilt's lead to 28-25. Buckle up, folks. It's going to be an entertaining fourth quarter here in the 2013 SEC opener. Check out more scores.
12:00 a.m. ET -- If I told you Hawaii was leading USC 5-3 in the second quarter would you believe me? Don't believe me? Turn to CBS Sports Network right now. Click here for a channel finder
11:46 p.m. ET -- Jordan Matthews was back on the field, but it was Wesley Tate and Jerron Seymour who powered an impressive 12-play touchdown drive to answer Ole Miss. Tate carried the ball into the end zone from three yards out to extend Vanderbilt's lead to 28-17 with 4:51 remaining in the third quarter.  
11:38 p.m. ET -- The Utah-Utah State rivalry recorded another thrilling chapter, with the Utes winning 30-26. Aggies quarterback Chuckie Keeton tried to lead one last frantic drive to win the game, but it was Utah State's inability to stop Utah on earlier drives that cost them an opportunity to give first-year coach Matt Wells his first win. Utah looks to be in good hands with quarterback Travis Wilson under center and Dennis Erickson sharing the OC duties with Brian Johnson. 
11:32 p.m. ET -- A pair of touchdowns within 2 mintues of each other (this is why we have multiple screens): Rutgers wide receiver Leonte Carroo recorded his first career reception on a 69 yard touchdown pass from Gary Nova. Caroo ran a go route on the outside and beat the coverage to get open for the score. 
Then,  just moments later, Barry Brunetti capped off an impressive Ole Miss drive with his second touchdown of the night. The score, which was set up by a series of big plays from freshman wide receiver Laquon Treadwell, cut Vanderbilt's lead to 21-17. 
11:26 p.m. ET -- I think I may have jinxed Jordan Matthews by placing him in the cover photo of this post. Immediately after the change, the Commodores star wide receiver limped off the field. We will keep you posted when there is an update on his status. If he is out, it is a huge blow to the Vanderbilt offense. Vanderbilt 21, Ole Miss 10; 12:18 3Q
11:11 p.m. ET -- Utah's 9-play, 74 yard drive comes up one yard short after back-to-back-to-back goal line stands by Utah State's defense. The Utes settle for a field goal to take a 27-26 lead with 6:38 remaining. 
Rutgers also leads Fresno State 10-7 thanks to a 100-yard kickoff return touchdown by freshman wide receiver Janarion Grant. That game is midway through the 1st quarter. 
10:58 p.m. ET -- After four grueling quarters and a lightning delay that lasted one hour and forty-four minutes, the Gamecocks finished off the Tar Heels. The final score was 27-10, the same as it was before the delay, thanks to a goal line stand by the Gamecocks defense on 4th down. 
At this point, we would like to direct your attention to the fourth quarter of Utah-Utah State (where the Aggies lead 26-24 with 11 minutes remaining), the second half of Vanderbilt-Ole Miss, and the kickoff of USC-Hawaii on CBS Sports Network. Click here for a channel finder
10:50 p.m. ET -- Vanderbilt scored touchdowns on three straight possessions in a 8:20 span, completely changing the tone of the game in Nashville. Ole Miss tried to keep a drive alive by running defensive end Robert Nkemdiche on a fake punt late in the second quarter. Unfortunately the fake, which worked, only set up a missed field goal before halftime. Vanderbilt 21, Ole Miss 10 HALFTIME
10:36 p.m. ET -- Sophomore right tackle Kiaro Holts entered the game for North Carolina and struggled against Clowney on back-to-back plays before getting flagged for clipping the star defensive end. The play, which was somewhere between dirty and reckless, cost the Tar Heels field position and now South Carolina has the ball back with 5:15 left. 
UNC tackle cuts Jadeveon Clowney from behind after the ball is thrown. Dirty, classless play. pic.twitter.com/QMWj1hb8nW

— Matt Miller (@nfldraftscout) August 30, 2013
10:30 p.m. ET -- Vanderbilt is humming on both sides of the ball now. After forcing a punt, wide receiver Jordan Matthews pulled away from the Ole Miss secondary for a 55 yard touchdown. The Rebels up-tempo attack has resulted in punts on the last three possessions, and now Vanderbilt is about to get the ball back with 6:46 left in the second quarter. Commodores lead 14-10.
10:17 p.m. ET -- Officials have announced that South Carolina-North Carolina will resume at 10:30 p.m. ET. Meanwhile in Nashville, Vanderbilt's defense has sacked Bo Wallace twice and Carta-Samuels led a 12-play touchdown drive. Ole Miss 10, Vanderbilt 7; 11:25 2Q
10:12 p.m. ET -- The second targeting ejection of the season came earlier tonight against Indiana State. The Hoosiers currently lead 59-28 with 4:15 left in the third quarter. Check out more scores.
10:09 p.m. ET -- South Carolina and North Carolina should be starting soon. Fans are being allowed back into the stands at Williams-Brice Stadium, and once the players take the field we will be 10 minutes from resuming play. Reset: South Carolina leads 27-10, 8:20 remaining in the fourth quarter. 
10:03 p.m. ET -- Bowling Green's defense is the reason they lead Tulsa 20-0 in the fourth quarter. The Falcons have allowed Tulsa inside of the thirty yard line just three times, but the Golden Hurricanes have missed two field goals and fumbled just two yards from the goal line. Bowling Green had a Top 10 defense in 2012, and it looks like that unit will be their strength again in 2013.
Elsewhere, UCF recorded the first win in American Athletic Conference history, topping Akron 38-7. Blake Bortles completed 18 of 24 passes for 310 yards and three touchdowns -- one of which was a 91 yard score on the first possession of the game. 
9:51 p.m. ET -- Ole Miss has started two drives in Vanderbilt territory, and both of them have resulted in points. After the defense forced a Vanderbilt three and out, Bo Wallace led the Rebels down to the goal line before senior backup quarterback Barry Brunetti entered the game to punch in the first touchdown. Ole Miss 10, Vanderbilt 0; 5:10 1st quarter.
9:39 p.m. ET -- Chuckie Keeton led a 10 play, 85 yard drive to put Utah State up 17-14 on Utah with just 0:20 left before hafltime. Keeton completed 4 of 6 passes for 50 yards and kept the drive alive with a 16 yard scramble on 3rd and 13. Keeton ranks third in school history with 40 career touchdown passes. 
9:30 p.m. ET -- Austyn Carta-Samuels felt the Ole Miss pass rush and threw an interception to Tony Conner on the sixth play of Vanderbilt's drive. Ole Miss took over at the Vanderbilt 31, but had to settle for a field goal. Ole Miss 3, Vanderbilt 0. 10:22 1Q
9:22 p.m. ET -- The North Carolina-South Carolina game is still delayed -- and continues to be, as a 30 minute clock is reset every time lightning strikes within eight miles of the stadium -- but Ole Miss-Vanderbilt is underway. Austyn Carta-Samuels leads the Commodores offense onto the field first. 
9:05 p.m. ET -- Looks like we have our first targeting ejection of the season in New Orleans, where Tulane is hosting Jackson State. 
Our first targeting call of the year at the Superdome, #Tulane's Doss called for hammering the quarterback and is ejected. Absurd rule.

— Scott Kushner (@ScottDKushner) August 30, 2013
8:47 p.m. ET -- We have a lightning delay in Columbia, as the Gamecocks lead the Tar Heels 27-10. There is 8:20 left in the game, so we will keep you posted as the officials watch the weather and make a ruling regarding if/when the teams re-start play.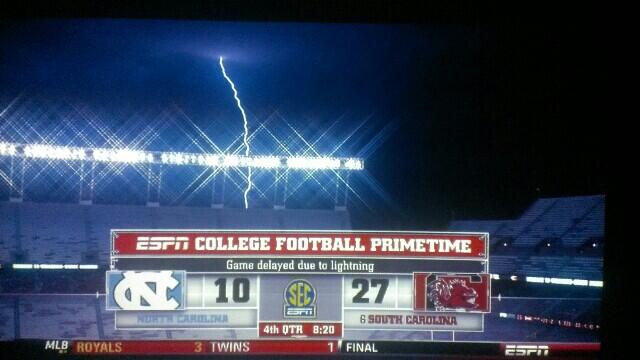 8:38 p.m. ET -- South Carolina's defense forces the Tar Heels into third and long, giving the ball back to the offense. The Gamecocks chewed up clock on their last possession, but eventually had to punt. With just 10:16 remaining, North Carolina needs to force a quick stop if they want to stay in this game. 
8:20 p.m. ET -- Bad news for Kent State: The Golden Flashes trail FCS Liberty 10-7 with 3:51 left in the third quarter. Even worse news: Heisman candidate Dri Archer has been sidelined with an ankle inury and his return is questionable.
8:14 p.m. ET -- After that long North Carolina drive. The defense -- which has rested since halftime -- gave up a 75 yard touchdown run to Mike Davis. South Carolina now leads 27-10, midway through the third quarter. In other news, Utah jumped out to a 7-0 lead on Utah State thanks to a pair of big plays from quarterback Travis Wilson. Check out more scores.
8:08 p.m. ET -- North Carolina drove into scoring position on their first drive of the second half thanks to a pair of fourth down conversions -- the first by A.J. Blue, the second on a 13-yard pass from Renner to Mark McNeill. North Carolina's tempo began to wear on South Carolina's defense, slowly making their way down inside the ten yard line. South Carolina's defense held, and Thomas Moore converted a chip-shot field goal. South Carolina 20, North Carolina 10.  
Wake Forest leads Presbyterian 17-7 at halftime, though though a fumble at the end of the second quarter kept them from extending that lead before the break. 
7:39 p.m. ET -- HALFTIME: South Carolina 20, North Carolina 7. "We had too many guys who were geeked up, they just need to relax and play football," Larry Fedora told ESPN. The Tar Heels coach was predictably displeased with the first half, as South Carolina finished their final drive with a touchdown. In total, the Gamecocks have scored on four of their six possessions held the Tar Heels under 20 yards on every possession but one.
7:30 p.m. ET -- Just realized something: South Carolina's holder is Patrick Fish. The kicker is named Elliott Fry. Fish and Fry. WHO'S HUNGRY? 
7:28 p.m. ET -- As South Carolina kicker Elliott Fry boots a field goal to increase their lead to 20-7, let's take a trip around the country. Bowling Green's stout defense has forced two three-and-outs for Tulsa, with the score tied 0-0 midway through the first quarter. Kent State leads Liberty 7-0 at halftime and UCF jumped out to a 7-0 lead on Akron thanks to a 91-yard touchdown pass from Blake Bortles. Check out more scores.
7:10 p.m. ET -- In other ACC news, Wake Forest was unable to move the ball early against Presbyterian and currently trails 7-3 near the end of the 1st quarter. Things got so bad in Winston-Salem, the video board has gone out. The Demon Deacons have less than 10 rushing yards at this point, though the defense gave the ball back in good position via interception. 
7:00 p.m. ET -- South Carolina's own Quinshad Davis, one of the Tar Heels' leading recivers down the stretch of last season, records his first catch of the 2013 season on a 4 yard pass from Renner on 2nd and Goal. North Carolina's drive was kept alive by a couple of penalties by the Gamecock's defense, along with some 3rd and 4th down conversions by tight ends Jack Tabb and Eric Ebron. South Carolina 17, North Carolina 7. 9:35 4th Quarter
6:50 p.m. ET -- Looks like Elliott Fry needs a new jersey. (via)
6:41 p.m. ET -- Dylan Thompson enters game. Just like Shaw, he connects for a deep touchdown on his first pass attempt. Backup wide receiver Kane Whitehurst  is the recipient this time. At this point, I wouldn't rule out Clowney throwing a touchdown against the Tar Heels. South Carolina 17, North Carolina 0. 
6:37 p.m. ET -- North Carolina's third downs on offense: 3rd and 7, 3rd and 8, 3rd and 9. Tar Heels have converted on just one while allowing South Carolina to gobble up first downs. The size advantage in the trenches -- about 50 yards per player in the Gamecocks' advantage -- is has been the difference in the first quarter. 
6:26 p.m. ET -- Freshman kicker Elliott Fry connected on a 39-yard field goal after Shaq Roland nearly caught a pass from Shaw in the end zone on third down. Oh, and that fourth down run by Wilds? SB Nation has a GIF for you South Carolina 10, North Carolina 0
6:23 p.m. ET -- Jadeveon Clowney started the first snap of the 2013 season at nose tackle, but it was junior Sharrod Golightly who broke up the screen pass. The Gamecocks forced North Carolina into third and long, but Bryn Renner connected with Eric Ebron to move the chains. North Carolina would go on to use screen passes and draws to avoid Clowney, but could not gain a second first down and was forced to punt. 
South Carolina then continued to push North Carolina at the line of scrimmage, moving the ball down from their own 20 down to the 30 yard line before the Tar Heels defense forced the Gamecocks into a 4th and 2. Spurrier then challenged North Carolina's defensive front, rushing Brandon Wilds right up the middle. The first contact came short of the first down, but Wilds powered ahead to keep the Gamecocks' drive going. 
6:05 p.m. ET -- South Carolina made it look easy. After two easy Mike Davis runs up the middle, Connor Shaw dropped back and delivered a pass deep over the middle to Shaq Roland. Roland had the Tar Heels secondary beat, and the result was a 65 yard touchdown play. South Carolina 7, North Carolina 0
5:55 p.m. ET -- HERE WE GOOOOOOOOOOOO. Happy football everyone. 
5:50 p.m. ET -- A few below the radar players to watch in this game. For South Carolina, keep an eye on sophomore linebacker Marcquis Roberts. The Gamecocks lost five senior linebackers from the 2012 roster, so Roberts and the next crop of talented linebackers must step up against North Carolina's quick passing attack. For the Tar Heels, the player that needs to step up is sophomore Romar Morris. Morris' speed and agility was on display when he filled in for an injured Gio Bernard in 2012, but now he's the starting running back and North Carolina needs to have a balanced offense to avoid obvious pass-rushing situations against the Gamecocks D.
5:45 p.m. ET -- Ah, yes. Real live college football is just minutes away. I invite you to spend your evening here with us at the Eye On College Football, as we give you news, notes and game updates from the first night of action. We'll begin with North Carolina and South Carolina, but also will be keeping our eyes on Tulsa-Bowling Green, Utah-Utah State, Ole Miss-Vanderbilt, Rutgers-Fresno State and Southern Cal-Hawaii. 
CBS Sports HQ Daily Newsletter
Get the best highlights and stories - yeah, just the good stuff handpicked by our team to start your day.
Please check the opt-in box to acknowledge that you would like to subscribe.
Thanks for signing up!
Keep an eye on your inbox for the latest sports news.
Sorry!
There was an error processing your subscription.
Auburn is losing a four-star member of its 2016 recruiting class in Nate Craig-Myers

SportsLine's advanced computer model simulated every Week 4 game 10,000 times with surprising...

Our advanced computer model simulated Saturday's Texas vs. TCU game 10,000 times
Our advanced computer model simulated Saturday's Alabama vs. Texas A&M game 10,000 times

Connelly played for the Gophers from 2015-17

Josh Nagel has his finger on the pulse of Temple and Tulsa football