Options few for rescheduling Fresno State-Colorado; Cal can't help
Cal and UNLV can't switch bye weeks with Fresno State and Colorado, whose game last weekend was cancelled due to flooding. The Buffs are scrambling.
• 2 min read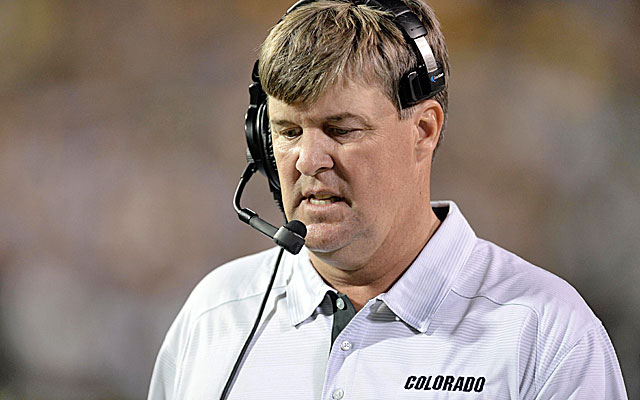 Fresno State missing out on the Mountain West Conference title game might be the Bulldogs' only chance to make up their cancelled game with Colorado.
The 25th-ranked Bulldogs hope to be busy on Dec. 7, though.
Fresno State and Colorado -- who were off this weekend after flooding ravaged Boulder -- talked with Cal and UNLV about a three-way trade of bye weeks but those schools couldn't change on short notice.
One option would have pitted Cal and Colorado this week, which is CU's bye week, while the Bears would move their bye to Nov. 16 so Fresno State and CU could play that weekend.
Confusing, I know. They might as well trade conditional picks and cash for a second-round pick.
Since the Bulldogs are a serious contender for a MWC title (especially with Boise looking sluggish early), these teams will likely finish the regular season with 11 games if Fresno is in the MWC title game. Playing the second week in December isn't a realistic option for Fresno, I'm told.
Colorado football spokesman David Plati said CU is working feverishly to save the Fresno game and find a willing third party to switch bye weeks. Since CU stands to lose about $2.5 million without the home game, it's willing to search for a replacement team if Fresno can't play, Plati said.
Replacement options might be scarce since teams are locked into a 12-game schedule, but that doesn't mean finding a new opponent is impossible. 
Hawaii has flexibility to play a 13-game schedule under NCAA rules because of its remote location, and the school has a common open date with CU (Oct. 19), though the "Hawaii Exemption" is typically used for an extra home game in Honolulu. Hawaii has six homes games and six away games this season.
Portland State from the Big Sky Conference has an Oct. 19 bye but would likely have to drop a game, which has happened before in FCS play. In 2009, Delaware State forfeited a conference game against North Carolina A&T so they could play at Michigan -- and suffer a 63-6 loss.
A team such as Charlotte, which is reclassying to FBS in 2015 and thus not eligible for the postseason this year, might be available to make accommodations for a late-season game. Same with Abilene Christian and Incarnate Word, which are reclassifying from D-II. Perhaps they could rearrange their schedules for a bigger payday.
Colorado already played Central Arkansas, so adding an FCS school likely affects the Buffs' bowl eligibility (would have to win seven games instead of six).
Cristobal's first game at Oregon ended the same way Chip Kelly's did

Conner Manning and the Panthers dominated the Hilltoppers in the Cure Bowl

You can only go to the well so often before it dries up
The Trojans beat LSU earlier in the year and now have their first 11-win season as a FBS t...

Saban has never been a fan of the early signing period and made it clear that hasn't chang...

Paul Tyson is a three-star quarterback prospect for the 2019 recruiting class