Orange Bowl to host 2015-2016 semifinal
Rose and Sugar to host the first semifinals on Jan. 1, 2015.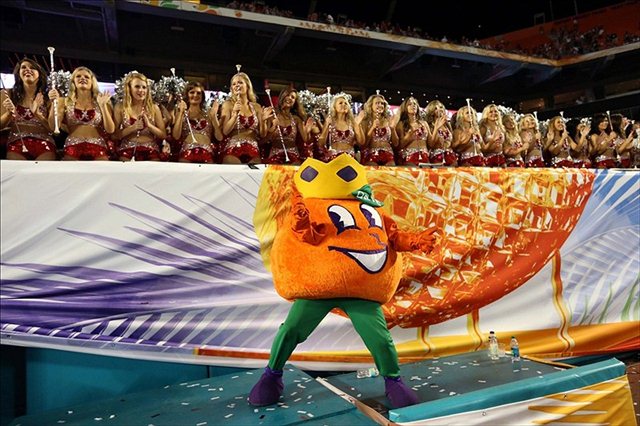 Three of college football's first four playoff semifinals are spoken for. 
Per CBS 4 Miami, the Orange Bowl will be one of the two bowls hosting a semifinal in the second year of the forthcoming college footballl "Final Four," at the end of the 2015 regular season. The game would presumably be played on Jan. 1, 2016, though Dec. 31 2015 is also a possibility.
As covered by Dennis Dodd earlier Friday, the first two playoff semifinals in college football history will be hosted on Jan. 1, 2015 by the Rose and Sugar Bowls, with the winners advancing to the first-ever playoff national championship game Jan. 12, 2015. That game is widely expected to be hosted by the Cotton Bowl and played at Cowboys Stadium outside of Dallas.
The other 2015-2016 semifinal host is still to be determined as the playoff's organizers -- the group formerly known as the BCS -- offically listen to bids from bowls applying to become one of the three "access" bowls. The Cotton, Fiesta, and Chick-fil-A are the heavy favorites to be selected and one of those will eventually become the host for the other semifinal.
There's still plenty to be determined regarding the playoff -- deciding how the selection committee will be organized, what criteria it will use to choose participants, finalizing the bidding process for national title games, establishing a rotation for semifinal hosting and a schedule across New Year's Eve and New Year's Day for the six involved bowls, what the whole kit-and-caboodle will be named, etc. But every concrete detail released brings college football fans that much closer to the long-awaited playoff. 
Lane Kiffin turned around FAU remarkably fast and has the Owls in the C-USA title game

NCAA football scoreboard, highlights and updates from the biggest Week 12 games

The junior injured his finger diving for the pylon late in the first quarter of the loss to...
Projecting the changes in the new AP Top 25 poll college football rankings after Week 12

There's only one true Turnover Chain in college football, and it belongs to The U

The 72-yard punt return was perfectly executed by the Trojans