Oregon picked to win Pac-12 at league media days
Oregon got 13 of 24 votes from assembled media to win the Pac-12 title. Stanford got the second-most votes with 8.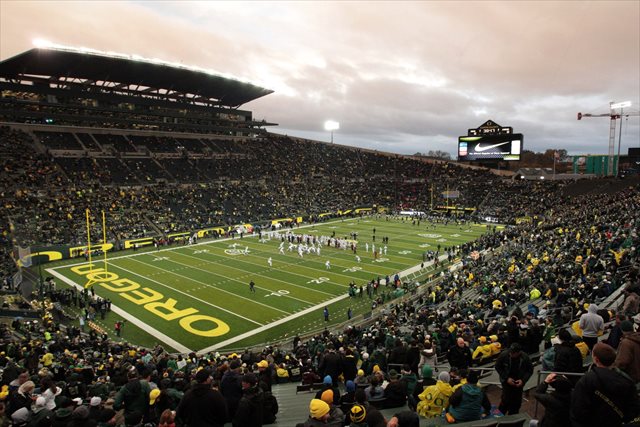 No Chip Kelly, no problem?
Despite the loss of its head coach and the rise of programs like Stanford and UCLA, Oregon's continued status as the Pac-12 favorite was confirmed Friday when the league media picked the Ducks to win the conference at Pac-12 media days Friday. 
The Ducks received a majority of votes cast, collecting 13 of 24. Stanford pulled 8 such votes to finish second -- also confirming that the Nov. 7 showdown between the Ducks and Cardinal in Palo Alto shapes up as the Pac-12's game of the year.
UCLA was narrowly chosen to win the Pac-12 South over Arizona State and collected the other three overall champion votes. A year after starting the 2012 as the national preseason No. 1, USC was picked to finish third in the Pac-12 South.
Oregon State, Washington, California and Washington State were picked third through sixth behind the Ducks and Cardinal in the North, while Arizona, Utah and Colorado placed fourth through sixth in the South behind the Bruins, Sun Devils and Trojans.
The complete voting breakdown (via GoDucks.com):
NORTH DIVISION
1. Oregon (15)............... 145
2. Stanford (11)............. 139
3. Oregon State............... 95
4. Washington................. 84
5. California..................... 47
6. Washington State......... 33

SOUTH DIVISION
1. UCLA (12)................. 135
2. Arizona State (10)...... 130
3. USC (4)..................... 117
4. Arizona ....................... 76
5. Utah........................... 60
6. Colorado...................... 28

PAC-12 TITLE GAME CHAMPION: Oregon (14 votes)
Others receiving votes: Stanford (8), UCLA (3)
Schiano would have made $4.4 million in Year 1 with annual raises as part of a six-year de...

Dykes spent this season as an offensive analyst at TCU

The "Wyoming Wild Man" notched six tackles for loss as a junior in 2017
Zaycoven Henderson was charged with aggravated assault with a deadly weapon

Patterson is a former No. 1 recruit in the country

Baker Mayfield and two Sooner teammates made the first team