Oregon's De'Anthony Thomas: 'I should play on Saturday'
The Ducks' all-purpose All-American candidate says he'll be back on the field when the Ducks face UCLA Saturday.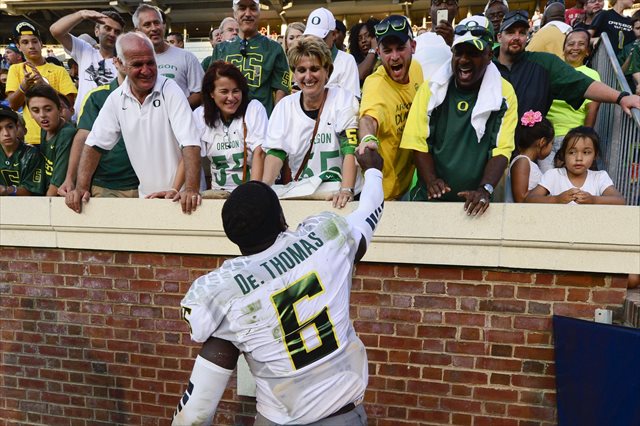 Over their past three games, the Oregon Ducks proved they don't necessarily need all-purpose All-American candidate De'Anthony Thomas to flatten opponents -- which only means his imminent return is even worse news for the Pac-12 than it was before.
Thomas missed most of the Ducks' Sept. 28 game against Cal after injuring his ankle on the opening kickoff, and despite dressing against Washington two weeks ago has not seen the field since. He practiced Monday, however, and told reporters he did not expect to miss any more time. 
"I should play on Saturday," he said in a video posted to The Oregonian Monday. The Ducks host No. 12 UCLA at 7 p.m. ET.
"I'm ready," he said. "I'm hungry and ready to get back on the field."
Thomas said he felt fine in practice and wasn't worried about not being prepared mentally or reinjuring the ankle.
"When I'm in the game, I don't get hit that much," he said with a laugh.
But his presence won't be a laughing matter for the Bruins -- despite only taking 42 handoffs this abbreviated season, Thomas has already rushed for 338 yards (8 per carry) and 6 touchdowns. Thomas is also averaging 23.2 yards per kick-return, and said he would be ready to handle those duties again if called on.
After sputtering in a 24-10 loss at Stanford last week, the Bruins faced long odds whether Thomas played or not, particularly given the success running backs Byron Marshall and Thomas Tyner have had replacing him.  (The Bruins are 23-point underdogs.) But the return of a weapon as electric as Thomas won't do anything but make those odds longer.
Georgia dismantled Mississippi State between the hedges Saturday night

The Horned Frogs looked a lot like their old selves on Saturday afternoon in Stillwater

Stay with us all day Saturday for updates and highlights from Week 4 of the 2017 season
Harbaugh also said that Trump's comments at an event in Alabama were 'ridiculous'

The Horned Frogs had all the right defensive answers for the Cowboys

The Tide looked as you'd expect the top team in the country to look on Saturday in Nashvil...