Oregon's Gary Campbell and the richest recruiting story ever told
Oregon running backs coach Gary Campbell left home on a recruiting trip, and came home a millionaire -- only to have the stain of an NCAA investigation threaten his career.
• 9 min read
Gary Campbell has spent more than three decades driving rental cars and working living rooms in the service of Oregon's next great recruiting class.
He's bound to have a good story or two.
"This is the strangest recruiting night I've ever had," the Ducks running backs coach said.
That night was Jan. 15, 2003. Campbell was never the same after it.
A simple trip to and from a recruit's house, a three-hour snapshot from a long and stable career, took bizarre turns that left Campbell both rich and confused. His dreams grew, only to be suppressed because of the career headache of a looming NCAA investigation.
Of course, Campbell didn't know about that problem when wife Alola made him nearly swerve his rental car off a North Carolina highway. She was calling from Seven Feathers Casino in Oregon, fresh off the Wheel of Fortune slots.
Honey, we just won $2.695 million.
"I couldn't believe it," said Gary.
He still had to visit the recruit but was overcome with emotion. No worries. He just told the recruit all about the new-found family security, how the money could help his debilitated son Bryan, how he might buy a few more of the three-piece Italian suits that he wears every pregame.
That recruit happened to be running back J.J. Arrington, later to become a star at Cal and the central figure in a recruiting saga that landed Oregon on two years probation over an alleged forgery of a signature on Arrington's letter of intent.
That alleged forgery happened just a few hours after Campbell's visit.
Campbell was labeled the culprit of the NCAA probe, or the scapegoat, or both.
Campbell says he's never publicly detailed what happened with Arrington in the early hours of Jan. 16, and he's not about to start now.
But no windfall was going to wash out this stain.
"When he's having problems like that, [money] doesn't solve it -- it's there," Alola Campbell said. "It's something that has to be dealt with."
•••
The Campbells had just won $2,695,972.74 million. Of course, they hadn't. The casino offered $100,000 annual payments for 27 years -- more like $52,000 after taxes -- or one lump sum of roughly half the amount, maybe $1 million or less after taxes.
Rough, right?
That wasn't the point, at least not in the moment. Campbell was in the rental en route to Arrington's home in Rocky Mount, N.C., when his wife called, but he was on the other line making last-second recruiting calls. When he called back, she didn't answer.
He began to worry -- Alola is a type-2 diabetic. He called the casino to look for her, with no luck. Alola was with an assistant coach's wife who finally connected the two.
Campbell could hear the slot machine ringing in the background. He asked if she was sick, and when she said no, he asked how much money she won.
She told him. Silence.
"Say that again?" he asked loudly.
"I almost turned around and went back to the airport," Campbell said. "We were excited."
This was early 2003, before assistant coaches salaries skyrocketed. Gary was a running backs coach, and the Campbells had lived a relatively modest life.
This jackpot wouldn't be monopoly money, but a better way to function. And would help the Campbells acquire better care for their son, Bryan, who'd been stricken since infancy with Werdnig-Hoffmann Disease, a genetic disorder that prevents movement from the neck down. Bryan's struggle was real. He wasn't supposed to live past his first birthday. In January of 2003, when the Campbells won that jackpot, Bryan was 18.
The family wanted him home all the time, a commitment with a bill that eventually approached seven figures, Campbell estimates. An electric lift, special beds, respirators, and nursing help all cost money, and insurance was only helpful to a point.
"There were times we were told the funds would run out," Campbell said. "There were scary times."
Alola didn't have ample free time while caring for Bryan and the Campbells'  three daughters, but she occasionally visited casinos as a release. She rarely strayed from the slots. Never had she won big -- certainly not this big.
"The machine was ringing and I kind of said, 'Oh my gosh' ... I thought I had won maybe a couple thousand dollars," Alola said.
She had no problem being wrong.
The Campbell family was low-key about the winnings. Alola didn't want any press. They received one of those obnoxiously big checks, which is now collecting dust in their Eugene home.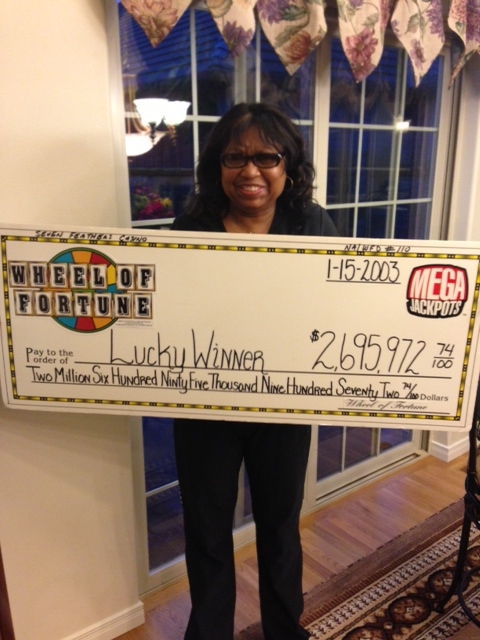 Campbell was out recruiting, so the family didn't celebrate the jackpot until a family-and-friends trip to Vegas shortly after signing day.
Ten percent of the money went directly to the Campbells' church. Gary bought four or five suits, with the hats to match. He bought Alola the car she'd been eyeing, a red Mercedes CLK with the black top which he pulled into the driveway on her birthday. The rest of the money went to Bryan's care, with some left over for annuities and investments. Alola didn't want to touch it.
•••
Campbell's luck that January night was about to get even better. He was ready to convince a junior college star to join the Oregon Ducks.
"At that time I was trying to close the deal," said Campbell of his visit to Arrington, the then-College of the Canyons star. "I wanted to find out what he wanted to do, if he was interested."
Apparently he was. On January 15th, the last night a junior college player could sign with Oregon because of the university's academic and enrollment calendar, Campbell and Arrington spent part of the night laughing about Campbell's wife winning millions. Arrington and his family asked Campbell questions about how she won and what they'd do with the money. Campbell hadn't outlined the family's plans yet, but he could dream.
Campbell acknowledges the home visit played a part in Arrington briefly wanting to sign with Oregon. That's sort of where the problem started.
How long Arrington's sentiments about the Ducks lasted is still uncertain. But Arrington and Campbell made a connection that night, Campbell said. Once Campbell left Arrington's house for his hotel -- with the deadline to sign with Oregon about to expire -- is when the trouble arose.
According to reports, after Arrington called to express his commitment, Campbell presided over Arrington as he falsified signing his letter of intent before the Jan. 15 deadline, and watched while he forged his father's signature on the letter.
The NCAA investigation into the matter cost Campbell a year off the road and a public reprimand that future violations could result in his job termination.
Arrington, whose wavering between Oregon and Cal had been at the core of the issue, ended up with the Golden Bears (which had a different signing deadline for JC players) and eventually in the NFL.
Then-Ducks coach Mike Bellotti said Campbell showed a "serious error in judgment," according to the L.A. Times, but he didn't fire the longtime assistant.
Campbell could deal with a loss of pay or recruiting restrictions. But he was suddenly the face of program turmoil. Going home with that isn't easy.
"It was an embarrassment to me and my family," said Campbell, who started at fullback for Oregon after stints at UCLA and Pacific. "I had to take it and get through it."
Campbell said he promised all parties involved, including the NCAA, that he wouldn't publicly discuss what exactly happened during that second encounter with Arrington. But in complex stories like these, there are at least two sides.
"There is more to it," Campbell says, without elaborating.
The money was supposed to be a great thing, but couldn't offset the feeling that after 21 years of doing things the right way, his career had become tainted.
"It wasn't like, 'Oh well, I may be getting in trouble but look at this money -- I never had that attitude," Campbell said. "It had the same effect on me had we not won it."
•••
The house is quieter with Bryan gone. He died on Aug. 15, 2013 at age 29, finally succumbing to the disease with the prognosis he had bravely outlived by 28 years.
Instead of visiting Bryan in his room as he had every night when he got home from work, Gary now goes straight to the playroom the family dedicated to Bryan's memory. Gary and Alola's three grandchildren sometimes play there, beneath the pictures of Bryan that overlook a pool table.
Despite the Arrington fiasco, Campbell's career has thrived as Oregon's program has reached an elite strata of college football. When he looks back at that night, he says he'd like to think it didn't change much about how he lives today -- the good or the bad. It's always been about family and coaching running backs, he says.
There are reminders of the stain, though. When the NCAA investigated Oregon over a $25,000 payment to Willie Lyles and his Houston-based recruiting service, Campbell said the NCAA told him "this would be a second offense for you," even though he made it clear he knew nothing.
Campbell now goes out of his way not to do "anything borderline" on the recruiting trail, he says.
"I'm not gonna mess with those guys [the NCAA]," Campbell said. "Even though all that's over now, they look at me like I did something wrong and I might do it again."
After 31 years and countless recruiting trips, Campbell, who will turn 63 next week, says he doesn't feel jaded by the business. Maybe he has no choice. Alola wants to stay in Eugene, so Campbell -- despite considering a move to the NFL in recent years -- will give Oregon five more years, maybe more.
"I've seen a lot. You think you've seen it all and then something else happens and there's something new," Campbell said. "I've seen a lot go down in my tenure here."
Campbell drove a North Carolina highway 11 years ago with intentions of convincing a talented running back to attend Oregon. He left North Carolina with one of the wildest -- and richest -- recruiting stories you'll hear.
The Campbells learned that when moments stick to you, and circumstances change, you don't have to change your values.
"We still live in the same house we did," Alola said. "Still live the same way."
Schiano would have made $4.4 million in Year 1 with annual raises as part of a six-year de...

Dykes spent this season as an offensive analyst at TCU

The "Wyoming Wild Man" notched six tackles for loss as a junior in 2017
Zaycoven Henderson was charged with aggravated assault with a deadly weapon

Patterson is a former No. 1 recruit in the country

Baker Mayfield and two Sooner teammates made the first team