Oregon's Mariota wishes he were facing fellow Hawaiian Te'o in bowl
Oregon quarterback Marcus Mariota understands what it would have meant for Hawaii to play fellow islander Manti Te'o in the national title game. But while Te'o's Notre Dame team finished 12-0, Mariota's Ducks lost to Stanford and settled for the Fiesta Bowl.
• 3 min read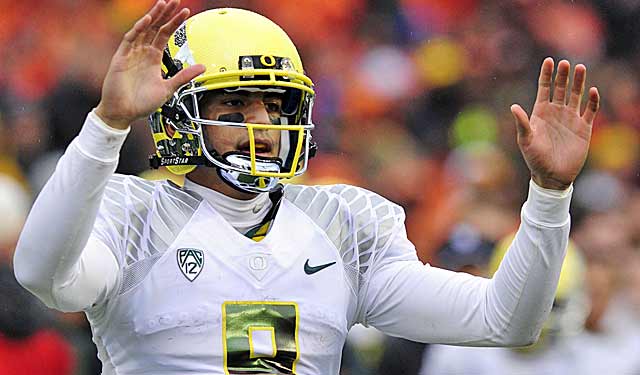 The master of the Ducks' high-flying offense, Mariota wants to visit New York, too. (Getty Images)
SCOTTSDALE, Ariz. -- Marcus Mariota watched Manti Te'o play high school football four years ago. He shakes his head when talking about it, as if he just saw it happen, clearly still impressed.
Mariota was a 180-pound sophomore for St. Louis High in Honolulu, a backup quarterback pacing the sideline, not yet a beast on the field.
Te'o, playing for Honolulu's Punahou High, was showing him how to become one. No way Te'o was 225 pounds, his listed high school weight back then. Looked at least 250, Mariota said.
"On one play, he ran down our starting quarterback from one end of the field to the other," said Mariota, now the maestro of Oregon's obnoxiously good offense. "To see that, you kind of knew how special he was."
Mariota is still watching Te'o, though he wishes he would be able to see him through his helmet, scrambling from the linebacker's grasp under the Miami sky and national title lights on Jan. 7.
This won't happen, of course. While Te'o and the Irish awoke from Notre Dame's two-decade-long slumber to post a 12-0 season and a title-game berth, Oregon was on the same path before Stanford thwarted a previously unflappable Ducks offense. Oregon and Kansas State, both 11-1, play for the almost-championship in the Fiesta Bowl on Thursday.
Had Oregon and Notre Dame finished No. 1 and 2 in the BCS standings, the strength of Hawaii football would have been lightning on a championship night. That's the vision that Mariota's mom, Alana Deppe-Mariota, has about the narrowly missed chance. She has reminded the Ducks quarterback of this a few times, a painful reminder from which Mariota has tried to slowly move on.
"That would have been unreal," Mariota said. "[My mom] was like, that would be something if two local kids had the opportunity to play for a national championship. That would have meant a lot not only for the state but for the small communities in the state."
But everyone involved understands this year already means plenty, for Hawaii football and for Mariota.
Te'o shook up college football and enlivened a stale Notre Dame fan base, but Mariota's impact on the game has come quickly. For Chip Kelly, Mariota was manna from no-huddle heaven. The redshirt freshman perfected Oregon's offense so quickly that blowout wins in the Pac-12 became a predictable yawn -- until Stanford got its crack.
After Mariota's 30 touchdown passes, more than 3,200 combined rushing and passing yards and a 69.9 completion percentage, Oregon's outlook is promising even if Kelly opts for the NFL.
"He's a special player," Kansas State defensive coordinator Tom Hayes said. "All he's going to do is keep getting better and better."
Mariota always admired how the success of Te'o -- a national top-15 recruit coming out of high school -- provided a light for local Hawaii kids that they, too, could land big-school scholarships despite being more than 2,500-3,000 miles from the continental U.S. West Coast coaches must make the seven-hour flight just to have a one-day sit-down.
But Mariota's explosive start gives major programs even more reason to make the trip, Oregon offensive coordinator Mark Helfrich said.
"Great football, proud guys, hard workers, humble guys," Helfrich said. "If there are 100 Marcus Mariotas out there, we'll take every one."
Mariota wants to reach Te'o's level. Seeing a Hawaiian Heisman finalist a few weeks ago makes him eager to make the trip to New York next year. Mariota was considered a Heisman candidate but didn't crack the top three.
The two have never talked, but Te'o gave Mariota a shout-out on Twitter after Oregon's 59-17 win over Cal in which he threw for 377 yards and six touchdowns.
"Proud to see Marcus Mariota doing his thing at Oregon and representing the 808 state the way he is! #localboyz" -- @MTeo_5
Mariota is not on Twitter but heard about the message and said it meant a lot. Maybe one day they'll meet up and exchange phone numbers, Mariota said. But there's a connection already.
"We come from a place where you have so much pride," Mariota said. "To be able to represent that state and that culture, it's unreal."
Saban isn't going to win Alabama's special election, but the Crimson Tide coach got some l...

The Tigers are going worldwide for their next punter

Led by Heisman Trophy winner Baker Mayfield, the Big 12 finished with seven first-team sel...
Schiano would have made $4.4 million in Year 1 with annual raises as part of a six-year de...

Dykes spent this season as an offensive analyst at TCU

The 'Wyoming Wild Man' notched six tackles for loss as a junior in 2017