Outback Bowl: South Carolina 33, Michigan 28
Instant analysis of the Gamecocks' dramatic win over the Wolverines.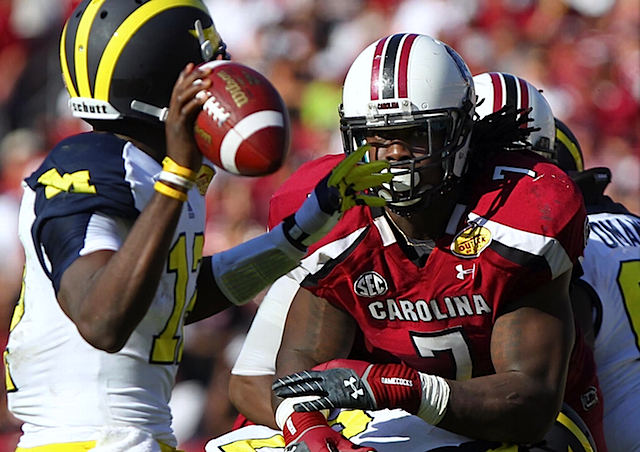 After three quiet quarters, Jadeveon Clowney announced his presence loud and clear in the fourth. (US Presswire)
SOUTH CAROLINA WON. The Gamecocks went 70 yards in a little over three minutes for the game-winning touchdown, a 32-yard strike from Dylan Thompson to Bruce Ellingtonwith 11 seconds remaining in a wild, back-and-forth Outback Bowl. The score was the fourth touchdown pass of the day from a South Carolina quarterback, and the fourth lead change in a span of 15 minutes.
HOW SOUTH CAROLINA WON: Including the game-winner, all five of the Gamecocks' touchdowns came either on a big play or as a direct result of one, beginning with a 56-yard strike from starting QB Connor Shaw to Damiere Byrd on the third play from scrimmage. A few minutes later, Carolina extended its lead to 14-3 courtesy of a 54-yard punt return by Ace Sanders, who would add two more touchdowns on receptions from Thompson in the second quarter and Shaw in the fourth. Despite shuffling both quarterbacks throughout the game -- and despite no help whatsoever from a non-existent ground game -- the Gamecocks racked up 341 yards passing on 36 attempts, six of which covered at least 20 yards.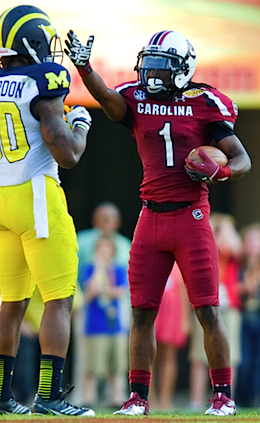 Ace Sanders scored three of Carolina's five touchdowns. (US Presswire)
The turning point, though, came courtesy of the defense. More specifically, it came courtesy of the best player on the field, Jadeveon Clowney. With his team trailing 22-21 early in the fourth quarter, and the momentum mounting in Michigan's favor following a controversial fake punt that resulted in a Wolverine first down, Carolina's sophomore phenom tore into the backfield on first down, leveling tailback Vincent Smith on a violent tackle that sent both the ball and Smith's helmet flying. Clowney added a one-hand recovery, and the offense retook the lead one play later on a 31-yard connection from Shaw to Sanders.
WHEN SOUTH CAROLINA WON: Michigan responded to that score with an impressive 10-play, 64-yard march, capped by a third-and-13 touchdown pass from Devin Gardner to Jeremy Gallon, leaving Carolina with a 28-27 deficit and just 3:29 to overcome it. The first half of the subsequent drive was manned by Shaw, who converted a key fourth-and-3 situation with a quick completion to Sanders and moved the Gamecocks across midfield before limping out of the game following a big hit. Thompson took over from there, moving the sticks again on a third-down completion to Byrd, then finding Ellington running wide open behind busted coverage for the game-winner.
WHAT SOUTH CAROLINA WON: With their 11th win, the Gamecocks tied a school record set by last year's team for wins in a season, and they claimed back-to-back bowl wins for only second time in school history. (It was also South Carolina's third bowl win under coach Steve Spurrier, setting another school record.) When the final polls are released next week, Carolina should at least match last year's position, No. 9, for its best finish ever.
WHAT MICHIGAN LOST: The Wolverines' fifth loss assures they'll land outside the final polls for the fourth time in the last five years, and it sends off on a down note a popular senior class -- including Denard Robinson, who ended his college career with exactly 100 yards rushing Tuesday on 4.3 yards per carry, mostly from the tailback position. On one hand, those five losses came at the hands of five teams (Alabama, Notre Dame, Nebraska, <span data-shortcode= State" data-canon="Ohio Bobcats" data-type="SPORTS_OBJECT_TEAM" id="shortcode0"> and South Carolina) that stand at a combined 57-6 for the year. On the other hand, Michigan ends the year with just two wins over teams that finished above .500, Michigan State and Northwestern, both of which came down to the final play of the game.
Cristobal's first game at Oregon ended the same way Chip Kelly's did

Conner Manning and the Panthers dominated the Hilltoppers in the Cure Bowl

You can only go to the well so often before it dries up
The Trojans beat LSU earlier in the year and now have their first 11-win season as a FBS t...

Saban has never been a fan of the early signing period and made it clear that hasn't chang...

Paul Tyson is a three-star quarterback prospect for the 2019 recruiting class