Outgoing coordinator claims age led to ouster at Oklahoma State
According to now-former defensive coordinator Bill Young, whose departure was confirmed by the university on Thursday, the decisive factor in his unemployment was his age.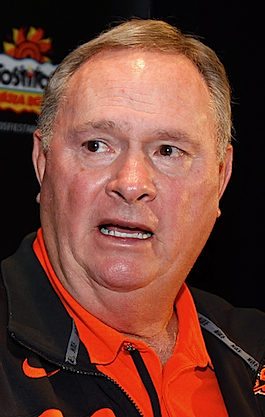 Bill Young before Oklahoma State's only BCS appearance, in the 2012 Fiesta Bowl. (AP)
Once, Mike Gundy's preoccupation with age sealed his place in Internet immortality when he shouted to a roomful of reporters, "I'm a man! I'm 40!" Five years later, it might have cost one of his Oklahoma State assistants a job. According to now-former defensive coordinator Bill Young, whose departure was confirmed by the university on Thursday, the decisive factor in his unemployment was his age.
On the same day that Gundy publicly thanked Young for four years of hard work and success, the outgoing sexagenarian told the Tulsa World that his exit had been in the works for nearly a year, as a direct result of Gundy's feeling that Young is too old:
Young, 66, said he was told by Gundy in February [2012] that college football is a young man's game "and I was the face of the defense and he thought my age would hurt recruiting and he thought players wouldn't play for me."

Young said he thought that was "nowhere near right." He expressed those feelings to Gundy and they agreed to disagree. The result? It was determined the 2012 season would be Young's last.

"We had a good discussion," Young said, adding that he is not mad at Gundy. "I told him if he wouldn't mind, please don't put this (information) out there until I have time to finish the season and look for a new job. He agreed to that. He was very accommodating and was trying to help. It's easier to get a job in this business if you have got one."
The Tulsa World story did not include any reaction from Gundy to Young's comments about his age being the reason he was leaving the program.
Young reiterated that he feels no animosity toward his now-former boss but has no plans to retire and hopes to land another job: "I'm not a quitter. I feel like I can coach several more years."
With Young's departure, Gundy will turn instead to the newly promoted Glenn Spencer, who is nearly two decades younger than his predecessor and is entering his sixth year in Stillwater, the last two under the title of co-defensive coordinator. In September, Spencer oversaw the defense for the first two games of the season while Young recovered from a medical procedure to correct an aneurysm, including a 59-38 loss at Arizona.
No conference is harder on a defensive coordinator's resumé than the up-tempo, shootout-friendly Big 12, but at their best Young's defenses at Oklahoma State were able to compensate for other, less-than-inspiring numbers with an aggressive style that resulted in a high number of turnovers. In 2011, when they won the Big 12 for the first time and came within an double-overtime loss at Iowa State of playing in the BCS Championship Game, the Cowboys led the nation in both takeaways and overall turnover margin, forcing at least three turnovers in nine different games.
In 2012, though, when the record slipped to 8-5 despite virtually identical or improved numbers in every other category, the most glaring difference was the defense's sudden inability to force mistakes: For the season, OSU finished with just 22 takeaways -- exactly half of its national-best total in 2011 -- and five of those 22 came in the last game, a 58-14 romp over Purdue in the Heart of Dallas Bowl. In their previous two games, the Cowboys had been ripped for 1,233 yards and 82 points in losses to Oklahoma and Baylor to close the regular season, arguably the two worst games of Young's tenure.
Still, although it was 11 months in the making, Young's departure seemed to catch locals by surprise. Spencer has not been a full-fledged defensive coordinator since 1997, at West Georgia (where he subsequently spent three years as head coach). But after four years under Young, he's expected to implement the same aggressive approach with the same emphasis on takeaways. More importantly than the Xs and Os, though, Spencer is also considered an asset in recruiting, especially in the talent-rich Southeast.
Schiano would have made $4.4 million in Year 1 with annual raises as part of a six-year de...

Dykes spent this season as an offensive analyst at TCU

The "Wyoming Wild Man" notched six tackles for loss as a junior in 2017
Zaycoven Henderson was charged with aggravated assault with a deadly weapon

Patterson is a former No. 1 recruit in the country

Baker Mayfield and two Sooner teammates made the first team