Overreactions: While Big Ten's not done yet, Big 12's for real
Is it time to write off the Big Ten? Is the Big 12 as deep as it looks? Nobody does overreactions like college football, but which ones are justified?
• 5 min read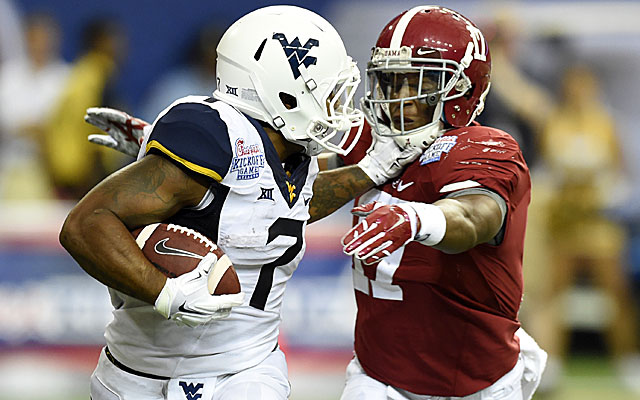 No one does Week 1 overreactions like college football. Win big and you're title-bound. Lose ugly and you're lucky to be bowl eligible. Some overreactions aren't so egregious and may be justified. Are they really overreactions if they're true? Others need to be tempered.
Here's a breakdown of the common leaps made from last week's action, broken down into three levels of overreaction.
Level 1: Not so fast. Reaction too strong.
Level 2: Mildly justified but still a little too strong.
Level 3: Totally justified.
Overreaction (Level 2) -- Ole Miss' lousy offense will hurt its SEC West chances: When Laquon Treadwell, a 6-foot-2, 229-pound receiver who loves contact and models his game after Dez Bryant and Anquan Boldin, says his team's offense will improve, the case is compelling because of the source. Ole Miss' offense was lifeless at times during a 35-13 win over Boise in the Georgia Dome on Thursday -- until Bo Wallace connected on a 14-yard touchdown to a leaping Treadwell by the sideline, sparking a 28-3 fourth quarter.
Before that, Wallace mistook defensive backs for receivers and false starts replaced first downs.
Treadwell, one of the Rebels' top recruits in a loaded 2013 class, said Ole Miss is still learning when to try for big plays and when to be conservative when the defense warrants it.
"If we play together, we can be great," Treadwell said.
That hinges largely on Wallace, who must maximize his potential for the Rebels to shed their middle-of-the-road label in the SEC West. Wallace overhauled his throwing motion after undergoing shoulder surgery this offseason.
The good news for Wallace is Treadwell sounds eager to replace Donte Moncrief as the Rebels' top playmaker and physical leader. Treadwell says he loves contact so much that he wished the hard-hitting Ole Miss secondary could hit him in practice, which is rarely allowed.
"Now everybody's looking at me to be that guy," Treadwell said. "I'm anxious and ready to come out there and put on a show."
Overreaction (Level 1) -- Blake Sims, Bama's best QB option: Alabama didn't take risks in the opener because Nick Saban knew West Virginia was capable. The game was tight throughout and a two-quarterback system didn't make sense. Blake Sims, a fifth-year senior, was the safer bet over Jacob Coker.
But Saban has committed to playing both quarterbacks against Florida Atlantic. Expect a similar plan to Alabama's 2011 opener against Kent State, when AJ McCarron started and Phillip Sims came off the bench to throw 14 passes.
Alabama rarely counts on transfers -- it's not part of The Process -- so Saban must wait until Coker takes ownership of the job. And if Sims keeps fending him off, that's not so bad, either. Sims can play. Despite missing a few easy throws against West Virginia, he wasn't sacked and avoided turnovers (his one interception wasn't an atrocious throw; WVU corner Daryl Worley made a great play).
Overreaction (Level 3) -- OK State , WVU make Big 12 stronger: Dana Holgorsen isn't into moral victories.
"We felt like we could come in and give them a good game and put ourselves in position to have a chance to win," West Virginia's coach said after a 10-point loss to Bama. "When that happens, you've got to make critical plays in critical situations, got to make critical [play] calls and you need to have a little bit more success than we had."
Don't be so hard on yourself, Dana. West Virginia and Oklahoma State had chances to beat Alabama and Florida State and it shows the middle of the Big 12 might be stronger than anticipated. Baylor, Oklahoma, Oklahoma State, Kansas State and Texas is a pretty solid top five. West Virginia, Texas Tech and TCU aim to crack that lineup.
Overreaction (Level 1) -- Big Ten is in trouble: Not so fast. Yes, Ohio State's early struggles against Navy were troublesome, and Wisconsin's collapse against LSU was a definite missed opportunity to bolster league strength. That said, playing Navy on the road is a difficult matchup for almost anyone, and while the Buckeyes weren't overly convincing, they created separation fairly easily in the second half.
As for the Badgers, the loss to LSU didn't exactly hurt Big Ten strength. Wisconsin attributed Melvin Gordon's second-half disappearing act to a hip flexor, which makes sense now but wasn't specified after Saturday's game. The Badgers never called Joel Stave out of the bullpen despite Tanner McEvoy's struggles, but there are rumors he was hurting as well.
All things considered, jumping to a 24-7 lead against an SEC West power highlights Wisconsin's potential, even if potential gets you nothing without closing ability. Still, it's way too early to write off the Big Ten. If Ohio State and Michigan State lose this week, then maybe we can talk.
Overreaction (Level 2) -- Texas A&M is an SEC West contender: Against South Carolina, it sure looked like Texas A&M will hang 50 on everyone and Kenny Hill is a Heisman candidate, boosting the Aggies in the West.
This overreaction is mildly justified because Kevin Sumlin offenses are always good. Houston, College Station, Columbia -- doesn't matter. Hill's strong start shouldn't be a surprise, though scoring 52 at South Carolina is a mild upset.
But the SEC West's depth and the need to see more out of the Aggies' defense -- which looks more formidable rushing the passer this season -- make A&M a difficult team to slot in the division.
Overreaction (Level 1) -- South Carolina's not an SEC East favorite: Two years ago, South Carolina pounded Georgia by 35 at home. Two months later, the Bulldogs were a few yards from a national title appearance.
That's why one blemish doesn't prompt a full Gamecocks makeover. Steve Spurrier usually figures things out, and should start with his sluggish secondary.
Overreaction (Level 2) -- UCLA's O-line is in trouble: Clearly Jim Mora has reason to be concerned after Brett Hundley and the offense never looked comfortable in a 28-20 win over Virginia, but several factors suggest UCLA shouldn't panic about its line.
Center Jake Brendel, a two-year starter, missed the opener while recovering from a sprained knee, while other linemen missed time in fall camp. Cohesion should come eventually, and UCLA is high on Miami transfer tackle Malcolm Bunche.
Plus, Virginia's defense is one of the ACC's best. The Cavs can apply pressure on good offensive lines.
Overreaction (Level 3) -- Penn State's Hackenberg is a Heisman finalist: An 8 a.m. kickoff of Penn State-UCF gave Christian Hackenberg an attentive national audience, and he didn't disappoint. The pure pocket passer always looks in control and is always looking downfield for a big gain. His old coach, Bill O'Brien, could probably use him in Houston.
It remains to be seen if Penn State will have enough wins to elevate Hackenberg into true Heisman contention, but after throwing 47 times for 454 yards, he might have the numbers.
>> Want more CFB? Dodd's Power Poll makes Georgia No. 1
Rosen, a junior, will be eligible for the upcoming NFL draft

Find out which of your favorite team's players are among the nation's best entering the 2017...

Texas A&M has to be better defensively to stand a chance in the SEC West
A letter indicated that there is a growing awareness of the persistent problem in college...

The series will follow the Navy football program throughout the 2017 season

Should college football players still be tested and punished for using marijuana?