Overstuffed bowl season a boon for TV, but is 39 games too much?
So much for a playoff shrinking the glut of bowls. With a record 39 games set to kick off this season, and more on the way, has a bloated holiday season reached a tipping point?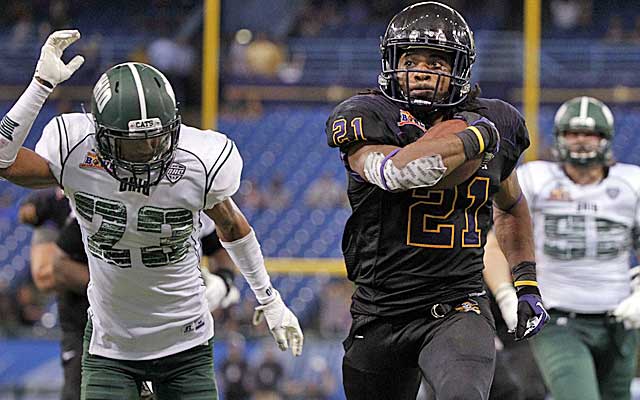 Fowler: Coaches make millions, but chances in short supply | Latest news
In a saturated bowl climate, Jim Delany has to admit there are similarities. More than 100 years and thousands of miles separate the California Institute of Technology and a 15,000-seat soccer stadium in the Bahamas.
"We played the first one in 1902," the Big Ten commissioner said.
That would be the initial Rose Bowl. Today a plaque near the track used by the Division III Caltech Beavers in Pasadena commemorates the first game.
"[The Rose Bowl] wasn't a success and they stopped it," Delany reminded.
For 14 years, actually, until the Rose and the rest of college football caught the postseason bug. Back then the Tournament of Roses wanted a vehicle to fund its parade and promote Southern California to the Midwest.
Not unlike, Delany reminded, the newly created Bahamas Bowl is "introducing the beauty of the islands to mainlanders."
Lea Miller has secured Thomas Robinson Stadium, that 15,000-seat venue out of the country, but hopefully not out of mind. Her Bahamas Bowl will be played on Christmas Eve -- a living, breathing, international extension of a bowl market gone wild.
Miller is the executive director of the game that will be part of a record 39-game postseason landscape in 2014 (40 by 2015). It is a system that is filled with games, opportunity and Vegas-style risk.
In fact, that's where Delany -- addressing a group of bowl executives at the annual Football Bowl Association meeting last month -- bluntly said, "There's too much ice cream."
They knew exactly what he meant. Forty bowls in an already bloated system could create a lot of obesity issues.
"We all know stating the obvious," said Damani Leech, the NCAA's managing director for championships and alliances. "We are at the margin of total bowl-eligible teams."
Since NCAA deregulation of the bowls a couple of years ago, the postseason has resembled the aftermath of the Homestead Act. It's been a land rush for bowl opportunities -- even if sound judgment be damned.
This year's five new bowls read like failed NCIS series. (Bahamas, Miami Beach, Detroit, Boca Raton and Camellia). The bowl lineup has more than doubled since 1995 (18 bowls). During the 16 years of the BCS (1998-2013), bowls increased from 20 to 35.
At the moment, there are few forces to restrain what cities, bowls, commissioners and the NCAA can do. Across the board, all the participants acknowledge the risk.
This season, 76 teams will be needed to fill 39 games. (The national semifinals are pass-throughs so the College Football Playoff title game doesn't count as a unique game.)
Last year there were 79 bowl-eligible teams. The average the last four years has been 73.75 bowl-eligible teams. We have, it seems, reached critical mass in the bowl market.
Officials are counting on a growing Football Bowl Subdivision to grow the roster of available teams. There will be 128 FBS programs in 2015. But it may be false hope. Minimum bowl eligibility is 6-6. If there aren't enough such teams, the safety net to populate those games starts with 5-7 teams rated by highest Academic Progress Rate.
The angst is further heightened this year by the loss of UNLV and Idaho to Academic Progress Rate deficiencies. Penn State is in the third year of a four-year bowl as part of the Sandusky penalties.
That 5-7 option, though, exists only through the 2015. We'll have to live with the irony until then -- sub-standard football teams awarded for above-average grades. Or maybe that's the way it was supposed to be.
"I don't think anyone wants to get in that position," Leech said, "using teams that aren't deserving in the public's mind. That's the biggest concern."
"The system is pretty darn resilient," said MAC commissioner Jon Steinbrecher whose conference has relationships with four of those five new bowls. "People have short memories. At the end of the day did the kids have a good experience, did the fans travel, does the community come out?"
But with little NCAA regulation -- "It's basically submit the paperwork," Leech said -- the modern bowl landscape looks like your average shopping mall -- bulldozed and developed for profit. "Is 40 the right number?" Delany said. "If you were honest you'd say that's a lot. There's not 40 good games. There's not much we can do about it."
That from an executive whose conference has ties to 12 of those bowls. All of it is looking a bit like climate change. Everyone sort of agrees it's harmful but no one can agree on how to deal with it. Some just don't -- hoping for the best in this unregulated market.
"Even though it may not be an event that secures net revenue it doesn't mean it shouldn't occur," Delany said of the bowls. "We have a lot of things that don't secure net revenue. If that was the case we wouldn't have many men's and women's teams."
And so the circle goes unbroken. And no matter what the criticism, the metrics prove we love bowls. The CFP was created despite the knowledge the venerable Rose Bowl may face attendance issues. Overall, attendance has flattened.
But revenue for bowls has gone up 266 percent since 2007 according to media consultant Dean Jordan.
"If you had 15 bowls, they'd probably all sell out," Delany said. "There's a delusional effect. Some bowls are there for TV more. Some bowls are there for [tourism] … to get people's attention.
"It's not primarily to sell 60,000 tickets."
The so-called "studio football" concept is not altogether bad. Think of the bowls -- for a moment -- as programming, live events, profit centers. There is still money being left on the table.
"Part of the reason is that college football is the most undervalued television property in sports," Jordan told those FBA executives.
In other words, we can't get enough, which means the networks can't get enough. The College Football Playoff alone (six bowls) is worth $500 million-$600 million per year.
Leech reported to those FBA folks a total of $300 million in annual bowl payouts in the latest figures available. There was only $90 million in expenses meaning a $210 million profit to the conferences. The net profit back to conferences ranged from $37 million to $1.5 million, Leech said.
"There is certainly a strategic need for others who televise college football to be in the bowl TV business," Jordan said. "I believe there would be great interest in pursuing opportunities if they exist."
The problem/advantage is that, largely, they don't. ESPN at least owns the rights to 39 of the 40 bowls. When the Cotton Bowl was allowed into the CFP rotation, it effectively ended Fox's college football presence on the last day of the regular season. The network has no college football postseason properties.
Not good news for the fledgling Fox Sports 1.
If Fox is going to grow its new channel, it would help to grow it's inventory regarding the nation's second-most popular sport. That means creating a bidding market for the rights to bowls. For that to happen -- sources say -- three to five bowls would have to leave ESPN at the end of their contracts and jump to another network (or networks).
Fox COO Larry Jones famously pleaded with those FBA execs at last year's meeting. It was guerilla marketing at its best.
It also failed, at least for the near term.
Jones probably is aware of the dominance ESPN has created. Per Jordan, a full roster of bowl games produces 250 gross ratings points. Seventy-five of those come post-Christmas through New Year's Day when those advertisers load up.
"If bowl games were packaged together collectively like a conference they would be the largest single package of games on ESPN," Jordan said.
That might be the best answer to the are-there-too-many bowls question. A playoff that was supposed to diminish the bowls below it instead has almost caused the postseason explosion.
The average bowl game rating on ESPN is almost double that of regular-season NBA, according to Jordan. Backed with those type of numbers, who says there are too many games? New Year's Day has suddenly gained back some of its tradition. The CFP now owns the holiday with the so-called "New Year's Six," -- three games each on New Year's Eve and New Year's Day starting at approximately noon ET and going back-to-back-to-back.
Two of those games annually will be national semifinals. The other four will be "playoff bowls" without championship implications. (Think of the old BCS bowls below the BCS title game.)
In that climate the Bahamas Bowl was conceived. The 30-something Miller is a former Georgia Tech and Wake Forest tennis player. She had been laid off in her business development job with IMG and had been working with the Battle 4 Atlantis preseason basketball tournament.
Miller estimates she has been to the Bahamas 70 times pitching basketball and college football to the government. Turns out the country -- like Southern California at the turn of the 20th century -- is booming.
Thomas Robinson Stadium was built with significant investment from the Chinese. The Bahamas are more island paradise than foreign country -- less than three hours from New York, less than two hours from Miami.
"I completely understand it, you're getting involved in a saturated market but it's not a saturated event," Miller said. "It's a stand-alone event. It's not just a bowl that's being thrown out there. ... They are huge college football and NFL fans."
What has emerged is a sub-genre of postseason opportunities. In the CFP era, the 60 teams in the Group of Five conferences (American, MAC, Mountain West, Conference USA, Sun Belt) play for one automatic spot in those six playoff bowls. A semifinal berth seems almost unattainable.
The alternative -- a newly created bowl trip to South Florida or the Bahamas -- doesn't seem like much of a fall back.
"Don't blame the Sun Belt if the system is oversaturated," commissioner Karl Benson said.
Benson's league had five bowl-eligible teams stay home last season (Western Kentucky, Louisiana-Monroe, South Alabama, Troy, Texas State). That's why he went out and helped postseason game No. 40 -- the Cure Bowl in Orlando beginning in 2015.
In 1937 -- the year of the 23rd Rose Bowl -- an NCAA report stated bowls "serve no sound educational ends, and such promotions merely trade upon intercollegiate football for commercial purposes."
We've come a long way from Caltech. Or maybe we haven't.
A concert is a nice way to break up preseason camp

Mills was arguably Georgia Tech's most important player coming into the season

Hugh Freeze's phone records reportedly show another troubling pattern for Ole Miss
They aren't necessarily great teams, but they're teams I'm really interested in following this...

The Irish will wear them on Nov. 18 against Navy

The fourth-year coach of the Nittany Lions led the program to the 2016 Big Ten Championshi...