Pac-12 coaches informed of possible champ game move to Bay Area
Pac-12 coaches were informed Tuesday by commissioner Larry Scott that the league is in discussions to move the conference championship game to Levi's Stadium, new home of the 49ers.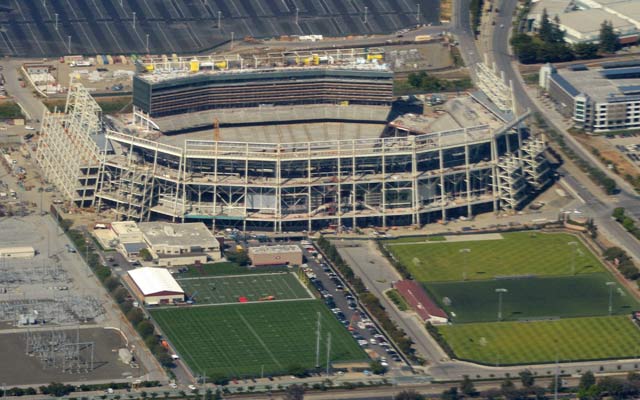 PHOENIX -- Pac-12 coaches were informed Tuesday about the possibility of the league moving the conference championship game to the 49ers new stadium in Santa Clara, Calif.
Commissioner Larry Scott told the coaches during the league's spring meetings here at the Arizona Biltmore. SI.com first reported the league was in discussions to move the game. However, a source told CBSSports.com Tuesday the feeling was that the move was likely.
The reason: "A ****-load of money," according to the source.
"I know they're in discussions," Stanford coach David Shaw said. "At the very least it's very intriguing."
The league has played on campus sites the first three years of the championship game (Arizona State, 2013; Stanford, 2012; Oregon, 2011).
A neutral-site move to the Bay Area is seen as a win-win, if it happens. The 49ers are looking for events to book into the new Levi's Stadium beyond the 49ers, similar to how the Kansas City Chiefs and Dallas Cowboys have been aggressive in booking neutral site college games to their stadiums.
The Niners potentially could include the Pac-12 championship game in its season-ticket package. Near the end of the Big 12's run at Arrowhead Stadium in Kansas City, Chiefs season-ticket holders were buying 50,000 seats for the league's championship game according to a source.
The so-called "home host" model for the Pac-12 has had its issues. The division winner with the highest ranking hosted the game. It was hard on short notice to clear enough hotel rooms in college towns for the visiting team. Attendance was in issue two years ago when Stanford hosted UCLA. The Friday game drew less than 32,000 in the 50,000-seat stadium.
In 2011, it was difficult to locate enough K-9 dogs in the Eugene, Ore. area on short notice to do a security sweep of Autzen Stadium, according to a source.
"I'm completely split being involved in the Pac-12 championship game two years in a row …," Shaw said. "That's going to be an exciting place to play. If we do it there I'm sure it's going to be awesome."
Washington State's Mike Leach told CBSSports.com's Jeremy Fowler: "I just think it would be better for the conference and better for the fans. Nobody had terribly strong feelings …"
Colorado's Mike MacIntyre told Fowler: "now is the time to try it" because of the new stadium.
Many NFL-eligible juniors ignore advice provided by the league and risk going undrafted each...

Snyder died in Manhattan, Kansas, on Wednesday

Locksley joined Alabama's staff in 2016
Saban reportedly wants to hire Freeze, but there may be things keeping that from happening

Florida State-Miami will be on Oct. 6, and the Seminoles will play Clemson on Oct. 27

Weis Jr. was an offensive assistant for the Atlanta Falcons in 2017