Pac-12 doesn't take formal position on playoff after meetings
Unlike other conferences around the country, the Pac-12 wrapped up summer meetings on Sunday without voting or taking a firm stance on what form of a college football postseason it will support beyond making conference champions a key component.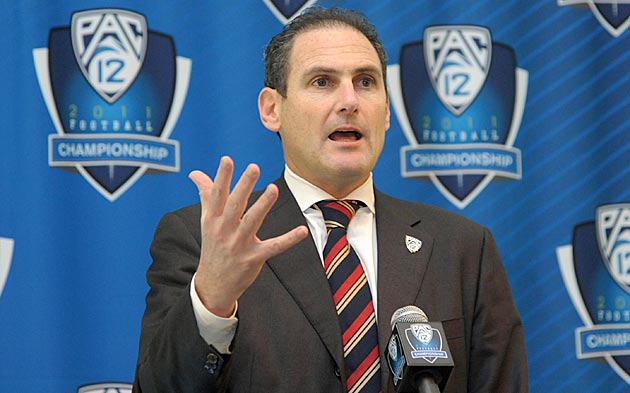 SAN DIEGO -- Unlike other conferences around the country, the
Pac-12
wrapped up summer meetings on Sunday without voting or taking a firm stance on what form of a
college football
postseason it will support beyond making conference champions a key component once the BCS contract ends after the 2013-14 season.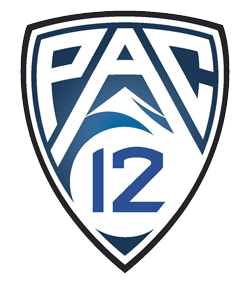 "Today we just confirmed what our values and principles are for working with others to move the BCS forward,"
Oregon State
president and Pac-12 CEO chair Ed Ray said. "No one is talking about the status quo; I just don't hear anyone talking about business as usual."
"What I left with is a very clear direction that we need to not just preserve, but actually enhance the meaning of being in a conference," commissioner
Larry Scott
said. "We want competing in our conference and winning our conference to mean no less than it does today and maybe even more."
Last week, the
SEC
and
Big 12
announced their support for a four-team playoff
involving only the top four teams in the country while the
Big Ten
and Pac-12 have
advanced that being conference champions should be paramount
. Although the only recent, official statement from the BCS has said that an eight- or 16-team playoff is the only thing off of the table, it's clear following the Pac-12 meetings that the options have been considerably narrowed for presidents around the country to consider.
"There aren't that many models floating out there," Ray conceded. "I know three that people keep coming back to. Within that set, we're looking for things that honor conference champions getting appropriate consideration as national champions and that honor our unique relationship with the
Rose Bowl
."
The three models every conference has examined are a
plus-one
, a four-team playoff played inside the current BCS bowl structure and a four-team playoff played outside the bowls.
Texas
athletic director DeLoss Dodds
said he didn't see any compromise
between the two competing playoff models that appear to, in some form or fashion, take the place of the BCS. Incoming Big 12 commissioner
Bob Bowlsby
told CBSSports.com on Saturday
that there would likely be some strength of schedule component included to help balance the champions vs. top four model out.
"We're looking for a model that being a conference champion matters to determine who the ultimate national champion is," Ray said. "There are a couple of models that do have that element to them and we're quite open to having a discussion about them."
If the conference champion requirement was in place last season, national champion Alabama would not have been allowed to play for the title. Scott took the scenario one step further to illustrate that while the SEC may have been excited about sending a non-division winner to the BCS national championship game, the Pac-12 would not be.
"Our conference would not have been comfortable, had there been a playoff system last year, accepting that Stanford is in the playoff and not Oregon," he said. "Stanford was ranked fourth and Oregon was ranked fifth. Oregon beat Stanford, had to play an extra game, was conference champion and subsequently Oregon went on to win the Rose Bowl.
"That's crystal clear to us. If Oregon wins our championship, they deserve to be in a playoff ahead of one of our other teams."
The Pac-12 presidents had not heard of any consensus around the country in selecting the four teams if there was to be a playoff with Ray noting it could be a system similar to the current BCS rankings involving computers to a selection committee and everything in between.
Bowlsby indicated last week
that there could be final approval of a system by June 26th in Washington, D.C. following BCS meetings in Chicago later this month.
"How it manifests itself vis-a-vis feedback from other conferences they're getting from their presidents, that's the purpose of these follow-up meetings," Scott said. "Ultimately, we'll meet with the Presidential Oversight Committee and hopefully be harmonized to come out with some format going forward that everybody's comfortable with."
In addition to discussing how future postseason changes would affect the conference, the presidents also welcomed a group from the Rose Bowl to hear how the various models would impact the game. A key sticking point for the Pac-12 and Big Ten is how any postseason model impacts two teams meeting in Pasadena every year.
"Our relationship with them dates to 1902," Scott said. "Our presidents were able to hear how they feel about the different proposals and what are the critical success factors from the perspective of the Tournament of Roses with all of the formats that are being discussed.
"Their preference is to have the Pac-12 and Big Ten to always meet on January 1st at 2 o'clock. Having said that, I don't want to come across as saying they're rigid because to be part of the BCS they showed a lot of flexibility."
Scott noted that the Rose Bowl accepted TCU two years ago as part of an agreement the game made with the BCS to take a top non-automatic qualifier. While the presidents said that nobody is, "digging in their heels" with regards to accommodating the Rose Bowl, they left little doubt that the game's place will be a key factor going forward.
"From the Rose Bowl game's standpoint, that flexibility is not a positive," Scott added. "They want to make sure the game is equally relevant 50 years from now and 100 years from now."
The Pac-12 seems open to a congenial discussion on the future of college football and is not drawing any line in the sand with regards to having conference champions be the only ones in a four-team playoff going forward. The Big Ten is meeting Sunday in Chicago and expected to release a statement regarding their views on a playoff on Monday while the ACC has not committed to a specific model. The lack of consensus on any form the postseason takes was one reason those on the West Coast tabled the matter for further discussion. 
"It's kind of like you don't know if your wife will marry you until you propose," Ray said. "We have a sense of how we'd like to see matters go but we understand other people come at these things differently. Whether we can reach closure by June 26, I don't know."
At some point however, everybody will have to say, "I do."
These five teams have the best chance of being the Group of Five darling this coming year

Drevno had been running the Michigan offense for three seasons

Aaron was reportedly shot while trying to protect his girlfriend when a fight broke out at...
An assistant-by-assistant look at changes Saban made to the Tide's staff ahead of 2018

Find out when Nick Saban, Kirby Smart and the rest of the coaches will speak ahead of the...

It wasn't only the massive $75 million contract that got Fisher to depart for College Stat...