Pac-12 left out in preseason playoff predictions
Jerry Palm's preseason projections are out and with only one SEC team in the playoff and the Pac-12 being left out, let the debate begin.
Conference previews: ACC | Big Ten | Big 12 | Pac-12 | SEC | Group of Five/Indep.
The preseason bowl projections are now posted.
There are some changes from the ones I earlier posted in May, but the projected playoff semifinals remain the same: No. 1 Alabama vs. No. 4 Oklahoma in a Sugar Bowl rematch, and No. 2 Florida State vs No. 3 Ohio State in the Rose Bowl.
One thing that will be watched closely over time, especially in this new age of Power Five autonomy, is which conferences are represented in the playoff. There is no limit to the number of teams per conference, but with only four spots, at least one league will miss out every year.
Dennis Dodd wrote last week about which leagues may benefit from having a larger postseason.
In this projection, the Pac-12, which is arguably the second best conference, is excluded. That is based on the thought that the league will beat each other up enough that its champion may be too damaged to get a spot. Obviously, that remains to be seen.
Also, there is only one SEC team in this playoff projection. If that bears out in December, there will likely be significant weeping and gnashing of teeth in the Southeast portion of our nation as a minimum of two teams in the playoff is considered a birthright for that league.
One of the changes since May is that UNLV has regained bowl eligibility. The Rebels had been ineligible due to APR sanctions, but they have had their eligibility restored. UNLV is not in the projection for now, but at least that can now change.
Four teams remain ineligible due to some type of sanction (Idaho, Penn State) or transition to FBS (Appalachian State, Georgia State). I wouldn't be surprised to see Penn State regain eligibility as well, but there is no official movement on that right now.
Of the remaining 124 teams, 76 have to be bowl eligible to fill all the spots. I only have 74 eligible teams, which means two teams projected to be 5-7 are in this projection. Those teams are Northwestern and Boston College. They are the highest rated teams in the APR.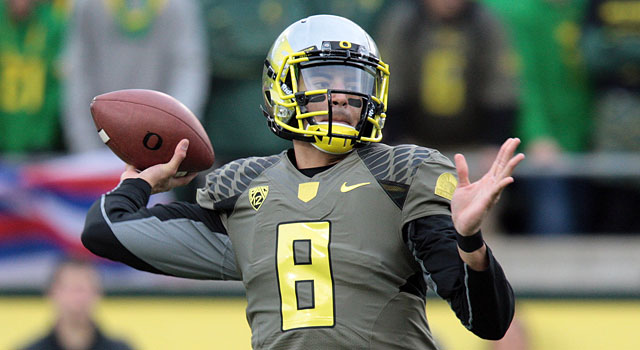 Kelly is presently deciding whether to start anew with the Gators or Bruins

There are a handful of conference championship games still to be determined

SportsLine's top college football expert, on a 30-18 run, locks in his top picks for a loaded...
Haynes was 14-45 in five years with the Golden Flashes

True romance isn't dead yet

The Egg bowl will be a Thanksgiving night treat for the college football world