Pac-12 returned only 68 percent of its record revenues to schools
There's another side to these conference revenue announcements. The Pac-12 announced record revenues of $334 million but didn't mention it also incurred more than $100 million in expenses in fiscal 2013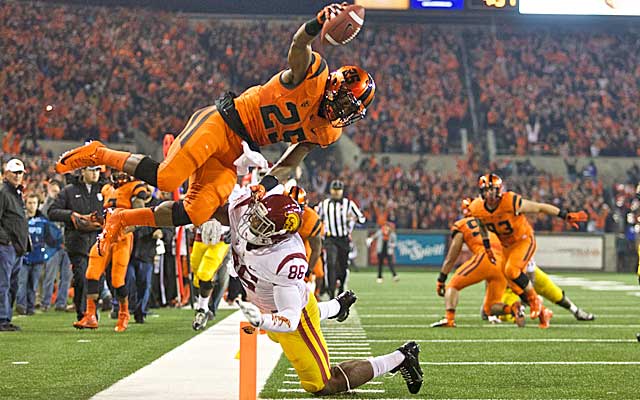 More: O'Bannon news | On CFB: Dennis Dodd | Jeremy Fowler | Jon Solomon
The Pac-12 distributed only 68 percent of its revenue to members in fiscal 2013, by far the smallest percentage among the Big Five conferences according to documents obtained by CBSSports.com.
Each of the other power conferences -- ACC, Big Ten, Big 12, SEC -- returned at least 90 percent of revenues back to members.
That Pac-12 figure shows another side to the annual crowing by conferences over their revenue distribution. The conference last month announced it had a record $334 million in revenue for fiscal 2013 but a closer look shows is distributed only $228 million to members -- a $106 million disparity.
The next-highest disparity among Big Five conferences is the ACC at $23.5 million.
The Pac-12's chief financial officer said the nine-figure difference is due mostly to the league owning and operating its own network. The Big Ten (Fox), SEC (ESPN) and Texas (ESPN) have media partners for their networks. The Pac-12 is the only such entity that runs its own network.
"When Texas reports their numbers … they're just showing the check they received from ESPN," said that CFO, Ron McQuate. "They're not showing the revenues and expense they're incurred from operating the Longhorn Network."
The question, then, becomes if that 68 percent return rate will improve for Pac-12 schools?
One Pac-12 source said the rate of return will improve but will always be substantially different than other leagues. The ACC has the next lowest return rate to members at 90.8 percent. (See below.)
"What our members are focused on, rightly, is how much money we give back to them," said Pac-12 commissioner Larry Scott, "and are we growing the network?"
McQuate added "Being in the start-up phase, that implies we're going to grow. That's inherent in the start up, thus far we are on plan and delighted with performance with the network. It's certainly a long-term investment for us."
The Pac-12 Network had been on the air for a total of only 10 ½ months when the fiscal year ended on June 30, 2013, McQuate said.
The documents obtained by CBSSports.com are a compilation of IRS 990 tax return forms. A more detailed Pac-12 look from the San Jose Mercury News can be seen here. CBSSports.com's Jeremy Fowler further broke down conference expenses across the nation.
The documents show that while the Pac-12 led the Big Five in revenue, it was third in average distribution to schools -- $19 million. (Eleven schools made $19.8 million. Utah collected only $10.2 million, bringing the average down. The school doesn't get a full share until 2015.)
The real figure is more like $18.5 million per school according to Mercury News.
That's an apples to apples comparison even with the number of conference schools ranging from 10 (Big 12) to 12 (ACC, Big Ten, SEC) during that period.
Both the SEC and Big Ten returned more to their schools despite having generated less revenue than the Pac-12. The Pac-12 per-school increase from fiscal 2012 ranged from $4 million to $8 million, McQuate confirmed.
The breakdown*
Big Ten -- 93.6 percent back to members (24.8 million average per school)
SEC -- 92.8 percent ($20.7 million per school)
Big 12 -- 92.2 percent ($18.5 million)
ACC -- 90.8 percent ($16.9 million)
Pac-12 -- 68.3 percent ($19 million)
*Averages were used because some schools that have switched conferences in realignment are not receiving full shares as yet. Among those schools are Nebraska, Utah, TCU and West Virginia.
From Chip Kelly to Billy Napier, did these schools and coaches make the right calls this silly...

SportsLine's computer model simulated every college bowl game 10,000 times, with surprising...

Everything you need to know to watch and pick the Boca Raton Bowl on Tuesday
College football recruiting begins earlier than normal with a National Signing Day in Dece...

Getting Leavitt back was obviously high on Cristobal's list of priorities

Cristobal's first game at Oregon ended the same way Chip Kelly's did