Pac-12's Scott reacts to projection of 'new' money in conference TV deal
The Portland Oregonian reports that Pac-12 schools may be making as little as $4.3 million in 'new' money per year. That doesn't quite jive with the projections of a $3 billion, 12-year TV contract.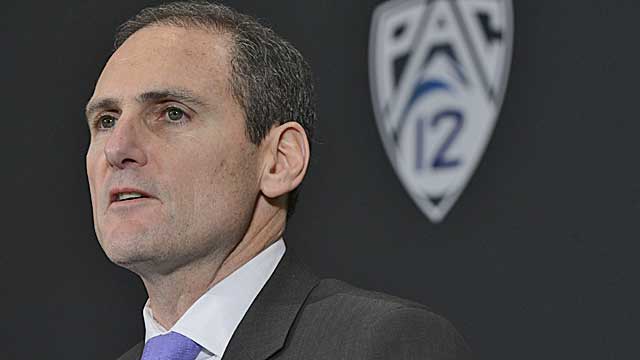 More college football: Bruce Feldman | Dennis Dodd | Jeremy Fowler | Latest news
ANAHEIM, Calif. -- Larry Scott responded Thursday to a report that suggested a much lower payout regarding his conference's projected TV windfall.
The Portland Oregonian recently reported that some Pac -12 schools may be making as little as $4.3 million in "new" TV money per year. On the surface that doesn't quite jive with a $3 billion, 12-year contract with ESPN and Fox that has been ballyhooed.
The conference has been projecting for years now that the schools will eventually be cashing between $25 million-$30 million per year.
"There's a managing of expectations because of the way the deal was reported," Scott said before Friday's West Regional games here.
Scott pointed that the typical media rights deal starts on the small end and builds over the year. The $25 million-$30 million figure is meant to be an average. The Pac-12 deal will increase four percent per year over the length of the deal over the course of the contract.
All credit to the Oregonian's John Canzano for his fine reporting on the subject. With the headline, "Pac-12 Windall Is Sweet But Not What You Might Think," he detailed the following …
• The Pac-12 payout (average $20.83 million per school) currently leads the country. That's slightly ahead of the Big Ten and way ahead of the SEC. (Believe me, the Strength Everywhere Conference is catching up. Quick and soon.)
• According to information gleaned from a couple of Pac-12 ADs, Canzano wrote that the ESPN/Fox deal is currently worth $17.3 million annually per school.
Defined is that "new" money, over and above Pac-12 schools were previously making. So start with the fact that the schools were previously making $6 million per year under the old deal. That reduces the new money to $11.3 million.
• Add in the money it took to buy out old marketing deals, most likely third-tier rights for non-revenue sports and pay-per-view or digital deals for major sports.
 Canzano used the example of Stanford and Oregon State, which had to buy back those for rights for $1.3 million each. That reduces the new money to $10 million.
• Several schools had to pay back money borrowed from the university. You might not believe this, but some athletic departments aren't self-sufficient. That's being sarcastic. A lot of departments rely on state funding and student fee subsidies.
Oregon State had to pay back $6.5 million. Now we're down to $3.5 million.
• Add in the Pac-12 Network annual payout of $800,000. We're up to $4.3 million in actual "new" money over the old deal.
That seems like a mere snapshot. Obviously Oregon State's finances are different than USC's which are different than Arizona State's. Still, it's a reminder not to take some of these media rights announcements at face value.
Scott did not confirm any of the numbers for CBSSports.com.
A lot of the uncertainty goes away if the conference can get carriage on DirecTV. The satellite carrier would mean millions more subscribers who would get the Pac-12 Network. A battle rages between the conference and DirecTV over an agreeable rate to carry the Pac-12.
The conference's hopes were boosted recently when word leaked of a possible merger between Dish Network and DirecTV. The Pac-12 is already on Dish.
"I've only read about it," Scott said. "Obviously it's a very dynamic time in the industry. I still think we're in a terrific position with 60 different distributors. I think everyone is going to be taking our network.
"If Dish and DirecTV were to merge I would think it would be only helpful."
Haynes was 14-45 in five years with the Golden Flashes

True romance isn't dead yet

The Egg bowl will be a Thanksgiving night treat for the college football world
Mayfield disappointed a lot of people with is most recent antics, NFL scouts among them

Gary Danielson previews the Iron Bowl on the 247Sports College Football Podcast

The Fornelli 50 ranks teams based on nothing but their performance in 2017