Paralyzing hit hasn't kept Tulane's Devon Walker from chasing goals
Devon Walker will get his Tulane diploma Saturday nearly two years after a crushing hit left him paralyzed. It's a testament to the ex-safety's will and a deep well of support.
Gregg Doyel: Even in wheelchair, ex-ASU ballplayer Hahn clears hurdles
Sometimes Devon Walker just wants to hear the roar.
That would be the revved-up engine of his new 2012 Camaro SS. Throaty, loud, obnoxious.
"You'd start it up and it sounds like a damn boat," said Jacob Davis, a best friend of the former Tulane safety.
Wait, new Camaro? It was that way 19 months ago when Inez Walker bought her son that awesome Chevy -- a gift for making it that far. Devon Walker was about to be a senior safety at the elite New Orleans private school. After that he was going to medical school. Of course, after that he was going to be a doctor.
It was quite a story. Davis and Walker had come to Tulane as pre-med walk-ons for the Green Wave. They are leaving as more than teammates, best friends and brothers.
"We all had same type of school schedule," Davis remembered. "Other guys had communications or something that is easier for their football schedule. We kind of guided each other through undergrad, whether it was at night studying, getting labs in on time. We kind of had each other's back."
You might have gathered by now that the Camaro still sits there at Inez' house. She's the one who worked almost 40 years at a nearby chemical plant. She's the one who retired -- happy, proud, content.
A new Camaro was the least she could do for a son who had reflected that pride, earned a scholarship. She's the one who knows her son can't use the gift she bought him less than two years ago.
Devon Walker has been paralyzed since Sept, 8, 2012, following a tackle at Tulsa. He is bound to a wheelchair with a ventilator. He'll graduate -- perhaps miraculously -- on Saturday, only one year late.
These tragedies devastate but they also reveal. These days Tulane AD Rick Dickson pays a visit to Devon as an act of charity and love. That doesn't mean he likes what is about to come out of that tricked-out Camaro.
Sometimes Devon Walker just wants to hear the roar.
"He makes me start it up so he can listen to it," Dickson said. "I checked with him to make sure all the stereo throttles are down. A couple of times I've turned it on and it literally lifts me up out of there."
"Let's make sure," he tells Walker, "we turn down the rockets before we start it."
One of Devon's nicknames is "DJ." Besides cars, the kid loves his music. Everywhere, anywhere, anytime. He taught Davis how to install a sound system in his car.
Why wouldn't the Camaro's speakers be cranked up to 11? It is at this point that Dickson realizes the answer: Months later when he hit the ignition on that car, it was in the same state Devon left it on Sept. 8, 2012.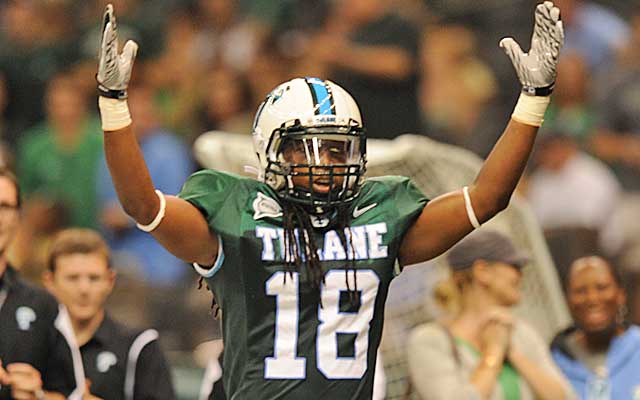 "When he got injured," Davis said of his buddy, "a lot of things changed."
Walker will graduate with a degree in cell and molecular biology. Never mind that milestone for a moment. How does one pick up his life -- if not himself -- after being paralyzed from the shoulders down and get a degree in cell and molecular biology?
That's where it gets interesting and inspiring and -- as you watch Walker roll across the stage Saturday at Tulane -- damn near impossible. "I'm going to be on stage for the first time at graduation so I can witness it," said Dickson, completing his 11th year at the school. "It's an amazing tribute to him, that's for sure."
Walker never got up after that hit at Tulsa. He collided with a teammate on what looked like a routine tackle just before halftime.
"The first thing you look for is the famous 'thumbs up' when someone is down on the ground," Davis said. "You never really got that from Devon. You could tell it was a pretty devastating hit. You're thinking, 'C'mon, Devon get up.'
"Then you saw the medical staff come on the field and you heard all kinds of things like he was having trouble breathing."
The episode unfolded on two fronts. Devon's mother had stayed back in New Orleans that day for a wedding.
"Lord Jesus, don't let it be Devon," she thought watching her world be turned upside down on TV.
With all the medical personnel gathered around her son, she could still tell. It was him. She recognized his legs sticking out of the scrum. Inez Walker got to Tulsa as soon as she could. Tubes were running in and out of her son's mouth. They had put Devon in a coma to stabilize him.
Months passed. He was transferred to a hospital in Atlanta. All of college football, it seemed, bowed its head in sorrow -- and a bit of fright.
"Then you get a call from your mom, 'I don't want you playing football anymore,' said Davis, a receiver from Northern California. "It was definitely a wake-up call. We play for fun everyday. Something like that is just so life-changing."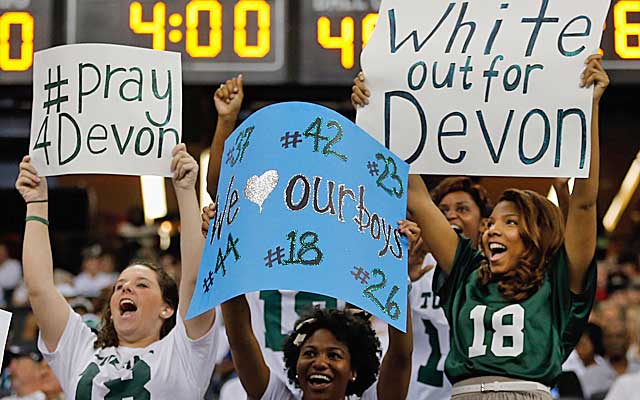 Even if they don't admit it, players know the dangers. There's not a helmet out there that can fully protect players. Head trauma is a national scourge. But Walker -- with a broken neck -- was part of the tiny fraction of players who have been paralyzed.
Macho instincts kicked in, as they usually do.
"Never to the point where I would consider not playing," Davis said. "It's in your blood for so long, you would never give it up …
"I could have been in that type of position to make that same type of hit. Devon does that hit all the time. He was the head hunter on our team."
Still, Devon laid motionless in a hospital. They stabilized him in Tulsa, moved him to Atlanta. It was almost two months before the two best friends reconnected via Skype. As friends gathered around, they saw their lively, beautiful, active friend breathing via that ventilator. He was swollen from a combination of inactivity and medication.
"It was pretty eye-opening," Davis said. "At the same time, he made sure we were smiling and joking about it." That was the thing about "DJ". He was always joking, hyping the mood. Walker would make those vampire hours at 5 a.m. workouts seem like a House of Pain video.
Davis recalled Walker regularly rapping out a beat on the wall between their two rooms. It was either early to wake up or late to mess with him. Either way, it let Davis know his buddy was there.
"Really loud, he'd wait for me to do a response back to wake me up or keep me up," Davis said. "I'd have to copy what he did, like a 'Simon Says'-type thing. His adolescence keeps you upbeat."
Something changed in Davis too. His mother Linda raised him to do public service. Even when friends came over, they'd be hustled by his mom to deliver meals to the homeless.
Davis basically subjugated his life in the last year to take care of his friend. Instead of going straight to medical school, Davis became a grad assistant after football ended to be around his friend. That has essentially been his 2013-14 school year.
Devon called Jacob his "secretary." He did everything. Davis scheduled his classes in the morning so he could help Walker take his classes in the afternoon.
Davis called it "the principle of friendship."
"Outside of my family," Walker wrote in an email, "my biggest supporter and helper has been my best friend Jacob Davis."
Insurance and fund-raising helped put a $300,000 addition on Inez' house. "Devon's Den", they called it.
There was a van, nurses. It takes Devon two hours just to get out of bed and get ready each morning.
There was technology that allowed Walker to dictate notes onto a screen. If he needed to read something, Davis would hold it up in front of his buddy for as long as it took.
Professors and instructors helped and adjusted. This kid was going to do it, pursue the degree he came to get and only a year late. Devon Walker was a celebrity now in a different way from football. Students would gather around to see, to talk as he disembarked from his van.
But they didn't see the Devon who has days when there is so much pain he can't get out of bed. They didn't see the depression set in.
"I'd be lying if I said he was 100 percent optimistic, 100 percent positive" Davis said. "One of the most important things with Devon was his social life, his friends. That's really why he wanted to come back to Tulane.
"He kind of broke down last semester, how much he misses video games with everybody, going out to the club after a win, laughing in the cafeteria.
He would tell me, 'It's those little moments when we were in the room.'"
There have been slight improvements in Walker's condition. Davis says his friend is beginning to roll his shoulders. His breathing, according to one report, has improved. He needs less assistance from the nurses.
"He absolutely believes he's going to walk again," Dickson said.
More than that …
"He believes he's going to run again," Davis said.
Pre-Tulsa, the buddies would chide each other about their abs. It was a competition to see who had the best six pack. The competition isn't over.
"As soon as I get these legs going," Walker told his friend, "all I'm doing is straight crunches."
"I'm going to be right there with you," Davis said.
There are emotions this weekend. Raw emotions. It's roiling enough to watch a loved one graduate from college. It's almost too much to see him in the fight of his life at the same time.
"I'm trying to check them [emotions] right now so I can manage them," Dickson said. "I can't think of any more proud moment."
Walker completed a thesis on spinal injuries and plans to pursue any kind of treatment he can find. Meanwhile, he is considering graduate school.
"Words cannot adequately express how much this degree means to me," Walker wrote in that same email. "It is one of my highest achievements.
"However, I am still on a quest to seek out and overcome my greatest adversity."
In that sense, there are no limits for a couple of 23-year old friends -- Jacob and Devon -- with their whole lives ahead of them.
But first you have to look back a couple of years. This week Davis remembered that new Camaro, that "damn boat," before everything changed. "So sweet," he recalled. "I was like the first one he picked up when he got it. We would just ride around."
The first three weeks of the season have elevated some coaches to the big time

Debating the top team in the country, grading the surprise teams as 'real' or 'fake'

SEC races kick into high gear with some fun matchups that will shape the landscape of each...
The Bottom 25 ranks the 25 worst teams in college football every week

Antonio Callaway and Jordan Scarlett are two of the nine players under investigation

The SEC released its 2018 schedule in full Tuesday afternoon, and it's dripping with intri...