Parents of Mizzou swimmer who committed suicide: 'This has to stop'
Lynn Courey believes her daughter committed suicide because she was raped. She pleads for someone to step forward and 'do the right thing.'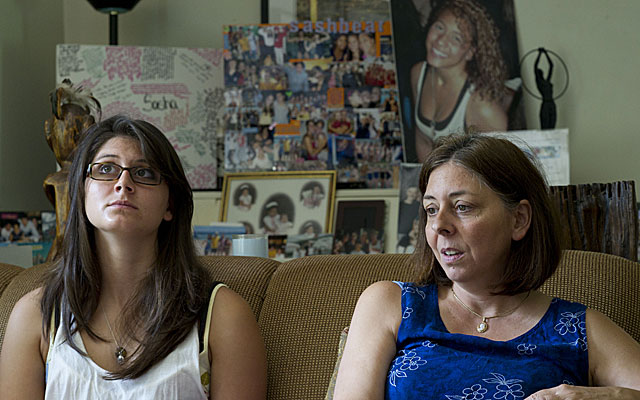 Sasha Menu Courey's parents are now seeing their daughter's legacy evolve daily. That's clear to Lynn Courey and Michael Menu.
Their daughter, a former University of Missouri swimmer, says she was sexually assaulted by as many as three Missouri football players in 2010. She subsequently committed suicide in 2011. At the time she had been diagnosed with a borderline personality disorder.
The allegation sat dormant for a variety of reasons until ESPN's Outside The Lines broke the story last week. Now the fact that the allegation actually stayed dormant almost is the story.
"It's very difficult, very emotional," Lynn Courey told CBSSports.com by phone from the parents' home in Toronto. "We're talking about our daughter. We wanted to do her justice and make sure she didn't die in vain ...
"My daughter killed her herself because she was raped and not supported. The system did not support her ... This has to change. This has to stop."
It's clear now this is a national story won't go away anytime soon. The University of Missouri system president Timothy Wolfe has commissioned an independent investigation, which will include how the school and athletic department handled the allegations. At a Wednesday press conference, Burke's emotion was genuine.
"What I feel as a parent is one of our students is dead," he told reporters, "and I don't want to feel that anymore."
The Columbia Police Department is looking into the allegation, having obtained information from the campus police. OTL presented evidence that senior Missouri athletic administrators at least knew of an alleged assault that occurred at the end of the swimmer's freshman year.
A good friend of Sasha's, a former Mizzou football player, says he has reason to believe three former teammates assaulted her.
"I miss her so, so much, and I wish I didn't have to do this," Rolandis Woodland told Sports On Earth's Gwen Knapp. "I just want her to be here.''
There was a video, Woodland has stated, that Sasha mailed to him. It reportedly showed three men assaulting the MU swimmer. The video, Woodland said, has been lost.
"All I want do say about 'Ro' is we defend him and he came forward," Lynn Courey said. "It took a lot of courage as a football player himself. God bless him."
Authorities are going to have to develop a case where there is no physical evidence. The person making the allegation has been deceased for 2½ years.
Sasha's parents are hoping.
"I believe people are hiding right now and not saying what they know about the story," Lynn Courey said. "She was so afraid to talk about it [so much] that she kept it in inside. This ate her alive. She just couldn't sustain unbearable pain.
"I always say, my daughter didn't want to kill herself."
The words are so chilling, perhaps because the issue is what the White House calls an "epidemic." The idea of a helpless female college student being preyed upon by a stronger male athlete is stomach turning. It's even more frightening for parents of female college students.
The storm swirling at Missouri is complicated. No charges were ever brought. Sasha's parents learned about the alleged assault after they read it in her journal following her death.
"We had no reason to believe she would lie about that," her father said.
Missouri athletic officials claim privacy laws kept Sasha's health care providers from reporting the alleged crime. The Clery Act requires universities to disclose information about on-campus crime.
The athletic department has communicated mostly through an SID and posts on its website. The department's defense, at times, has been strident.  AD Mike Alden did not comment until Thursday night, expressing sympathy.
It's also worth mentioning that this is the fourth (at least alleged) sexual assault involving Missouri athletics since 2010.
That year, former Missouri tailback Derrick Washington was convicted and sentenced to five years in prison on a felony charge of deviate sexual assault of a Missouri female student. He served 120 days.
Former Missouri basketball guard Michael Dixon was under indefinite suspension in November 2012 when he transferred to Memphis. The announcement came shortly after a second rape accusation in two days against Dixon had surfaced, according to the St. Louis Post-Dispatch.
Wolfe was asked Wednesday if there is a "culture issue" at Missouri.
"I will not admit that," he said. "I believe that we have the leadership of our four campuses [around the state], including me, focused on student safety."
Sasha's parents have been asked why they didn't respond to a letter from Missouri asking if they wanted the university to investigate their daughter's death.
Lynn Courey said, "We felt they [university] had sufficient information for a long time and they never acted on it."
The parents called the Missouri letter a "check-the-boxes" type letter, "that didn't deserve a response."
"We were discussing whether to send a response," Mike Menu said. "We were just shocked the things ESPN was uncovering. At that point we knew the article should have been a sufficient trigger."
His wife added: "I hope that the university sees in their investigation and goes above and beyond checked boxes."
Numbers show that more than 90 percent of sexual assaults go unreported. The usual reasons: fear, shame, concern over having to confront a perpetrator. As mentioned, sexual assault prevention is a priority for President Obama, himself a father of two daughters. He has formed a task force on the issue.
There is no doubt that the incidents of such crime are more common on campuses. One in five females are assaulted while in college, the White House cited. Only one in eight report the assault.
"How do you know," said Zachary Wilson, development director of the Missouri Coalition Against Domestic and Sexual Violence, "that something didn't occur?"
That is the essential question in any of these unreported cases -- getting to the truth.
"I think the [Missouri] investigation definitely should have occurred when the first story broke in 2012," Wilson said. "At that point what we're not interested in is what Mizzou did wrong, it's what happens next. What they're going to do to protect their students."
What we're left with is massive holes in hearts. Sasha loved swimming and she loved Mizzou, friends and parents said.
After allegedly being assaulted, she feared walking around campus, they added.
"Imagine how scared she was to talk about all this," Lynn Courey said. "She was seeing these [people] on a day-to-day basis on campus."
The parents are not necessarily upset at Missouri, just bewildered. They're wondering why their bouncy, bright Sasha is gone. They're forming a legacy instead of waiting for one.
They're asking for donations to the Sashabear Foundation, which supports mental health reform and research.
"We're very happy, were very pleased there's finally an investigation," Lynn Courey said. "What's sad is if it had been done earlier. This is where I'm crying -- crying out loud. If Sasha told you something, please come forward and make justice and do the right thing."
Getting Leavitt back was obviously high on Cristobal's list of priorities

Cristobal's first game at Oregon ended the same way Chip Kelly's did

Conner Manning and the Panthers dominated the Hilltoppers in the Cure Bowl
You can only go to the well so often before it dries up

The Trojans beat LSU earlier in the year and now have their first 11-win season as a FBS t...

Saban has never been a fan of the early signing period and made it clear that hasn't chang...