PITTSBURGH --  James Conner was diagnosed with Hodgkin's lymphoma in December. It was awful news that came just months after the 2014 ACC Player of the Year -- one of the best running backs in college football -- suffered a season-ending knee injury in Pittsburgh's opener. The tough string of awful news is how Conner has been known much of the last year, but it's how he's handled his situation, not what he's been through, that defines the heart and soul of the Panthers. 
"The kid is incredible," Pittsburgh coach Pat Narduzzi said of Conner. "I think it's inspired our team; I think they look at him in a different way. Makes everybody take another step, reach a little higher to get what they want to get. It's inspired this whole football program; it's inspired me."
Conner has made headlines again as of late, first by participating in spring practice and offseason workouts while still undergoing chemotherapy treatments. He recently gained Ellen-level fame with an appearance on her show, his spirited approach to the battle that remains in front of him captivating football fans and now the nation.
For Narduzzi, his star player's cancer battle is not new territory. Rather, it establishes another enduring connection to his father, who passed away in 1988.
"It's funny, you talk about where you've been as a coach, [and] my dad died of the same disease. And then all of the sudden, I'm here dealing with one of our student-athletes who has that cancer," Narduzzi said, referring to Hodskin's lymphoma.
Pat's father, Bill Narduzzi, was a football lifer. He played at Miami (Ohio), coached as a defensive coordinator for four Ivy League title teams at Yale and eventually landed his first head coaching job at Youngstown State in 1975. Pat, at the time, was nine years old. He grew up on the football that Youngstown breeds, soaking up the experience as his father led YSU from Division II into the Ohio Valley Conference during his 10-year run as coach.
Though Bill Narduzzi died of Hodgkin's in 1988 at the age of 51, his legacy endures through his.  
"I'm all my dad," Pat Narduzzi says now. "[I possess] the passion that he had. He was an energetic guy. He was a 'tell it like it is' type guy, a disciplinarian. I've got it in my blood."
About the same time Conner was in the green room preparing for his appearance on Ellen, Narduzzi was discussing Conner's impact on the program with CBS Sports.
After finishing a thought, Narduzzi moved from the sitting area to his desk. He pulled out a memory that ties coach to player in the most remarkable way. 
The top drawer of Narduzzi's office desk contains a letter sent to him about three years ago when he was leading one of the top defenses in the country at Michigan State. The author, a former Youngstown State player during Bill Narduzzi's first years as coach, wrote to share the many ways in which Pat's father had impacted his life. The two-and-a-half page letter, typed and divided into three sections, includes a third passage titled, "Your Dad was the ultimate motivator."
Decades ago, the letter's author was diagnosed with Hodgkin's lymphoma. Bill Narduzzi, battling the same brutal disease, called the former player to offer advice on how to mentally prepare for chemotherapy.
Two pieces of advice were noted in the letter.
First, "Picture your worst hangover, multiply it by 100. That's how bad you will feel. I am only telling you the truth so you can prepare for it just like you did going on the field for battle. You have to prepare, and you have to fight."
Second, "Now go kick that cancer's ass! Treat it like the enemy that it is, kick its ass!"
It was a phrase the former player said he repeated to himself "just about every day of that 365-day fight."
"It's unbelievable when you think about it," Pat Narduzzi said as we scanned the letter in his office. "It's almost like I got this letter prior to coming [to Pittsburgh] because 'you needed this. This is your next life lesson.'"
The inspiring scene of Bill Narduzzi battling cancer as he offers a pep talk to a former player fighting that same war serves as a blueprint for Pat Narduzzi as he utilizes his "all-Bill" demeanor to help Conner on his road to recovery.
"It's happened for a reason, and I really believe it," said Narduzzi.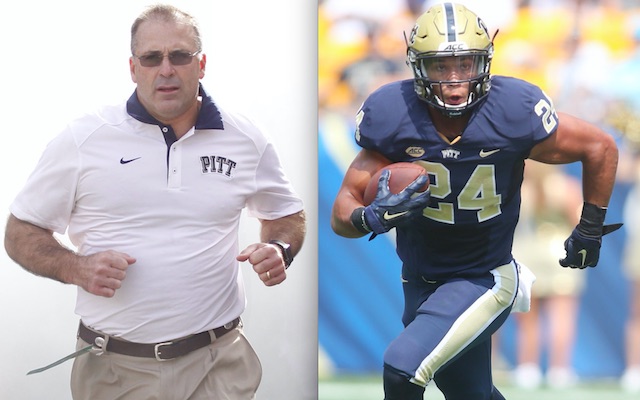 For Narduzzi, running through childhood memories might as well be a trip through the College Football Hall of Fame. Bill Narduzzi played for Ara Parseghian and John Pont at Miami (Ohio); according to Pat, Bill was in a bar in Canton, Ohio, with Bob Kurz when "Cradle of Coaches" was coined as a term to describe the coaching royalty coming from the program.
Pat Narduzzi says he "got lucky" to be surrounded by football greats through his life. Four-time Pro Bowler and Super Bowl champion Calvin Hill (father of NBA great Grant Hill) was at Yale when Bill was coaching. When Pat was starting his career as a graduate assistant at Miami, one of his duties included traveling to Weeb Ewbank's house to help close up the pool of the man responsible for championships in the NFL and AFL. Narduzzi looks back at the experience now and realizes the house, specifically the basement filled with trophies, was a living museum of football history.
On Dec. 4, 2015, the day that Conner announced his cancer diagnosis, Narduzzi leaned on his dad's message its impact. Narduzzi has been surrounded by some of the greatest teachers in football history, but the lesson for Conner on this day was learned not in a meeting room or on a field but rather in that letter.
"He called me into his office and we actually sat down and went through that letter," Conner said, recalling the day of his announcement. "It's very unique that his dad, one of his players ... it's the same thing.
"It's crazy how life works."
Conner is in the final stages of chemotherapy, which he has refused to allow to alter his workout routine or goal of returning to the football field in the fall. Having just turned 21 on Thursday, Conner balances the many demands of his life with a maturity that suggests he's been of age for years.
"Really, it's just time management, taking everything day by day," Conner said plainly. "I knock a treatment out of the way, wait a couple days, and I'll be working out and stuff. It really hasn't been that difficult -- school, treatments and working out. If I get some free time, I like to come back to Erie."
Conner wore a mask while working out during the spring for protection as his treatments lowered his white blood cell count and made him more prone to getting ill. Outside of that mask and the no-contact rules, it resembled any other spring for Pitt's star running back as he eyes a return to the form that saw him run for 1,765 yards and 26 touchdowns in 2014. 
My brother working @JamesConner_ #H2P cancer will not hold him back! believe dat #Respect #Warrior #24 pic.twitter.com/K1qedp5fua

— Khaynin Mosley-Smith (@KKpitt95) February 5, 2016
"We all wake up every day and have this issue or that issue. We all have them. Life presents us all challenges, and there's not many that have a bigger challenge than what he's got. [Yet] he wakes up every day and wants to go to practice," offensive coordinator Matt Canada said.
"He continued to fight, to go to class, fight to be here. We hope he can come back full speed for his health, period. But if he can come back and play at a high level, it will be a tremendous credit to who he is."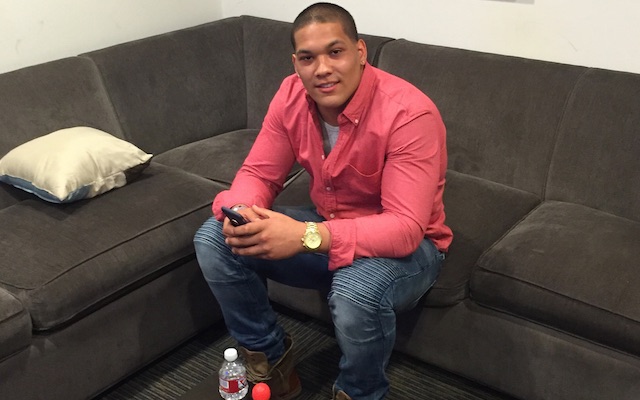 This week, he gets to spend his 21st birthday in Erie, Pennsylvania, catching up with friends and family while hopefully (based on Conner's recommendation, at least) grubbing on pepperoni pizza and honey mustard wings at Valerio's, one of his favorite Italian restaurants. 
According to Conner, the whole experience has been "nothing but positive."
He met Kansas City Chief's star Eric Berry, himself a Hodgkin's lymphoma survivor, and Ellen Degeneres. Conner received text messages of encouragement from Todd Gurley and threw out the first pitch at the Pittsburgh Pirates opener.
Pitt RB James Conner, amid his battle with cancer, throws out 1st pitch at Pirates' Opening Day at PNC Park. pic.twitter.com/HingFmGxnC

— Travis Haney (@TravHaneyESPN) April 3, 2016
When Conner says his ordeal has been "nothing but positive," he's really looking forward.  
"The platform I've been put on to be a motivator for everyone else, having Coach Narduzzi coming in, it's been nothing but good and positive things coming from the whole situation," Conner said. 
He still wants to achieve his dream of playing in the NFL, but he's also hoping to start a foundation one day to help children with cancer. Conner knows there will be a lot of opportunities to come out of this notoriety, and he says confidently that "there's more good to come of this situation." 
With a coach in Narduzzi perhaps better equipped than any in the nation to stand by Conner's side during his fight, this is a battle Conner plans to win on multiple fronts.