Pat Fitzgerald in no-win situation with Northwestern union movement
Northwestern's Pat Fitzgerald, like any coach, wants to avoid distractions for his team. But the union issue isn't likely to go away anytime soon.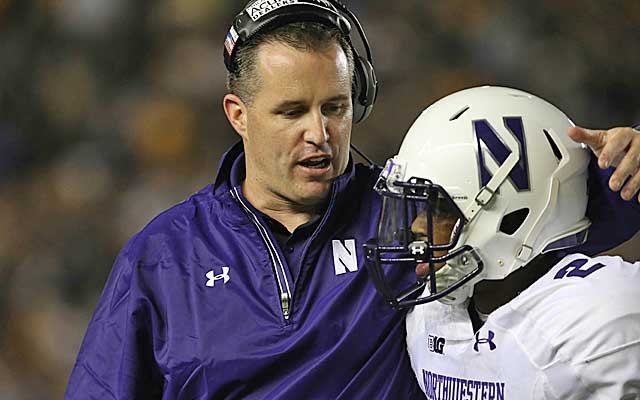 Pat Fitzgerald wants his Northwestern players to vote no on a union. That's his right, to a point. It also seems to aid the unionization movement.
By inserting himself into the process, Northwestern's coach is helping prove the players' case. Until ruled otherwise, he and his staff are considered employers. In Northwestern's case, the National Labor Relations Board already has determined that scholarship athletes perform a service for which they are compensated. You may disagree. Ultimately the Supreme Court may decide.
For now, the NLRB has concluded the Northwestern players are "subject to the Employer's control." Again, you may disagree but Northwestern isn't helping its case with Fitzgerald urging a no vote.
What better way to demonstrate "control" than a coach lobbying his players before the April 25 vote? Any coach is an authority figure, probably an admired figure -- certainly an influential figure.
Fitzgerald's stance complicates things. His message is both overt and subliminal. During NLRB testimony, former quarterback Kain Colter described Fitzgerald's team Leadership Council this way: "Fitz has 51 percent of the vote. We get input, but at the end of the day, he's the boss man."
Boss man.
Vote no.
After spending the week at the Final Four, it's never been more apparent to me that seismic shifts are coming. That starts with student-athlete welfare/input/control. From now on, they will be more partners with their schools rather than a renewable temp agency.
Without them, there are no games. This is not a new concept. Players have realized their leverage going back more than 20 years.
In the future, players will have more say in their day-to-day obligations. Whether that means collectively bargaining the length of practice or establishment a lifetime educational fund, remains to be seen.
But the issue will not be altered -- not by a coach, a college president or Mark Emmert. The discussion is too far down the track because it has been ignored for too long.
Either the courts, the NCAA or the NLRB -- maybe all of them -- are going to change the model forever. The only issue is acceptance by those who are fighting this change.
We can argue unionization for years. Amazingly, no one in power has disputed the base premise for the NLRB's initial ruling: "Players devote 40 to 50 hours per week to football-related activities."
The NCAA mandates a 20-hour per week limit.
It seems wholly fair that the players have a stronger voice. I've been to 5:30 a.m. winter conditioning drills. I called it vampire hour.
I know what coaches are trying to do -- instill discipline -- but isn't there still that same discipline at, say, 7 a.m.? We might as well have a reasoned discussion about the Oklahoma Drill. Pop Warner has.
In NCAA restructuring, players are being given a voting voice for the first time. It is small compared to the adults who don't put their knees, heads and shoulders on the line. Two athletes will control all of 3.7 percent of the vote.
And you wonder how the unionization movement got this far?
The entire industry is to blame for decades of neglect. The players -- that unpaid labor force -- should always been the first priority.
A free education doesn't pay for dementia at age 50, or a knee replacement at age 60.
In that sense, this isn't a Northwestern issue.
But it is a Northwestern vote.
Fitzgerald can either accept change or be overrun by it. A no vote changes little in the big picture despite Northwestern's aversion to "third party" involvement.
The coach reminded media of his long history of player advocacy. He is an American Football Coaches Association trustee. His initial tweet on the subject praised players who "followed their beliefs."
For now, the coach and staff may not issue statements that could be construed as "threats," "promises," "interrogation" or "retaliation."
Fitzgerald is not going to threaten anyone. But remember what I said about a subliminal message. The coach cannot discuss playing time with players in any way that relates to the vote. Not that he would -- ever -- but currently he's in an uncomfortable situation.
Fitzgerald just does not need to inject himself into this discussion. The only agenda Fitz has is to rid his program of this distraction as soon as possible. Sure, he's been told by lawyers what he can and can't say. I reached out to him but the coach politely declined comment.
For now, the regional NLRB office has found the following to be true:
"Coach of the football team, in consultation with the athletic department, can immediately reduce or cancel the players' scholarship for a variety of reasons. Indeed, the scholarship is clearly tied to the player's performance of athletic services."
Fitzgerald testified in February that he has dismissed only two players in eight years. Those were for conduct violations. That's hardly a picture of a despot. But the coach must also accept at too many places, one-year renewable scholarships is an abuse of both power and that unpaid labor force.
Fitz is to be believed as a genuine, caring coach. His players graduate at a 97 percent rate. As was pointed out here, Fitzgerald held back six players from a Nov. 1 game at Iowa so they could take tests. They showed up on game day.
Sixty players finished above a 3.0 GPA the last quarter, the coach said.
"Proud of the fact we're the best academic school in the country," he proclaimed last week.
What hit me smack in the forehead is that Fitz got involved in this extent at all. This is an issue that by all accounts is going to be decided years from now. His opinion on that players' vote isn't going to matter much to the Supreme Court.
Fitz has plenty of supporters in his corner who don't know a football from Lady Gaga. He doesn't need to attract more sharks (ahem, lawyers).
The coach is not a labor expert. His former quarterback was inspired to become one last summer. Colter got the idea for unionizing from a professor in a summer school class.
Before all this blew up, I talked to Fitz last fall. He was -- as could be expected -- a typical football coach. He wanted to keep distractions to a minimum. That was when Fitzgerald's name was being mentioned for the jobs at USC and Texas.
He remains No. 2 in seniority among Big Ten coaches. You can imagine how a national story within his team has impacted a two-time Butkus Award winner and hall of famer. The situation is about as far away from coaching football as you can get.
"It's been tough for me to be silent," Fitzgerald said. "I believe it's in their best interests to vote no. I'm a teacher, I'm a coach, I'm an educator. There's no laws against that."
Until the lawyers get involved, parsing every word, questioning every motive.
The Sooners' quarterback and Badgers' rusher stood out among their peers this season

In resurrecting UAB and leading it to a bowl, no coach compared to Bill Clark in 2017

SportsLine simulated every bowl game 10,000 times for pick'em leagues and confidence pools
Saban isn't going to win Alabama's special election, but the Crimson Tide coach got some l...

The Tigers are going worldwide for their next punter

Led by Heisman Trophy winner Baker Mayfield, the Big 12 finished with seven first-team sel...