Patterson, Miles not telling the other if Fields or Hill will play
Saturday's TCU-LSU showdown has resulted in some evasiveness in the media on the part of its coaches.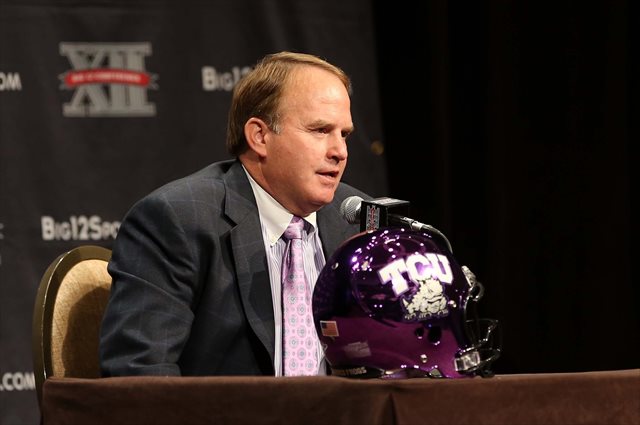 TCU's Gary Patterson and LSU's Les Miles both had a star player land in hot water this offseason. Both are expected by many to sit that player for their opening-week showdown against -- wouldn't you know it -- each other. But Patterson isn't letting Miles know he's sitting his player, and Miles isn't letting Patterson know he's sitting his, either.
In TCU's case, preseason second-team All-American defensive end Devonte Fields was suspended for the season's first two games for a violation of team rules back in May. But per the Associated Press, Patterson has listed Fields as a co-starter on this week's depth chart, told reporters Fields would dress for the game, and said they would "find out" whether Fields would play "at game time."
Patterson said that Fields has "already done everything that the university has asked him to do." But he also made nonspecific comments suggesting that the suspension will still be in effect.
"You guys know how I stick by my guns, so take that [for] what it's worth," he said. ""The key for me is it's still about teaching lessons. ... If you were a betting man, and you know me, you'd probably know which way that you would bet."
In addressing the situation of tailback Jeremy Hill Monday, Miles was equally evasive. Hill was controversially reinstated to the LSU team at the beginning of fall camp after pleading guilty to simple battery and avoiding a jail term for violating his probation, but Miles has repeatedly said that Hill will face "internal" discipline -- discipline that many expect to take the shape of a suspension of to-be-determined length.
But Miles muddied the already-muddy waters further Monday by saying, per nola.com, that he "wouldn't be surprised" if Hill makes the trip to Dallas. Asked specifically if Hill would play, Miles offered a terse "no comment."
The gamesmanship comes on the heels of what had already been an apparent shot across Miles' bow from Patterson, who responded to the news that Miles had allowed his team to vote on whether Hill could return by saying "I'm sure if it was some opponent they'd beat by 100 points [the players] wouldn't have a vote." (Patterson later denied that he had been speaking about LSU or Miles, his "they" referring no doubt to some other team that had just voted to let a teammate back onto the roster the day before.)
When all is said and done, gamesmanship is likely all this week's smoke-screening will amount to; Patterson's "stick by my guns" comments and Miles' track record of suspending players without making it official (see the extended Jordan Jefferson watch from 2011) suggest neither Fields nor Hill will see the Cowboys Stadium field Saturday. (Hill is also currently listed third on the LSU tailback depth chart.)
But other than Patterson and Miles themselves, no one can say for certain who'll play and who won't, including the coach on the other sidelines ... which is just how both of those coaches like it.
Kevin Sumlin addressed Texas A&M's decision to cancel a rally scheduled for Sept. 11

Expectations are high for Charlie Strong at South Florida, and Houston looks to take the next...

There are new names to learn every season, and here are five to keep an eye on from the AA...
Taking a close, detailed and opinionated look at the AAC a week before the start of the 2017...

These Jayhawks got a tremendous surprise they weren't expecting

Jovon Durante announced on Twitter he's headed to FAU