Patterson's marriage to Air Raid has TCU on precipice of playoff
Gary Patterson's bold move to marry an Air Raid offense with his defense has TCU on the cusp of a playoff spot and Trevone Boykin in the mix for the Heisman.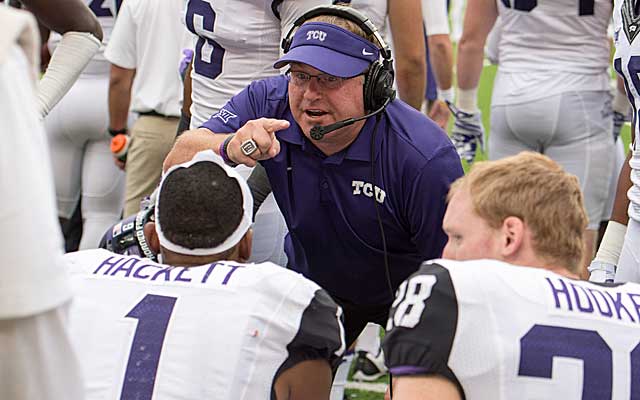 FORT WORTH, Texas -- Changing schemes can be like changing spouses. There are amicable separations and, well, there is ... divorce lawyer on Line 1.
Coaches tie their staffs, careers and salaries to the X's and O's that define them. A bad split can alter careers arcs. You don't have to be told what can happen to that salary if things go south.
TCU's Gary Patterson decided to unhitch when he recalled Air Force. Patterson is 6-1 against the Falcons in his career, hasn't played the old Mountain West rival since 2011. Still, he admitted to struggling with the Falcons' unique triple option.
So much so that Patterson kept a separate file he broke out for Air Force week.
"It stays in a file until we play them," the coach said.
What if, he thought, TCU's offense became a separate file for opponents? It took him two years to answer the question. Two sometimes-turbulent years. TCU's first two seasons in the Big 12 during which his Frogs were a combined 11-14.
"What don't you like to defend?" Patterson finally asked himself.
All he had to do was look at his new conference. Mike Leach hasn't coached in the Big 12 for five years. But remnants of his Air Raid offense still linger. All over. Oklahoma won the BCS championship with it in 2000, a year after Leach left for Texas Tech. There are only a handful of Big 12 schools that don't use it.
The answer revealed itself in layers only after Patterson placed a call to Stoops. He also consulted with mentor and grand master Bill Snyder at Kansas State.
"That was a big reason for changing the offense," Patterson said. "You can still have a tough program. Bobby Stoops told me this because he's done it. You can play defense and still run this offense."
Defense still had to come first because that's what Patterson does. His defenses have finished in the top 16 in total defense six times in the past eight seasons.
But to get with it in the Big 12 he had to get remarried -- offensively.
The results have been dramatic. TCU has the largest national increase in average total yards and scoring from 2013. Junior Trevone Boykin is on track to be only the third quarterback since 2009 to average 300 yards passing and 50 rushing. The other two won Heisman Trophies -- Johnny Manziel and Robert Griffin III.
The Frogs continue to have the No. 3 scoring and total offenses. They also continue to have the best record of any FBS Texas program since 2005.
The doors of opportunity opened when TCU joined the league three years ago. Texas had looked down on the Frogs for decades. But when the Big 12 needed help filling out its roster, TCU became a valued property.
As Mountain West members, the Frogs had won a Rose Bowl and gone to the Fiesta Bowl. Eleven games into their third Big 12 season, they're one of the best programs in the country.
They're a definite playoff candidate, mostly likely landing at No. 5 in Tuesday's College Footall Playoff Rankings, just outside the Football Four.
"A good teacher can teach anything," Patterson said. "The key is, do you know how to fix it."
"This offense," he added, "it's never been put with a defense."
That might be an overstatement. Leach and Hal Mumme were the mad scientists who conceived of the Air Raid decades ago. As they made their way up the coaching ladder, their scheme was great for piling up yards but quality defenses were lacking.
Current TCU co-coordinator Doug Meacham was at Oklahoma State in 2011 when it won the Big 12 and came within a heartbeat of playing for the national championship. Kansas got to the Orange Bowl in 2007. Missouri came within a game of playing for the BCS championship in the Big 12 and SEC. Along with Oklahoma, they all continue to use Air Raid concepts.
As a defensive coach, Patterson makes the newly red-tinged Congress look conservative. At their best, his previous teams won with a suffocating defense and a running game. This TCU offense goes into this week's Kansas game averaging 47.2 points, the most for the program in at least 15 years.
The change has made Boykin -- a former tailback and receiver -- a Heisman candidate. His Heisman moment on Saturday may have punctuated the offensive makeover -- a head-over-heels touchdown run against K-State. It was as athletic as it was acrobatic.
"I can do black flips all day," said Boykin, admitting to a gymnastics background. "I can't do a forward flip but I did today."
The new offense has made stars out of B.J. Catalon (out Saturday) and Aaron Green (career-high 171 yards vs. K-State in Catalon's place). It entertains, which is a phrase not commonly attached to Patterson.
"To me that's what I'm the most proud of with Gary," said Chris Del Conte, TCU's AD. "Coaches are creatures of habit … Sometimes leaders have to make bold decisions. Football coaches are typically not the ones. They will band together, status quo, status quo. He's an innovator."
Patterson reassigned former coordinators Jarrett Anderson and Rusty Burns after the worst season (4-8) of the Patterson era. He hired Meacham from Houston and Sonny Cumbie from Texas Tech. They had to meet four strict criteria.
The newbies had to know the offense. Cumbie was a record-setting quarterback for Leach at Texas Tech. Meacham came from Houston (co-coordinator, 2013) and Oklahoma State where he was an assistant from 2005-2012. There had to be chemistry in the coaching room. They also had to be able to recruit not only in the Metroplex but in Texas.
"We hit all four check marks," Patterson said.
Boykin is the unlikely fire starter. In 2012, he was tapped on the shoulder two days before the Iowa State game and told he was starting. Starter Casey Pachall was headed to rehab. At the time, Boykin was a backup tailback.
Back then, all he worried about was to "give the seniors the best season they can possibly have. And have those guys put their arms around you and say you're our guy, we believe you. We trust you no matter what you do."
Boykin struggled overall, but did throw four touchdowns against Baylor that year. When Pachall returned in 2013, Boykin moved over to receiver.
In the 2014 preseason, his quarterback days again looked numbered. Highly regarded Texas A&M transfer Matt Joeckel arrived, but didn't win the job.
Boykin found an offense that favored his speed, decision-making and arm. Joeckel remains a backup.
"When coach Cumbie stepped on campus and we started working I kind of felt like, 'This is for me. This is what I want to do.'
"He was, overall, just a good guy. When we first arrived on campus we sat down and talked. He told me about his goals and expectations he had for me."
If TCU misses the playoff it will most likely be because Patterson's defense wasn't good enough. On Oct. 11. That was the day the Frogs scored 58 at Baylor and still lost by three.
The Bears ended up running 109 plays, coming back from 21 down with less than 12 minutes left.
"There wasn't anything I could call that could make a difference," Patterson said of his defense. "I felt sorry for them."
The result could potentially become a divisive playoff issue. Right now, it is the difference between TCU being undefeated and possibly winning the Big 12 outright.
Regardless, this new marriage has worked.
"We all knew that this was possible," Boykin said. "The coaches told us that this was possible. ... I kind of envisioned it this way.
"We kind of laugh about it, joke about it because who would have thought? Nobody was thinking last year I'd probably be up [contending] for the Heisman this year."
CBS Sports HQ Daily Newsletter
Get the best highlights and stories - yeah, just the good stuff handpicked by our team to start your day.
Please check the opt-in box to acknowledge that you would like to subscribe.
Thanks for signing up!
Keep an eye on your inbox for the latest sports news.
Sorry!
There was an error processing your subscription.
Turpin is a standout playmaker on the Horned Frogs

Tom Fornelli has his finger on the pulse of Troy football

The Michigan-Michigan State rivalry rolled on, two days after they actually played the gam...
Alabama and LSU are off until their colossal showdown on Nov. 3 in Baton Rouge, Louisiana

Jack Sears will prepare to start for the Trojans

Hurts suffered the injury during his third-quarter touchdown run