Pelini on recording fallout: 'I think our fans would understand'
Bo Pelini says he expects the Husker faithful to 'understand' that his profane rant recorded in 2011 'wasn't representative of how I feel.'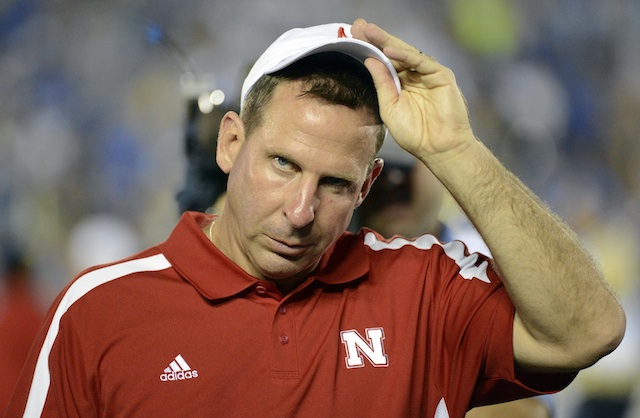 Bo Pelini may be an optimist. But he believes -- or hopes -- there won't be any long-term fallout with the Nebraska faithful over the profane rant secretly recorded in 2011 and aimed at "fair-weather" fans.
"I think our fans would understand the situation and the circumstances regarding this," Pelini said during a Tuesday teleconference, per Nebraska 247Sports affiliate Huskers Illustrated. "I might lose some, I don't know.
"I think I've built up enough points with our fans over the last five years in how I've conducted myself, how I've run this program and what we've done with this program over the last five years to earn some forgiveness for something that, like I said, was made in a private setting," he said. "I think people will understand that this wasn't representative of how I feel about the fans."
Pelini issued a statement apologizing for the comments Monday, which were recorded in the immediate wake of the Huskers' 2011 victory over Ohio State without Pelini's knowledge and released on Deadspin Monday. Both athletic director Shawn Eichorst and university chancellor Harvey Perlman said in statements they were "disappointed" in Pelini's remarks.
After a state-of-the-university address Tuesday, Perlman was asked again about Pelini's remarks. Per the Omaha World-Herald, Perlman referred to his earlier statement and said administrators were "reflecting on the situation."
On the teleconference, Pelini emphasized again that the remarks were recorded "during an emotional time in a private setting" -- and that it's no coincidence the tape was released only days after his team's 41-21 defeat to UCLA.
"I think everybody out there knows there was an agenda behind it," he said. "It's unfortunate."
The recording surfaced only hours after Pelini had angrily responded to a disparaging tweet issued by Nebraska legend Tommie Frazier, saying "We don't need him."
Add it all up, and it amounts to perhaps the most fanbase-antagonizing 24 hours for a major college football coach imaginable. As Dennis Dodd has written for CBSSports.com, that coaches -- paricularly ones as intense as Pelini -- may use foul language and even criticize their fanbases in the heat of the moment is barely news. The rational response from Husker fans, considering the circumstances of the recording, would probably be to forgive-and-try-to-forget.
But after another dismal performance at home in Memorial Stadium, rationality likely doesn't have of a say. (We are talking about college fooball fans, after all.) It's hard to fault Pelini for saying the Husker supporters would understand, but it may take a Big Ten title before they will.
The Nittany Lions came up huge when they needed to against Iowa

It just might have been the best game of the season so far

Projecting the new AP Top 25 poll college football rankings after Week 4
Stay with us all day Saturday for updates and highlights from Week 4 of the 2017 season

Georgia dismantles Mississippi State between the hedges Saturday night

The Horned Frogs looked a lot like their old selves on Saturday afternoon in Stillwater