Pelini: Taylor Martinez doubtful for game vs. FCS South Dakota St.
The focus in Lincoln re-shifts back to on-field matters as Bo Pelini announces Taylor Martinez is likely to miss this week's home game.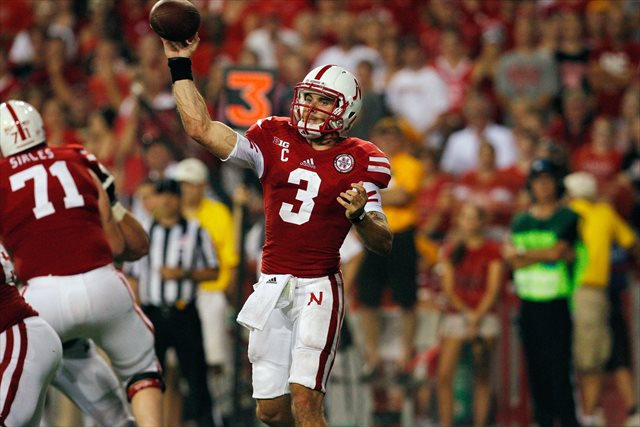 With the issue of Bo Pelini's foul-mouthed 2011 tirade "put to rest," the focus in Lincoln can start returning to Nebraska's on-field issues. But unfortunately for Pelini, the quarterback position has suddenly joined his defense at the top of the list of those issues.
Per the Associated Press, Pelini told reporters Thursday night that Taylor Martinez was "doubtful" to appear in the Huskers' home date Saturday against FCS South Dakota State. Martinez has struggled with a turf toe injury that has held him out of practice throughout this week.
Pelini said redshirt freshman Tommy Armstrong Jr. would likely receive the start, with fifth-year senior Ron Kellogg III also seeing snaps.
"He's a great leader and has a great command presence about him," Peini said of Armstrong, who represents the greater running threat of the two quarterbacks. "Ronny is an experienced guy, has a lot of confidence and can really throw it around."
Though Martinez threw for three touchdowns in the Huskers' 41-21 loss to UCLA, he finished the game averaging just 5.8 yards per-attempt -- a full two yards below his 2012 average -- and stunningly finished with minus-13 rushing yards, sparking speculation that he was more injury-hampered than publicly believed.
The FCS Jackrabbits could offer a challenge if Armstrong and Kellogg aren't ready; after going 9-4 in 2012, SDSU has started 2013 3-0, with victories over Butler, North Dakota and Southeastern Louisiana. In their last game against FBS competition, the Jackrabbits lost 31-17 to Kansas to open the 2012 season.
Chip and Barton pick win totals for Ohio State, Penn State, Michigan and more

These three teams could surprise quite a few people in 2017

With the Chargers moving to Los Angeles, the Aztecs now need to find a new home -- fast
Lawyers representing Ole Miss want Leo Lewis and Kobe Jone to show at an infractions heari...

The redshirt sophomore will not only decide Auburn's fate, but the landscape of the SEC

Ohio State filed for apparel rights to 'OSU' in February 2017