Penn State, 1 year later: After NCAA hammer, athletics ready for change
College athletics won't be the same after last year's Penn State crackdown. NCAA-member schools need to take back some power.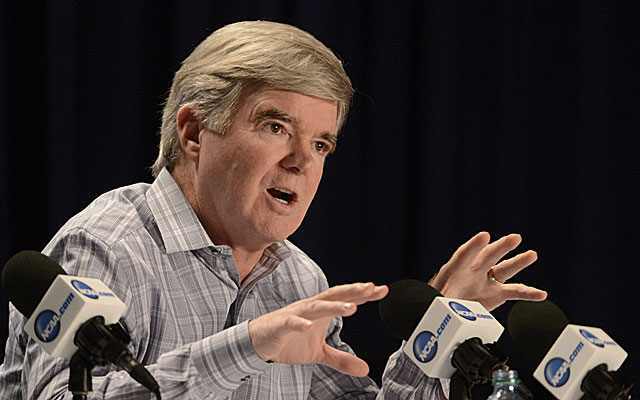 Everything has to be viewed through a Penn State lens. Everything negative these days, in college athletics.
The entire system is under fire. There is a growing threat of a new subdivision  created to serve the interests of BCS schools. That may have effectively already happened with the establishment of a playoff worth $7.2 billion over 12 years beginning in 2014. A Mark Emmert-led reform movement has arguably fizzled.
The Miami case wouldn't have become the national discussion it did without the specter of the Penn State penalties.
"Driven by frustration more than anything else," Big 12 commissioner Bob Bowlsby said of the NCAA legislative process. "That's been a frustration that has grown over the last 15 years."
A lot has changed in the year since those sanctions. Lawsuits have been filed. Victims are beginning to be paid off. The (previously) most respected school president in the country (Graham Spanier) faces trial. Penn State football has gone from being hit with a sledgehammer to grabbing a shovel. It has a plan to dig out.
The most-asked question in college athletics seems to be, "Is Mark Emmert going to make it?" But this isn't personal, not in a Emmert-must-be-fired way.
If the NCAA president made it through Moody's recent downgrading of the association credit rating,  he's going to make it through the Miami case.
Is the NCAA CEO going to make it? If USA Today's revelations didn't get him, then, yes, he's safe.
This, instead, is a call for action but only if Emmert's membership -- the schools themselves -- want it. No matter what, Penn State -- and the fallout from the last year -- has proved college athletics will never be the same.
"I'm not critical of Mark Emmert," Bowlsby said. "I'm critical of an organization that is just not very efficient."
SEC commissioner Mike Slive seemed to question the very existence of the NCAA last week.
"What is the proper role, function and composition and size of the NCAA board of directors," Slive said at SEC media days. "Do we need all of the services provided by the NCAA's national office, its many committees and task forces, or are some of these services better provided elsewhere?"
Almost two years ago former Big 12 commissioner Dan Beebe said there was a "motive to make some fundamental changes," in the NCAA.
Beebe and others have suggested that the embattled enforcement division be outsourced or at least overseen by an impartial third party.
The O'Bannon, Todd McNair and class-action concussion lawsuits at least divide the attention of the Association, if not drain it of funds.
You get the feeling that something is about to change. The decision to hammer Penn State will have touched off the revolution.
In short, are NCAA schools consolidating power on their own? The five power conferences (Pac-12, Big 12, ACC, SEC, Big Ten) certainly have the means. Alabama coach Nick Saban has talked openly about those five leagues playing among themselves. Bowlsby didn't exactly shoot down the idea this week.
In an unofficial, unscientific straw poll that started the day the sanctions were announced (July 23, 2012), the overwhelming majority agrees -- the NCAA went too far on that hot July morning in Indianapolis a year ago.
I'm injecting myself into the story because those results were amazing: Almost every college source I've spoken to in the last year -- they usually raised the issue -- said the NCAA overstepped its boundaries with Penn State.
A national consensus has formed -- at least with me. That makes me -- and should make you -- wonder how those sanctions were allowed to happen. And how they could happen again. The folks I spoke to represent a significant cross-section -- former NCAA officials, faculty athletic representatives, coaches, ADs, consultants.
Emmert's mandate to bring down Penn State came from somewhere. Meanwhile, Penn State did itself no favors with lack of oversight, essentially inviting the NCAA into the process.
Once on the case, Emmert, executive committee and board of directors made the call based on an interpretation of the NCAA Constitution.
But at what expense? Eleven CEOs serve on both bodies according to the NCAA website. Of those ...
• UCLA chancellor Gene Block oversees an athletic department that paid new basketball coach Steve Alford a reported $850,000 to scrawl his name on his contract (signing bonus).
• Rice president David Leebron was in charge when his school settled a wrongful death lawsuit with the family of a player who died from sickle cell trait after a strenuous workout. Since 2000, sickle cell trait has been leading cause of death among NCAA football players.
• South Carolina president Harris Pastides' football program is currently on NCAA probation.
That's almost a third of the persons serving on the two most powerful bodies in the NCAA. These were some of the people pronouncing sentence on Penn State?
ESPN reported in August -- and CBSSports.com confirmed -- that Penn State was absolutely looking down the barrel of a multi-season death penalty. In retrospect, the moment the school decided to hire Louis Freeh as an independent investigator, Penn State basically pronounced sentence upon itself.
Not that it had much leverage to do otherwise. That's where this story concludes -- for the moment. If the NCAA overreached it is because, on some level, Penn State absolutely did sleep on the Sandusky situation.
The sanctions may have been outrageous, but there was certainly good reason for some kind of penalties.
"Nobody made a phone call [regarding Sandusky's crimes], for God's sake," former executive committee chairman Ed Ray told USA Today.
I've written this in the past but, this Year of Scandal is now on that membership. If they want enforcement cleaned up, if they want the association to keep from spending $9.5 million in legal fees alone (in 2011), if it wants a new president, if it want make sure Penn State never happens to them they need to act.
That straw poll needs to have a voice. The same executive committee that signed off on the Penn State penalties also felt compelled to give Emmert a vote of confidence in a few months ago amid the Miami scandal.
There are scores of administrators longing for the old days of parliamentary procedure. Back then at the NCAA Convention each school had a vote. Those schools cast votes by raising a paddle -- in public, for everyone to see. Everyone was accountable.
Those conventions weren't unlike political party conventions of today. Democracy in action, warts and all. I clearly recall Mike Krzyzewski on the floor of the convention 20-plus years ago arguing against men's basketball scholarship cuts. He emotionally compared the sport to being "road kill" on the highway to reform.
Coach K didn't get his way, but it was compelling stuff. At least you knew where everyone stood. Since the governance structure changed, the annual convention has never been the same. Scores of those same administrators skip it each year because they already know the outcome. Some even feel railroaded.
Heck, the 2011 presidential retreat that was supposed to restart reform came in August of that year, five months before the convention. The presidents were once and for all supposed to be in charge. They failed miserably considering the group's compositions and retreat's results. Now, a special NCAA convention may be needed to clean up the entire system, Bowlsby said.
What we're left with is a scowling Big Brother with suddenly, previously unknown broad powers. That fact was hammered home in late September at the Division Faculty Athletics Representatives annual meeting. Emmert was asked specifically by former NCAA infractions committee chairman Jo Potuto if he was willing to say Penn State was a "one and done" case. He replied, "If you're asking me will there be a case like Penn State in next 10-15 years, I would certainly hope not."
Is that open-ended enough for you?
Jo Potuto -- it should be noted -- is no wallflower when it comes to penalties. She was a member of infractions committees that have handed down the only three bowl bans against BCS schools accused of lack of institutional control since 2000.
The base argument here is whether the NCAA had the power to transform Jerry Sandusky's guilty plea in a criminal case into the basis for penalizing Penn State athletically. Emmert wanted to stamp out a culture. "King Football," I called it a year ago.
And back then I agreed. Nuclear force was needed to bring down The King. Risk had to outweigh reward. But upon further reflection, I have changed my opinion, maybe swayed by that year's worth of straw polling. That opinion is being backed up by the most powerful men in college sports, as we speak.
The BCS commissioners.
The victims have to come first. Always. But there are other, different victims. I have seen the faces of Penn State players. I have ridden a goodwill caravan bus with Penn State coaches. I have sat in Jay Paterno's living room listening intently to an opinion that may not ever be popular outside of State College.
But I also know this: The NCAA hierarchy made the call for the severity and length of the Penn State sanctions.
In the process, not one paddle was raised.
Penn State, one year later
• Looking for way out in State College
• Why Penn State might make it out
• Key Players, a year later
• Is college sports fed up with the NCAA?
• Could Dan Beebe have saved Penn State?
Florida's roster got a boost on Tuesday with the return of several key members of the prog...

Tom Hutton joins the ranks of former Aussie rules footballers joining the college football...

The freshman is already on Heisman lists after throwing the walk-off score in the national...
These seven teams should make the most noise down the homestretch towards signing day

Air Force was forced to cancel 11 athletic events because of the 69-hour government shutdo...

Olson has a lot of the tools offensive coordinators want in a quarterback