Penn State, 1 year later: Key players
Taking a look at some of the central figures in the Penn State scandal, one year after the NCAA dropped the hammer on State College.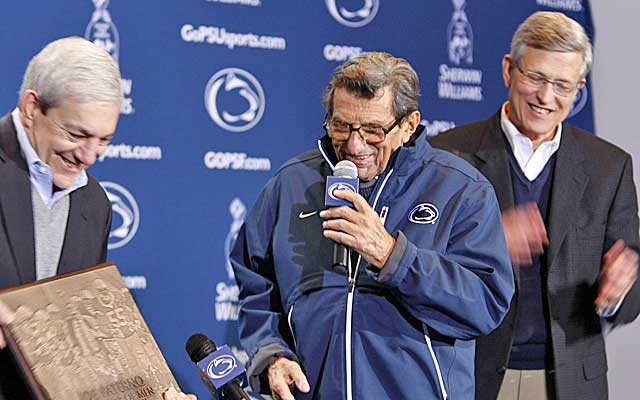 Taking a look at some of the key players in the Penn State scandal, one year after the NCAA dropped the hammer on State College.
Joe Paterno, former Penn State head coach: Deceased. If Jerry Sandusky was the central figure in the scandal, Paterno was second-most notorious person. The Freeh Report concluded that the octogenarian coach, on some level, was negligent in enabling Sandusky to roam free within the Penn State program abusing young boys. Paterno was fired less than a week after the grand jury's presentment was released in November 2011. He was diagnosed with lung cancer later that month and died at age 85 in January 2012. The NCAA vacated 111 of Paterno's then-record 409 career victories as part of the sanctions in blaming the football culture at Penn State. For many loyalists, that was the most humiliating blow to Penn State. Paterno's assessment at the end, "I wish I could have done more," marked a poignant end to a legacy stained.
Graham Spanier, former Penn State president: At one time one of the most respected CEOs in higher education. Spanier was in charge of a growing and vibrant Penn State over his 16 years as school president. On the day the Sandusky presentment was issued, Spanier said he had "complete confidence" in AD Tim Curley and senior vice president Gary Schultz. Spanier eventually resigned after that statement, which was said to infuriate Penn State trustees. The Freeh Report later concluded Spanier, Schultz, Curley and Paterno "failed to protect against a child sexual predator harming children for over a decade." In November 2012, Spanier was indicted for perjury, obstruction of justice and child endangerment. While being investigated, Spanier kept his top security clearance in working on national security projects for the federal government. Earlier this month, it was announced Spanier intended to file a defamation lawsuit against Freeh. A 2001 profile of Spanier said his celebrity at Penn State was exceded only by Paterno.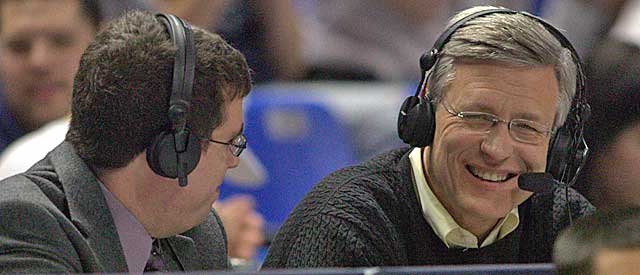 Tim Curley, former Penn State athletic director: Less than two months before his 18th anniversary as Penn State's AD, Curley was indicted by a Pennsylvania grand jury for failure to report child abuse. The Freeh Report concluded that Curley, Spanier, Schultz and Paterno concealed knowledge of child abuse. Like a lot of persons at Penn State, Curley deferred to Paterno in several situations. Curley was reportedly among four administrators who inquired about Paterno stepping down in 2004. Paterno essentially waved them off. The Pennsylvania state supreme court denied an appeal by Curley and Schultz in June.
Gary Schultz, former Penn State senior VP for finance and business: Before his indictment, Schultz, a loyal Penn Stater, was a step below Spanier in Penn State's hierarchy. In November 2011, he was charged with lying to a grand jury in the Sandusky scandal. Schultz had worked at the university from 1971 until his retirement in 2009. Beginning in 1995, he had been in charge of the school's human resources and police departments. He chaired the Penn State Investment Council, which oversees more than $1.6 billion. According to presentment testimony Curley and Schultz banned Sandusky from bringing any Second Mile children to the football facility. In the same presentment, Curley admitted that the ban on bringing in children was unenforceable. In June, Schultz and Curley were denied an appeal on their charges.
Rodney Erickson, Penn State president: Spanier's replacement was named interim president on Nov. 9, 2011. Eight days later the interim title was removed. Erickson was blamed by many for embracing the Freeh Report that was the basis for the NCAA's sanctions. During a halftime against Ohio State to honor Penn State's academic achievement he was booed by the home crowd of 107,000.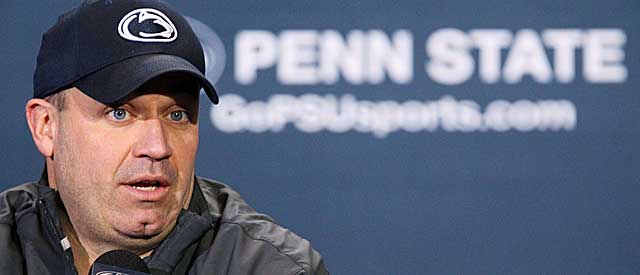 Bill O'Brien, Penn State head coach: The former New England Patriots offensive coordinator has been widely credited for being a unifying force at Penn State. If the football program is going to make it out of the sanctions, O'Brien is going to be the reason. His players adore him. When he arrived in early 2012, though, he was an unknown. Some Penn State alums were upset just because he wasn't a Penn State alum. Sports Illustrated NFL writer Pete King famously said he wouldn't know O'Brien if he walked in the room. That quickly changed, the Boston-raised no-nonsense coach didn't make excuses. When the sanctions came down, he quickly and quietly rallied the troops. The Lions hung together and O'Brien won eight games his first season. He won the Bear Bryant coach of the year award in 2012.
Jay Paterno, ex-Penn State QB coach and son of Joe: JoePa's second-youngest child has assumed the patriarch role in the family. Jay was not retained by O'Brien. Since then, he has doggedly defended his father's reputation and sought to preserve his legacy. Jay has spoken to several networks about analyst work but he may be too "hot" right now to hire. The same goes for Jay's coaching career at the moment.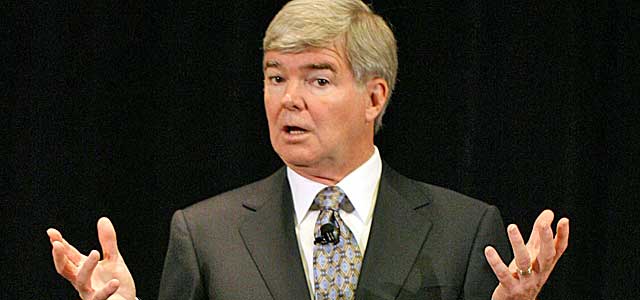 Mark Emmert, NCAA president: Long before the Miami scandal, the NCAA president became a national lightning rod. His November 2011 letter to Erickson foreshadowed major penalties. When they actually came down, Emmert led the association in an unprecedented path to punish Penn State. Taking football away from 120 innocent young men became the basis for a national debate. The former LSU and Washington president kept repeating that the "culture" of football had to be wiped out, justifying the Penn State sanctions. It's safe to say the NCAA president's office never has been so public. Under Emmert's direction, 20 percent of the evidence in the Miami case was dismissed because of the enforcement staff's improper dealings with a third-party attorney. Under his watch, there was a massive exodus of disgruntled NCAA staffers. Moody's downgraded the association's credit ratings based on the possibility of high-dollar legal settlements. Perhaps most damning was a USA Today investigative story on previously unreported issues in Emmert's professional background. The backlash against Emmert lately has become so significant that Mike Slive (SEC commissioner) and Bob Bowlsby (Big 12) recently criticized the direction of the NCAA. It's been a long, hard year for Emmert.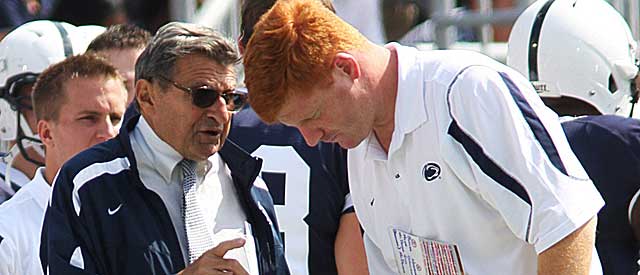 Mike McQueary, former Penn State assistant: Told a Pennsylvania grand jury that in 2001 he witnessed Jerry Sandusky doing "something sexual" to a young boy in a shower within the Penn State football complex. The testimony basically touched off arguably the largest scandal in college sports history. McQueary told Paterno what he witnessed, but didn't follow up when Sandusky continued to be around the program. Pennsylvania Gov. Tom Corbett, then state attorney general, said McQueary "met the minimum obligation in reporting it ... but did not in my opinion meet a moral obligation that all of us would have." A former Penn State quarterback from State College Area High School, McQueary has filed a $4 million whistleblower lawsuit against his school.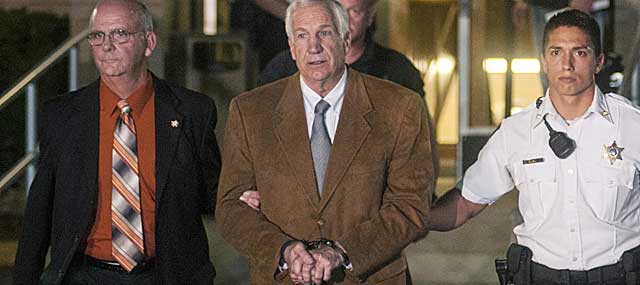 Jerry Sandusky, former Penn State assistant: Sandusky is serving at least a 30-year sentence after being found guilty of 45 counts of child sex abuse involving 10 victims over a period of 15 years. The former reportedly used his charitable organization (The Second Mile) and gregarious nature to lure those victims. Retired from football in 1999 under strange circumstances, Sandusky continued to be around the Penn State football complex where he reportedly abused some of his victims. He is currently appealing his conviction.
Penn State, one year later
• Looking for way out in State College
• Why Penn State might make it out
• Key Players, a year later
• Is college sports fed up with the NCAA?
• Could Dan Beebe have saved Penn State?
Kelly led Oregon to a national championship appearance and is an innovator in the game

This week's AP Top 25 college football rankings remained largely unchanged

Mora went 46-30 since joining UCLA in 2012, taking the Bruins to four bowl games
There should not be too many changes to this week's college football rankings

Elsewhere, the top 12 remains the same in this week's college football rankings

Lane Kiffin turned around FAU remarkably fast and has the Owls in the C-USA title game