Penn State hiring James Franklin could give Big Ten a jolt
Penn State's James Franklin, with energy galore from his SEC days, has a chance to bolster the Big Ten's top-heavy coaching resume.
• 3 min read
Fourteen words illustrate why Penn State is paying James Franklin $4.5 million per year to be Bill O'Brien's replacement.
"We are going to dominate the state," said Franklin about recruiting at his introductory PSU press conference Saturday. "We are going to dominate the region."
Yes, that region includes Maryland, where Franklin, once a coach-in-waiting behind Ralph Friedgen, can try to fluster the Terrapins as they move into the Big Ten in 2014.
And, yes, that includes going head-to-head vs. Ohio State's Urban Meyer, who has serious connections in that same region Franklin is claiming.
This is gonna be fun.
Penn State needs an ambassador for the program, a job Franklin seems to embrace after rumblings that O'Brien didn't want it.
But on the surface, this hire means more than that.
If Franklin is the mega-star some think he is, the Big Ten is getting a much-needed jolt and adds coaching depth to a conference trying to shed a lack-of-depth label among BCS conferences.
Chemistry and slick press conferences and offensive schemes are nice, but make no mistake, recruiting prowess still drives success at the highest levels of college football.
And Franklin plans to be a sniper, stating at his presser that he plans to work till 2 a.m. and wake up between 3-4 a.m. All 106,000-plus seats in Beaver Stadium will be sold out, he says. Basically, Franklin made more promises than a campaign manager.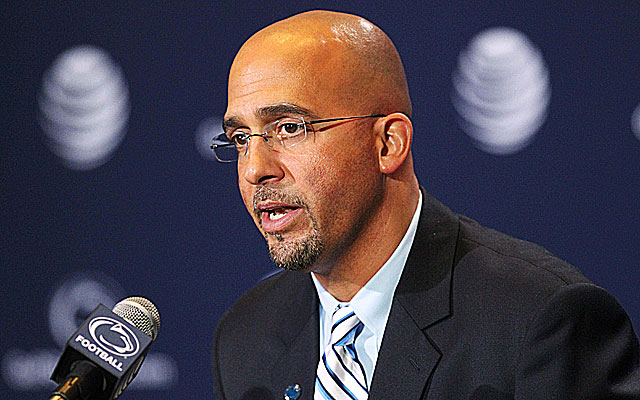 Maybe this is coaching rhetoric, but Franklin's biggest strength is energy. He made a difference in SEC recruiting, which is not easy.
"We'll be aggressive in everything we do," Franklin said. "We've got too many things to sell [at Penn State]."
Franklin can sell his Pennsylvania roots as a Pittsburgh-area native. He's a Pennsylvania boy "with a Penn State heart," he says.
He'll need to exhaust all options to identify the right talent while facing scholarship limitations because of the Jerry Sandusky case -- 75 scholarships next year, restored to the full allotment of 85 by 2016.
If Franklin emerges from those limitations unscathed, he can bolster a top-heavy roster of Big Ten coaches led by Meyer and Michigan State's Mark Dantonio.
The stable of Big Ten coaching hires the last three years is promising but unproven in spots. The eight coaches hired since before the 2011 season post a combined record of 108-103, which dips drastically if extracting Meyer's 24-2.
Even Bill O'Brien, who was up for 1,368 NFL jobs the last two years, went 15-9 in two seasons at Penn State.
The Big Ten could use a positive performance from Franklin to pair with the Meyer-Dantonio dynamic and ascending coaches such as Wisconsin's Gary Andersen and Minnesota's Jerry Kill. Look at the best leagues. They have established coaching depth. The Big Ten has the quality but the depth has not quite arrived.
Penn State's six-year, $27-million deal for Franklin shows the Nittany Lions are counting on shaking that model up.
"We have a lot of work to do in a very short period of time," Franklin said.
Franklin's press conference can be considered a success. A question about the highly publicized Vandy rape case was handled carefully. AD Dave Joyner said Franklin underwent a "thorough vetting process' during the interview process. Franklin said of the rape case: "We were honest, we were up front and we made decisions quickly."
The only misstep of Franklin's presser was the reliance on terms such as "fiercely loyal" and players being like "sons" -- when he left Vanderbilt after three seasons.
If Franklin really wants to dominate, he'll be fiercely loyal for more than three years. He seems ready for that fight.
Aaron was reportedly shot while trying to protect his girlfriend when a fight broke out at...

An assistant-by-assistant look at changes Saban made to the Tide's staff ahead of 2018

Find out when Nick Saban, Kirby Smart and the rest of the coaches will speak ahead of the...
It wasn't only the massive $75 million contract that got Fisher to depart for College Stat...

Weinke was injured when Florida State lost to Tennessee in the 1999 BCS title game

It was one of the busiest offseasons for the assistant coaching ranks