Penn State, one year later: Beebe's mission? To prevent another fiasco
The Dan Beebe Group specializes in preventing scandal. College sports offer lots of opportunities. Beebe wants to prevent the next Penn State fiasco.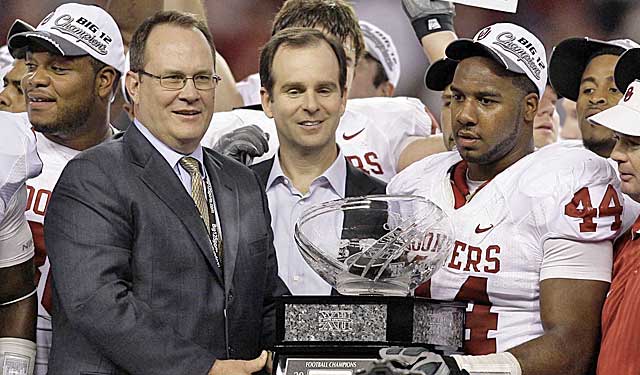 Dan Beebe isn't going to say the Penn State scandal could be a windfall for his company. That would be ignoring all the other potential windfalls across the country.
"I've got a number of proposals I've got to get out this week," the former Big 12 commissioner said from his home in Dallas.
The Dan Beebe Group came along at the right time. Formed a year and a half ago as BMT Risk Management, the firm specializes in eliminating that risk of scandal in the workplace. Beebe and his two colleagues have a special interest in sports franchises (both college and pro).
For a fee, DBG will come in, do an assessment and tell a school how to break down the barriers of reporting everything from sexual harassment to that rare case that allowed Jerry Sandusky to roam free. It's the old whistleblower mentality. Employees must not be afraid to speak out when they see a problem on the job.
"I told one university that had lost over a $1 million on settling a deal, 'You would have paid for our services to train everybody in this organization on an annual basis for $1 million [for more than 20 years],' " Beebe said. " 'And you would have engendered trust in the organization and make employees like working there.' "
DBG has an elite roster of sports clients -- the Houston Texans, Auburn and Florida to name a few.
"These organizations are being proactive to protect their employees and students," Beebe said.
The list is sure to grow because scandal isn't going away.From sexual harassment (Texas)to analleged abusive coach (Rutgers)to academic fraud (where do you want to start?), there have been plenty of collegiate opportunities lately.
Beebe called a couple of times inquiring about Penn State hiring his firm, but didn't receive a call back. If there is a football culture that exists, there was/is a long way to go to cleaning it up. Penn State has complied with almost all of the 119 recommendations for reform in the Freeh Report.
Beebe doesn't want to dwell on what might be the biggest college scandal ever since Penn State is not a client. But, he says, had his service been in effect those janitors who reportedly saw Jerry Sandusky sexually abusing a young boy,would not have not been afraid to report what they saw.
"I guarantee that those janitors would have come forward [had they hired DBG]," Beebe said. "Maybe not Year 1, but Year 2, they would have come forward and said, 'Something has been weighing on me.' "
Beebe added: "I think [Penn State's] a call for all organizations to ensure that their culture is one where programs are developed to allow people not to be afraid to speak out about misconduct. The greatest danger is people don't feel safe in their job about their well-being. I don't think it can be done internally. I don't think it can be done with outside legal counsel."
Beebe says that even hiring those outside attorneys to investigate can intimidate employees.
"They can't stand in front of student-athletes, administration and say, 'I'm not from here. I don't depend on this institution for my livelihood.' That's one of the biggest impediments [to schools]. Their own internal resources or outside counsel are going to have perception of being in conflict.
Imagine, Beebe said, a school press conference where DBG is explaining how an investigation was conducted. 'We're a third party who doesn't live there, doesn't work there, doesn't have season tickets."
That makes a DBG staffer who comes on a campus what he called "a non-conflicted third party."
Post-Big 12 life has been kind since Beebe, 56, reached a mutual agreement with the conference to leave his job in 2011. He received $5 million when he departed.
Beebe remains respected in college circles having recently consulted with the new Big East on its start. A former football player (at Walla Walla Community College and Cal Poly-Pomona) and NCAA investigator with a law degree, Beebe worked the infamous SMU case in the 1980s before turning to administration.
His partners, consultant Mark Thompson and attorney Mike McCall have done risk management assessment for more than 800 entities. Beebe has the most college experience. An acquaintance told him, "what you're doing could have saved the life ofYeardley Love."
Love was the Virginia women's lacrosse player who whose boyfriend was convicted of second-degree murder in connection with her death.
"We unclog the channels so people can come forward," Beebe said.
A lot of it hit home when a female relative was harassed while working at a medical center. Hard-working, well-educated, she didn't know where to turn when a male in the office kept commenting on the way she dressed.
"They don't really understand what it's like to be in a least-powerful position," she told Beebe. "I had to have that $35,000 job."
"I entered the work force as a white male former football player, former rugby player with a law degree," Beebe said. "I never had that feeling of powerlessness."
While still in the college realm he was a member of an NCAA working group that has put more bite into NCAA enforcement. Beginning in August, head coaches will become more directly responsible for wrongdoing in their programs.
That begins to address a larger issue, but not completely. We can only hope that a Sandusky never happens again.
"What we say is," Beebe said, "if you know of misconduct, it's on you."
Penn State, one year later
• Looking for way out in State College
• Why Penn State might make it out
• Key Players, a year later
• Is college sports fed up with the NCAA?
• Could Dan Beebe have saved Penn State?
Florida's roster got a boost on Tuesday with the return of several key members of the prog...

Tom Hutton joins the ranks of former Aussie rules footballers joining the college football...

The freshman is already on Heisman lists after throwing the walk-off score in the national...
These seven teams should make the most noise down the homestretch towards signing day

Air Force was forced to cancel 11 athletic events because of the 69-hour government shutdo...

Olson has a lot of the tools offensive coordinators want in a quarterback